Don't wait for price drops – watch Marks & Spencer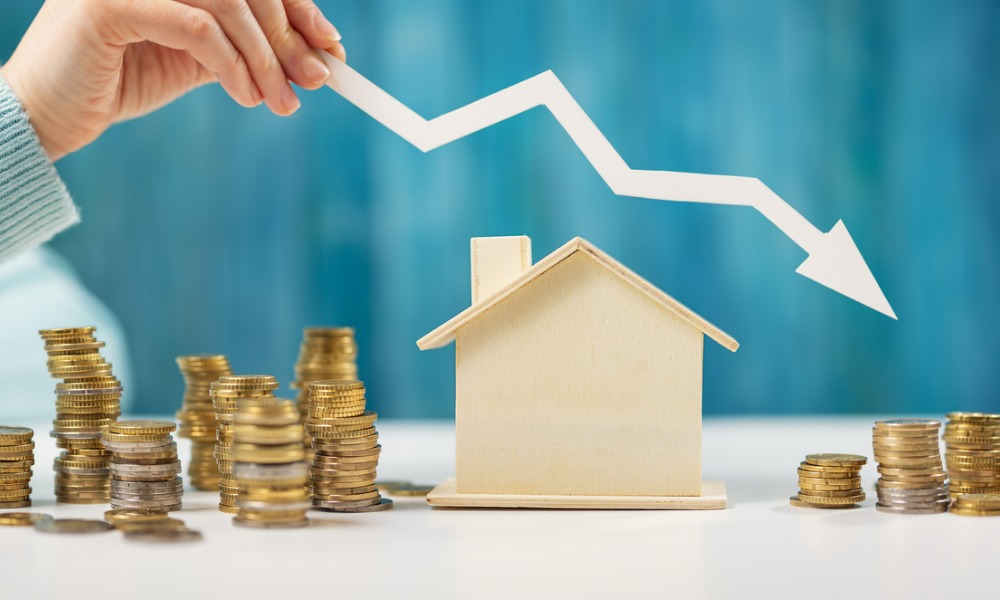 New figures released by estate agents Hamptons show some concerning figures – sales of cheaper homes are plunging. But why is that concerning – isn't that a sign that everyone is buying more expensive homes? Not so, Amanda Beveridge told The Telegraph. "Mainly I think it's a demand-side factor due to the cost-of-living crisis."
Hamptons' analysis showed that the number of sub-£100,000 house sales in February 2021 dropped by 38% when compared to the same month last year. Look at homes between £100,000 and £250,000? Down 21%.
What that means, is that the cost-of-living pinch is already biting people who are trying to get on the housing ladder, at the lower rung levels.
But is there any other way to forecast a looming property crisis? Apparently yes, according to some pundits.
Look at underwear (men's)
Alan Greenspan, five times chair of the US Federal Reserve likes looking at men's underwear. Not for any aesthetic qualities, but because he sees y-front sales at M&S as a key indicator of a coming recession.
"He once told me that…the garment that is most private is male underpants, because nobody sees it except people in changing rooms, and who cares?" a seasoned NPR correspondent told CNN. "Those sales are usually stable, so on those few occasions where it dips, that means that men are so pinched that they are deciding not to replace underpants."
And yes, there is actually a men's underwear index, which, incidentally, fell significantly between 2007 and 2009. And if you care, the average man buys 3.4 pairs of underpants each year.
Look up
Barclays Capital director Andrew Lawrence thinks that the higher builders go, the more likely the crash, and created a skyscraper index in 1999. His proposal is that every time there is a new record set, there's a property crash. His evidence?
The Empire State Building – finished in 1930 to herald in the Great Depression.
The World Trade Centre – finished just in time to see the US have its crippling early 70s stagflation
Burj Khalifa – the finishing touches were carried out in 2009
All, according to Lawrence, a result of cheap loans and property speculation.
Because you're worth it?
Apparently lipstick sales pick up when times get hard, as women turn to smaller forms of retail therapy when not spending big. A lipstick index was created in the very early 2000s by Estee Lauder's then CEO – the current CEO believes that moisturizing cream sales may also provide the same leading indicator.
Your partner's skin starting to look particularly youthful? Think about selling that little Brighton pied-a-terre.
Planning permission applications
Oh, OK – this is a boring one by comparison – but yes, that IS an indicator too – and we're definitely lower than prior years.
Total applications received, October to December
| | | |
| --- | --- | --- |
| | 2020 | 2021 |
| England | 111,700 | 106,600 |
| North East | 3,200 | 3,000 |
| North West | 11,300 | 10,000 |
| Yorks | 8,800 | 8,100 |
| East Midlands | 8,800 | 8,200 |
| West Midlands | 9,100 | 8,600 |
| East of England | 15,000 | 14,400 |
| London | 18,100 | 17,200 |
| South East | 21,800 | 21,200 |
| South West | 13,600 | 14,000 |
| N Parks | 1,900 | 1,900 |
Check your Tinder
And so for a final indicator – check dating sites. Apparently online business booms as the unemployed have plenty of time to check profiles. Match.com saw its busiest period for seven years in the fourth quarter of 2008 – just as the US economy bottomed out. And on that note, dating site Bumble has just seen its share price surge more than 20% as it has reported better than expected fourth quarter earnings.