Tactics to make staff truly care about coming into work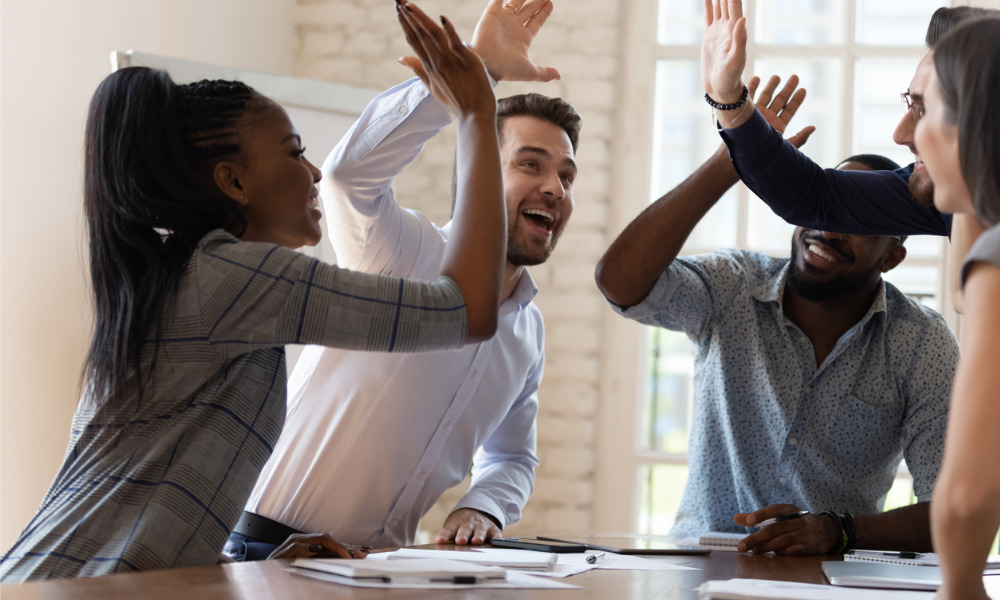 Organizations rely on worker productivity to perform best but how can this be accomplished on a regular basis? Making them delighted to come to work every day, is a great first step.
According to a report by LifeWorks and TELUS Health, more than eight in 10 (83%) say they care about their work. And those who say they care about their work are more likely to put in more effort (89%) than those who are unsure (80%) and those who don't care (75%).
In addition, 75% of workers say they often try to exceed expectations at work while 14% are unsure and 10% disagree, finds the survey of 3,000 respondents in October.
Benefits of boosting salary
So, what would make workers put in more effort? More pay, say 41% of respondents, according to Lifeworks.
Other factors include more meaningful work (12%), more flexibility (10%), more recognition (7%) and more respect.
However, 24% report that nothing would encourage them to put in more effort at work as they already work hard, according to the report.
Those who say that nothing can make them put more effort in have a mental health score of 72.3 out of 100 for the month of October, far above the 64.9 national average, according to the report. Those seeking more pay (62.9), more flexibility (62.8), more recognition (62.8), more meaningful work (61.9) and more respect (60.0) all have mental health scores below the national average.
Power of praise
In addition to simply paying people more money, the answer could be as simple as saying "thank you," according to some new research from Eagle Hill Consulting.
Twenty-one% of workers have never been recognized for their efforts in the workplace, as 47% say they would like to receive more recognition for their work.
"Our research signals that employers need to double down on employee recognition programs. Far too many employees are burnt out from their workload and say they aren't recognized their efforts," said Melissa Jezior, president and CEO of Eagle Hill Consulting.
According to employees, these efforts should be much more frequent (38%), more proactive (36%), more broadly shared across the organization (30%), easier to provide (26%), and unbiased.
"Failing to acknowledge workers is a recipe for subpar organizational performance and high attrition, the last thing employers need in a volatile economy," said Jezior.
It's good to talk
Employers would also be well advised to simply ask employees what they want more often. Take the case of Flybits, who last year completed a massive overhaul of its benefits but not before it checked in with employees about what they were looking for, said Sauvnish Bains, chief of staff at the customer engagement platform.
"Just saying, 'We're going to change this benefit or provide a budget for this' without knowing what your employees are really looking for, there's no point in in doing that," she said.
"Our first step was to actually speak to our employees, change the way that we were getting feedback from people, the frequency of it and what we were doing with it, and actually make decisions based on that."
Previously, the company ran monthly surveys with staff, but fatigue eventually set in, said Bains.
"We were noticing that the participation rate month over month was dropping, and employees were feeling like we weren't really doing anything with the information. So we changed the approach so that now employees are going to be responding to quarterly surveys [and] they're a little bit longer."
Break away
Finally, realizing that workers are only human and sometimes need to step away from the workday can pay dividends, found a new study.
While working longer hours have become a reality for many workers since the start of the pandemic, work breaks should be seen as recovery opportunities that foster employee wellbeing and do not detract from performance, according to a report out of Simon Fraser University.
"To maintain or improve wellbeing and performance, employees need work breaks to recover from work," said researcher Zhanna Lyubykh, assistant professor of management and organization studies at the Beedie School of Business, and one of the authors of the "Role of work breaks in wellbeing and performance: A systematic review and future research agenda" report, based on a systematic review of 83 studies.
But the length of time or frequency of breaks appears to matter less compared to how employees spend their time while on break.
For example, engaging in physical exercise during a work break may lead to increased wellbeing among knowledge workers. Also, taking a nap can improve task performance and physical wellbeing.