Regional figures also show similiarities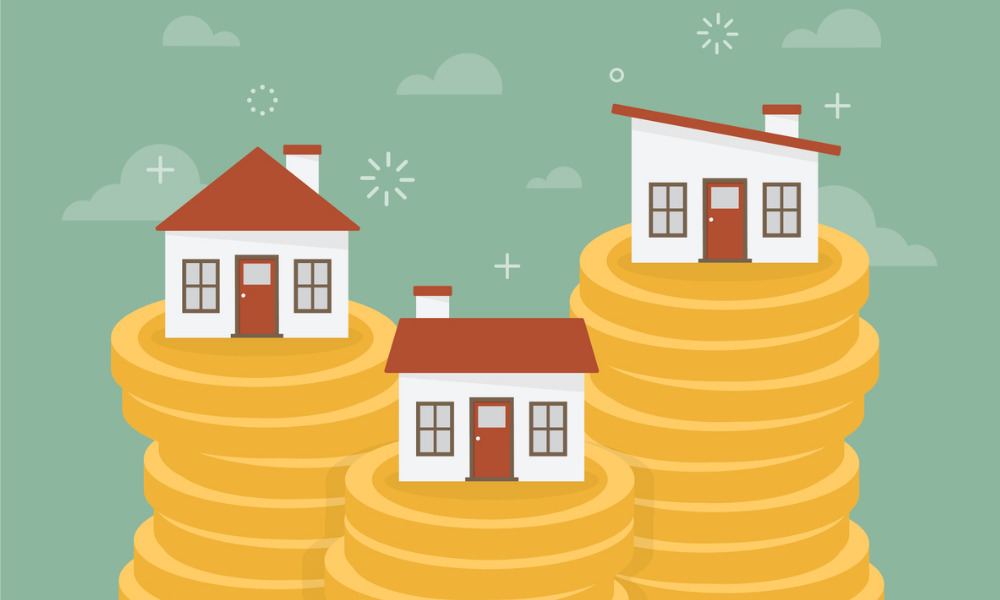 Average house prices in the UK have continued to climb, but price growth has also continued to slow, the latest Nationwide House Price Index has revealed.
The price of a typical UK home rose to a new record high of £271,613, with average prices increasing by over £26,000 in the past year. Annual house price growth slowed modestly to 10.7% in June, from 11.2% in May. Prices rose by 0.3% month-on-month, after taking account seasonal effects, the 11th consecutive monthly increase.
Robert Gardner, chief economist at Nationwide, noted that there are tentative signs of a slowdown, with the number of mortgages approved for house purchases falling back towards pre-pandemic levels in April and surveyors reporting some softening in new buyer enquiries.
"Nevertheless, the housing market has retained a surprising amount of momentum given the mounting pressure on household budgets from high inflation, which has already driven consumer confidence to a record low," Gardner pointed out.
Jeremy Leaf, north London estate agent and a former RICS residential chairman, said that even though prices are not rising quite as rapidly as they have been, property market resilience continues to "defy the laws of economic gravity."
Part of the resilience, Gardner said, is likely to reflect the current strength of the labour market.
"The number of job vacancies has exceeded the number of unemployed people in recent months. Furthermore, the unemployment rate remains close to 50-year lows," the economist stated.
Gardner added that the stock of homes on the market has remained low, which has helped to keep upward pressure on house prices.
"We are finding that activity is more determined by lack of choice than recent cost-of-living and interest rate rises," Leaf commented.
"There is no question that increasingly stretched affordability is holding back some, as well as slowing house price growth and the number of transactions. But there is still demand for correctly priced properties, underpinned by low unemployment and a race for space which is still not satisfied."
According to Gardner, the market is expected to slow further as pressure on household finances intensifies in the coming quarters, with inflation expected to reach double digits towards the end of the year.
"Moreover, the Bank of England is widely expected to raise interest rates further, which will also exert a cooling impact on the market if this feeds through to mortgage rates," he said.
Tomer Aboody, director of property lender MT Finance, echoed Gardner's statement, saying a slowdown in growth is not surprising with interest rates rising along with inflation.
"However, there is still evidence of confidence in the market due to the desire to buy and take advantage of mortgage rates before they increase further," he stated.
For Guy Harrington, chief executive at lender Glenhawk, the recent price growth slowdown is "just a precursor to the sharp correction about to torpedo the UK housing market." He said house prices will be struck down "by a perfect storm of record inflation, geo-political turmoil, rising rates and a once-in-a-generation cost-of-living crisis."
"It's absolute madness to think house prices will keep on rising. As caution grips the market, the outlook for 2023 looks increasingly ominous," Harrington remarked.
Despite predictions of the market cooling, Brean Horne, personal finance expert at NerdWallet, said it's not going to happen overnight.
"These are uncertain times for homeowners and homebuyers alike. However, being proactive and exploring the various options available to them will be a good starting point. In doing so, they will likely feel more in control of their options and better positioned to act if house prices do start to decline in the months to come," Horne said.
Meanwhile, Nationwide's quarterly regional house price indices also showed a softening in annual house price growth in nine of the UK's 13 regions.
Produced quarterly, the data for Q2 covering the three months to June revealed that the South West overtook Wales as the strongest performing region, with house prices up 14.7% year-on-year, a slight increase from the previous quarter. This was closely followed by East Anglia, where annual price growth remained at 14.2%.
Wales saw a slowing in annual price growth to 13.4%, from 15.3% in the first quarter. Price growth in Northern Ireland was similar to last quarter at 11.0%. Meanwhile, Scotland saw a 9.5% year-on-year rise in house prices.
There was also a slowing in annual house price growth in England to 10.7%, from 11.6% in the previous quarter. While the South West was the strongest performing region, overall southern England saw weaker growth than northern England.
Nationwide also reported that within northern England, the North West was the strongest performing region, with price growth picking up to 13.3% year-on-year, from 12.4% in the first quarter.
London remained the weakest performing UK region, with annual price growth slowing to 6.0%, from 7.4% in the previous quarter.