However, the UK's major housebuilders have committed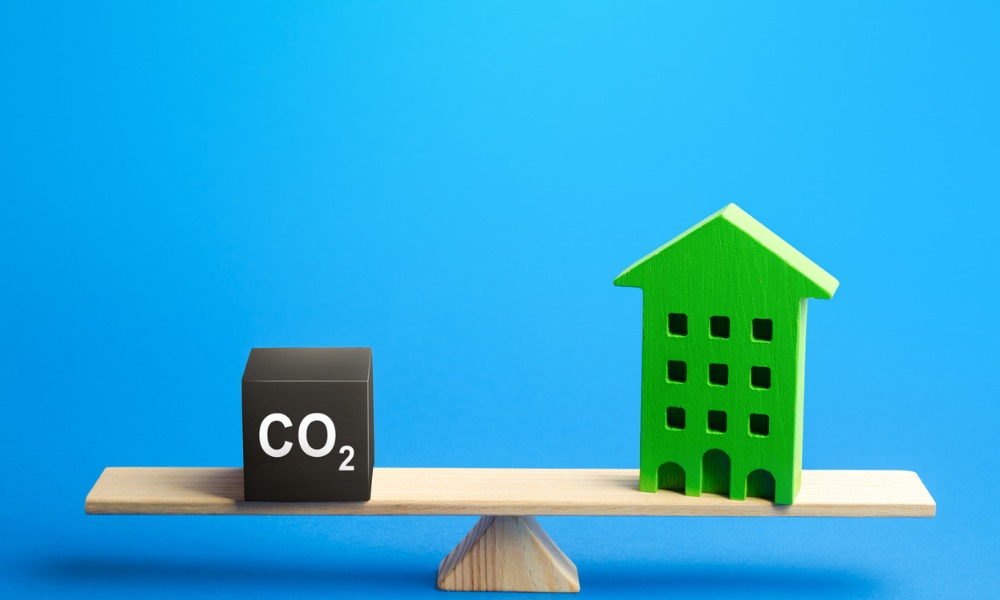 While there has been a committed shift to net zero among housebuilders, this commitment has not been shared by the housing development finance industry, according to Barney Iles, senior lending manager at Blend Network.
Earlier this year, the UK's major housebuilders committed to the net zero roadmap through the Future Homes Task Force. This comprises leading figures from the relevant home building, supply chain, skills, environmental, planning, academic, infrastructure, utilities and regulator communities, and through collaboration with the government.
Read more: OSB Group joins the UN's Net Zero Banking Alliance
However, David Postings, chief executive of UK Finance, said he believes thousands of borrowers will be unable to afford the switch.
Reaching net zero will involve moving from fossil fuels to renewable energy for our power, and abandoning vehicles run on petrol and diesel in favour of those powered by electricity and hydrogen.
Gas central heating will also need to be replaced by alternative sources, such as heat pumps.
Chiefly, the plan's goals are to deliver high-quality homes that are zero carbon ready, sustainable, while being healthy, safe and comfortable from 2025.
The plan aims to deliver places and developments that are consistently low carbon, nature-rich, resilient, healthy, well-designed and beautiful by 2025.
This is in addition to production and construction methods that are net zero and sustainable by 2050, with ample and visible progress by 2025 and 2030, as well as businesses operations in line with the race to zero; net zero by 2050 with a 50% reduction by 2030.
"However, as the UK charts its path toward net zero, we are yet to see a similar commitment coming from the housing development finance industry as a whole," Iles said.
Iles went on to say that there are currently no publicly recognised frameworks, best-practice guides or ESG checklists for the construction industry.
There are, however, a whole range of ways in which development finance lenders can assess the ESG credentials of the housing schemes they seek to fund, according to Iles.
He believes that net zero housing infrastructure needs to be delivered at scale, pace and at the lowest cost to maximise the benefit of net zero and to keep the costs to prospective homeowners and taxpayers down.
Harnessing sources of funding which are ready to invest from non-bank and specialist lenders, he said, will avoid further burdens on government finances, especially at a time when there are already existing pressures.
Ultimately, Iles believes it is key for specialist non-bank lenders to work hand-in-hand with the government in delivering such housing targets.
Read more: The pathway to a green net-zero ecosphere for building societies
"At Blend Network, we are already actively funding green, sustainable and ESG-compliant housing schemes across the UK regions," he added.
He went on to say that at Blend Network, the company is planning to further formalise its commitment to sustainable living and a net zero economy by launching its Green Is Good initiative.
"More details of this initiative will be announced within the first quarter of this year," Iles added.
From Blend Network's borrowers' perspective, Iles said that environmental performance and ESG credentials can help property developers improve sales or attract better tenants who are increasingly seeking efficient, healthy, and green certified buildings to live and work in.
All in all, he believes that incorporating ESG factors can lead to increased profitability through higher property values, attracting more and better tenants, as well as improved returns on investment.
"From our perspective, aside from making decisions that are socially responsible or morally right, the growing trend of ESG integration across companies and investors makes the need to address sustainability and societal issues within the construction industry increasingly important," Iles said.
Iles believes this is why Blend Network's Green Is Good initiative will require community benefits, sustainability and social initiatives (CSS) to be delivered as part of the housing schemes that the company funds.
He added that Blend Network aims to implement best practice in sustainable development finance lending across the UK regions to accelerate investment.
"In summary, as the UK gears up to meet the government's target of reaching net-zero carbon emissions by 2050, it is vital and urgent that we align policy and real estate development finance to offer the sustainable housing and infrastructure backbone to a net zero economy," Iles concluded.