Homeowners take out more than 13,000 new plans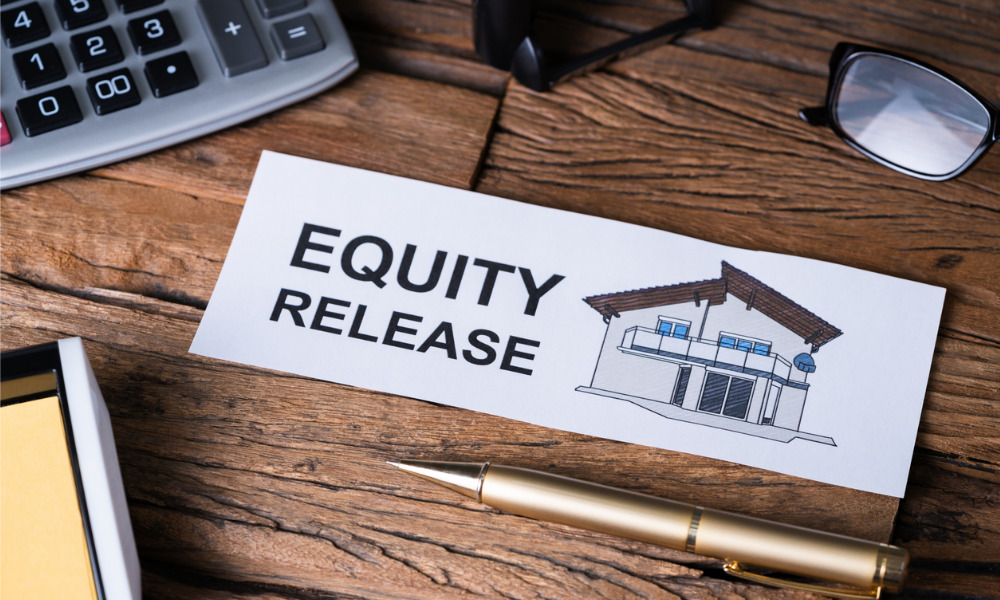 The total value of equity release loans reached a record £1.71bn for the first time ever during the third quarter, according to latest figures.
The increase "continues the trend of quarterly increases during 2022", rising from £1.53bn in Q1 and £1.60bn in Q2 to reach £4.84bn for the first nine months of the year, reported the Equity Release Council.
Unlike conventional mortgage loans, an equity release product is available to homeowners aged 55 and over. They can borrow up to 60% of the value of their property and repay it with interest once they go into long-term care or die.
According to the council's guidelines, the funds a borrower receives are typically used for a range of purposes, including providing additional retirement income, funding one-off expenses and lifestyle purchases, consolidating debts, meeting homecare costs or gifting a 'living inheritance' to family or friends.
The record figure comes amid rising mortgage interest rates, which have incresed sharply since September's mini budget statement.
Read more: OneFamily Lifetime Mortgages temporarily withdraws products
According to Moneyfacts, the average rate for a lifetime equity release combined deal is 7.54%, up from 6% in September and by 4.17%, compared to the same period last year. For a fixed lifetime equity release deal, the average rate is marginally higher at 7.55%.
The council also revealed that homeowners took out a record 13,452 new equity release plans during the same Q3 period, representing an 8% increase on the previous quarter.
Meanwhile, new customer numbers increased by a third (34%) year-on-year, with total lending to new and returning customers growing by a staggering 49%. In total, the market served 25,519 borrowers during Q3.
On the flip side, activity reduced 10% in September due to challenging economic conditions and product price increases.
In response to the figures, David Burrowes, chair of the Equity Release Council, said: "The summer months have seen the equity release market resume its pre-pandemic growth trajectory, with extra protections having been added in the intervening years so all new customers can make voluntary repayments when they can afford to and reduce their overall costs."
However, he warned that equity release "is not an overnight purchase" and that the "desire to secure lower interest rates before anticipated rises" had likely influenced customers' timings.
He continued: "While recent turbulence in financial markets have added to upward pressure on interest rates, product flexibilities and stringent safeguards mean modern equity release remains the most secure and adaptable way to access the money tied up in your home without giving up ownership or risking repossession through fixed repayment commitments.
Read more: Which equity release providers are considered the best by advisers?
"With the value of UK homes having passed £7trillion, people are increasingly inclined to put their property wealth to work in later life to support themselves and family in the here-and-now.
"Council standards mean there are measures in place to protect customers' existing loans from rising interest rates, as well as ensuring that people can only take out equity release once they have considered it from every angle through detailed financial and legal advice."
Vikki Jefferies, proposition director at mortgage broker network PRIMIS, recently told Mortgage Introducer that she had detected a spike in equity release products.
She said: "It is a fact that people in those higher (market) brackets can manage on the (higher) rates; they can weather the storm. People that have already owned property have got a lot of equity."
Quoted in the Daily Mail, Will Hale, CEO of Key Retirement Solutions, said the figures "highlight a growing and robust sector" but warned that due to the recent political turmoil impacting on rates and product availability, the final three months of year "will likely look quite different to the first three quarters".
He said: "While the appointment of the new prime minister looks set to steady the markets, there remain challenges ahead and customers considering borrowing in or into retirement must seek specialist advice and consider all their options."
Despite this, he stressed that there was "clearly a key role" for equity release in helping older homeowners navigate through the challenges of the cost-of-living crisis.