How Skipton Building Society is ensuring that it relates better to borrowers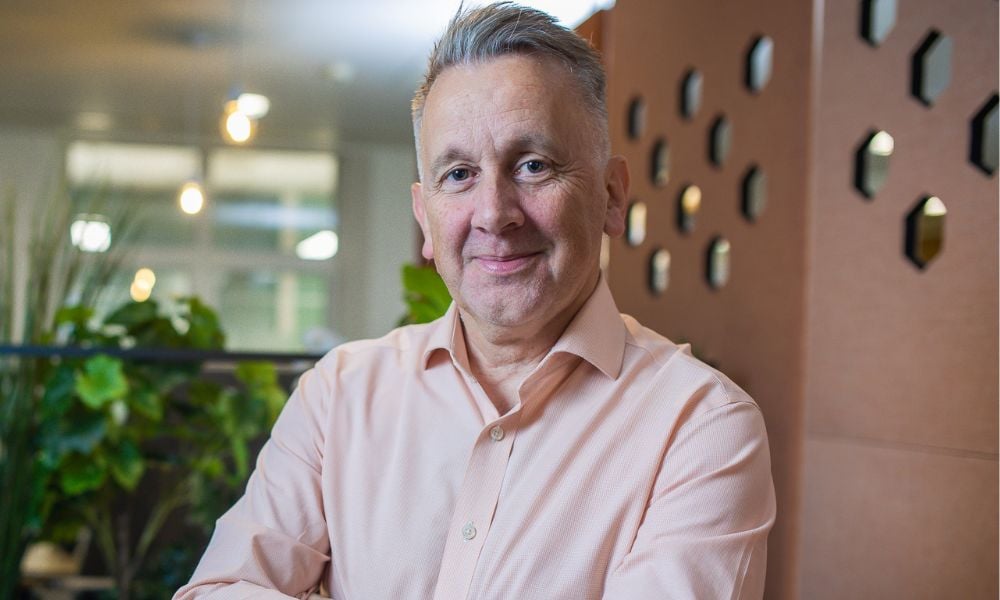 This article was written in association with Derek Adams, National Accounts Lead at Skipton Building Society.
"When I was a first-time buyer 100% mortgages were readily available and therefore I didn't have the challenge of having to save up for a deposit," recalled Derek Adams (pictured), national account lead for Skipton Building Society, reflecting on his own first property purchase. "But for first-time buyers now, the saving of a deposit is the real challenge. Statistics show that in some regions of the UK, it would take a first-time buyer seven or eight years to save."
Adams' first property was a two-bedroom flat, bought in the north of England, for around £30,000, a price which may seem comparatively small today.
"The house prices in some regions are really quite eye watering now," he said. "So, a first-time buyer trying to get on the ladder either needs mum and dad or a family member to help, or they need to put down a sizeable deposit."
Skipton's well received solution to this challenge, earlier this year, was the introduction of its Track Record mortgage, enabling eligible renters, aged 21 and above, to obtain a mortgage of up to £600,000, to buy their first property without the need for a deposit or guarantors.
Tenants able to prove affordability and evidence they've paid all rent for 12 months in a row, within the last 18 months, could borrow up to 100% of the property's value, with Skipton's five-year, fixed rate mortgage. The product ensures that the monthly mortgage payment for each applicant isn't more than the average of their last six months' rental costs.
Such was the demand for Track Record that Skipton has evolved the product to make it accessible for more customers. So long as they have not owned a property for the last three years, then they are eligible.
"Track Record was designed for first-time buyers who don't have the bank of mum and dad, and those who, because they're paying high rent every month, wouldn't be able to save the deposit required," Adams elaborated. "We devised a calculation based on affordability but also based on the fact that you have been paying a rental payment and the monthly payment of that mortgage will be less than what you were paying for rent. The view is that if you can pay a large rental payment, then you're going to be a safe bet to pay a mortgage payment of less than that.
"We've been at great pains to stress that we feel that Track Record is a good piece of innovation. It's there for the right potential borrower. When it was launched, a lot of brokers used it to start up some activity in a time perhaps where the activity levels had lowered. To raise awareness and get borrowers talking about their house buying plans.
"We're seeing with Track Record that some sitting tenants are buying the property from their landlords, as people actually quite like where they're living, so we can enable them to buy the property and make it their own".
He added: "The quality of the applications has been positive, but then that's not surprising because we're asking for people to apply who have a track record of paying their bills. We've got other ideas to explore - Track Record shows there's a value in being innovative and its success gives us the confidence to be more so."
With a long history dating back to 1853, Skipton's founding principles hold true today: bringing people together to help others, including offering the support they might need to purchase their own homes. A mutual organisation, without shareholders, the North Yorkshire-based lender, has a one million-plus membership of savers and borrowers.
Its offering for first-time buyers includes its joint borrower sole proprietor product - a mortgage where the buyer can add others to the mortgage and use their income on the application to help increase their affordability. Most recently Skipton rebranded this as Income Booster.
Adams explained, "we're an industry that loves jargon and abbreviations, and certainly for first-time buyers a lot of these mortgage terms would be unknown to them or don't enable them to make an educated decision.
"So, Income Booster is to help explain to first time buyers about what the product does for them. One of our USPs is that the joint person on the mortgage doesn't need to be a family member, so certainly, we offer some flexibility at a time when it's as tough as it's ever been.
Adams acknowledged the importance of broker community's contribution to its business.
"Intermediaries provide over 90% of Skipton's lending business, so I think it's vital that we understand what the clubs and networks, brokers and members require," he stated, "making sure that the Skipton proposition continues to adapt and adjust to provide as many solutions as possible for the challenges which are out there.
"The clubs and networks that I look after have a panel of, in some cases, close to 80 or 90 lending providers. We need to work really hard at Skipton to make sure that we are at the forefront of our brokers' minds when they're deciding where to place their applications and which lenders they trust to look after their clients. It needs to be at the front of their minds that if they pass a case to Skipton, we will look after their client."
He suggested that some first-time buyers may be holding off from purchasing property in the current economic climate.
"Certainly, speaking to brokers, that is a view that some potential borrowers are holding back, waiting for interest rates to level off," Adams shared. "For those potential buyers who may be thinking that interest rates are going to plummet back down to the previous level, we do need to get a message out there that actually those historically low rates were a response to the financial crisis in 2008.
"Interest rates, whilst many believe they might start to head back down and may have in fact plateaued, they're very unlikely to reduce to the low level we've been used to over the last couple of years."
Adams described his own excitement at becoming a property owner, for the first time – a joy somewhat tempered by the practicalities of what was involved.
"When I went round to view the flat before I bought it, it was full of furniture," he remembered. "When I put the key in the door for the first time, as its owner, I saw this empty flat and it was quite disconcerting in one sense. I realised that I was just getting this empty shell that I needed to fill with stuff! But, it was exciting."
And with that memory fresh in his mind, Adams pledged Skipton's commitment to helping new borrowers: "We will continue to look at ways of helping first-time buyers get onto the property ladder. It's our reason for being, as far as I'm concerned."