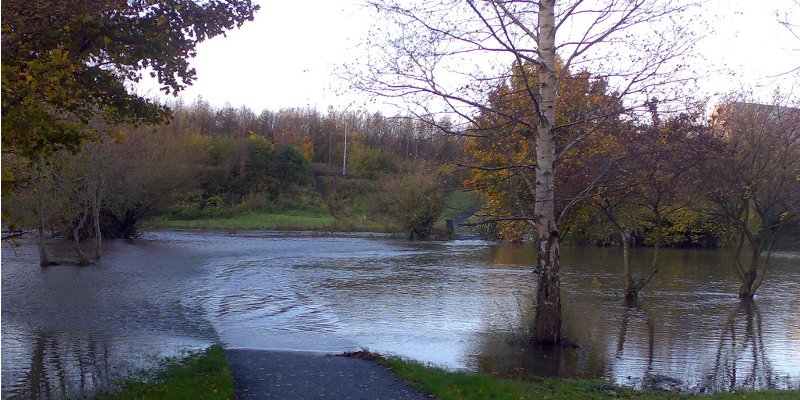 Around one in seven UK homebuyers have faced a potential flood risk when buying a property this year, findings from the inauguralHomebuyer Urban Flood Risk Reportsuggest.
The report, created byenvironmental risk analysts Future Climate Info (FCI), examines trends in homebuyer activity within the ten most populated cities across England and Wales.
It found homebuyers seeking properties in London (23%), Manchester (21%) and Cardiff (20%) faced the highest likelihood that their chosen home may be at risk from flooding.
Geoff Offen, managing director of FCI, said: "We've assessed tens of thousands of transactions over the last two years, and while there are significant regional and local variations, this data emphasises how flood risk is something all conveyancers and their clients need to be aware of as part of the homebuying process.
"It is interesting to see that homes in our biggest cities are some of the most likely to come with a potential flood risk.
"Due to the complexity of flooding dynamics in built-up urban environments, it is vital that conveyancers keep up to date with the latest developments in assessing and managing potential flood risks – by doing so, they can ensure that a potential issue needn't result in the collapse of a transaction.
Comparing year-on-year trends, aspiring buyers in Liverpool, London and Birmingham were all more likely to be targeting locations at risk of flooding in 2017 than they were the previous year.
Conveyancers based in Liverpool saw the greatest increase in the frequency of flood risk. 10% of purchasers there this year had a potential risk compared with 7% in 2016.
Both London and Birmingham saw an increase of two percentage points, from 21% to 23% and from 9% to 11% respectively.
In contrast, reduced levels of flood risk were seen for transactions in Bristol, Leicester, Leeds and Sheffield this year compared with 2016 – which could be influenced by fewer sales in at-risk areas.
Among England and Wales' most populated cities, conveyancers working in England's capital were the most likely to have to deal with a flood 'further action' in 2017 as part of their due diligence on residential property transactions.
Nearly one in four (23%) homebuyers in London encountered a potential flood risk in 2017, up from 21% year-on-year.
London conveyancers were almost three times as likely to see a flood risk highlighted on a client's purchase (23%) than their counterparts in Sheffield (8%).
Offen added: "Homebuyers are increasingly educated and aware of environmental issuesand the implications will become a growing influence on their decision-making.
"With a range of solutions available, conveyancers should be ready to discuss the flood risks associated with a property, and they can help to highlight follow-up actions that will ultimately leave the homeowner better protected."
Across all of England and Wales, aspiring homebuyers in the largest urban metropolitan areas were found to be the most likely to encounter flood risks while buyers in rural hamlets and isolated areas saw risks rise the most year-on-year.
Around one in seven (15%) homebuyers in urban conurbations found a potential flood risk attached to their property in 2017.
Slightly fewer buyers (14%) in rural hamlets and isolated dwellings encountered a risk, but this was up from 12% in 2016.