The £40-million apartment scheme is the lender's biggest loan to date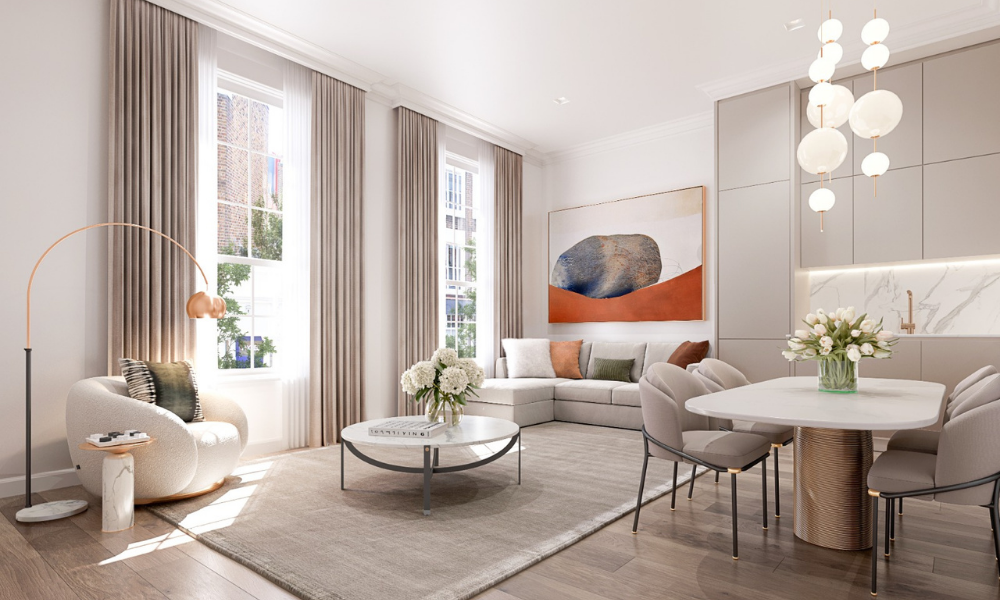 The romantic comedy hit 'Notting Hill' sparked a buying frenzy in London's W11 postcode district at the time of its release in 1999. Fast forward 23 years, estate agents say the movie link still drives property prices in the area.
A parade of shops which features in the movie is being transformed into a £40-million luxury apartment scheme after a specialist lender agreed to finance the mixed-use redevelopment.
The four-storey, 24,511-square-feet Victorian terrace on Westbourne Park Road, West London, stands directly opposite the famous blue door to Hugh Grant's flat in the 1999 box office hit.
When completed, the new scheme – called Kensington Park Corner – will include a row of boutique shops arranged over the lower ground and ground floors, plus seven luxury apartments (three two-beds and four three-beds) all arranged on the two floors above. The completed apartments will range in size from 95-120-square-metres and be priced between £2-4million.
The redevelopment is being financed by lender Atelier, which offers fixed interest rate loans to professional property developers.
Features in the development will include south-facing balconies, roof terraces and cinema rooms — not to mention a view of the iconic blue door across the street. Gross internal area for the retail units will be 11,687 square feet, and net internal area for the apartments will be 8,051 square feet.
Filming of 'Notting Hill' began in April 1998, and it went on to gross more than £300 million at the box office. In the years which followed, fans would make pilgrimages to have their photo taken outside the famous blue door.
More than twenty years on, property agents still reference a 'Notting Hill effect' taking place when a movie or a television series release triggers a spike in property prices around the filming location. More recently, the Netflix series 'Bridgerton' has sparked a huge surge of interest in period properties from both domestic and overseas buyers.
The shop opposite one of the lead characters' flat – then Nu-Line Builders Merchants – was featured several times in 'Notting Hill'. Nu-Line Builders Merchants continued trading at 305-317 Westbourne Park Road until last year, when a leading London developer backed by Atelier stepped in to fund the redevelopment.
Data published recently by Savills showed that W11 remains one of London's five most desirable and expensive postcodes. The area is well-served by public transport links including Notting Hill, Westbourne Park, and Ladbroke Grove tube stations, with the Portobello Road Market nearby.
Read more: Prime London property prices are trending up.
"In recent months we've seen a surge in demand for new apartments in Prime London, and this development of seven stylish homes and a new parade of shops will bring fresh life, and new residents, to the W11 community," Martin Gilsenan, chief origination officer at Atelier, said.
"It's exactly the sort of thoughtfully-designed redevelopment project we like to finance at Atelier, and will create a series of comfortable homes and vibrant businesses at the epicentre of the Notting Hill phenomenon."
The development deal was brokered by Stonehouse Capital, and building work began earlier this year, with completion expected in autumn 2022.
"We are delighted to have arranged the finance for this transaction with Atelier, who backed the developer to complete a complex transaction within three weeks," Tony Tadros, director at Stonehouse Capital, commented.