The Prime Minister had alluded to changes at Prime Ministers Questions earlier today and has now expanded - these changes include a three-month buy-to-let holiday.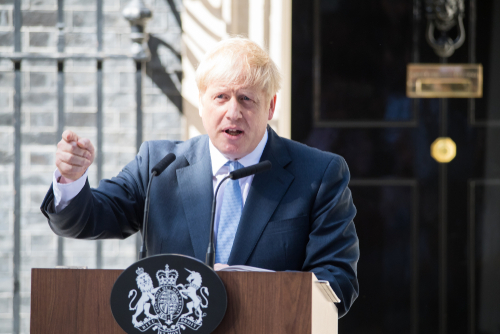 Prime Minister Boris Johnson has said the government will bring forward legislation to support private renters - including a repayment holiday for buy-to-let.
This includes extending the option of a payment holiday of up to three months to residential buy-to-let landlords who have tenants who are experiencing issues with their finances, as either a direct or indirect result of Coronavirus, as well a three-month moratorium on residential and buy-to-let possession action to start from 19 March 2020.
The government will also protect private renters from eviction for three months.
Speaking at his daily coronavirus briefing the Prime Minister said: " We will be bringing in legislation to protect renters from no-fault evictions
"It would not be right for people to be penalised as a direct result of following government advice."
Around one in five, or 4.6 million, households are privately rented in England.
Housing secretary Robert Jenrick MP said: "The government is clear – no renter who has lost income due to coronavirus will be forced out of their home, nor will any landlord face unmanageable debts.
"These are extraordinary times and renters and landlords alike are of course worried about paying their rent and mortgage.
"Which is why we are urgently introducing emergency legislation to protect tenants in social and private accommodation from an eviction process being started.
"These changes will protect all renters and private landlords ensuring everyone gets the support they need at this very difficult time."
ONS data shows that more than a third of 25-34 year olds live in private rented accommodation. By comparison just 8% of those in the 55-64 age category rent their homes.
Yesterday Chancellor Rishi Sunak revealed a three-month mortgage holiday for those affected by coronavirus.
And earlier today Franz Doerr, founder and CEO of flatfair, called for clarity from the government on what action it would take to protect renters in the face of the coronavirus.
Doerr said: "Following the Chancellor's announcement yesterday of a three-month holiday for mortgage payments, the big elephant in the room is what this means for renters.
"The government has said it will legislate to protect renters but more clarity on what this actually means for the millions of renters up and down the country is urgently needed, especially as the economic uncertainty being caused by COVID-19 may mean many will start to struggle to pay their rents.
"Everyone involved in renting – from landlords to agents to deposit alternative providers like ourselves – should work together during these troubled times, to help ensure renters are provided with the relief they may need to come through this difficult period."
The move was welcomed by David Westgate, group chief executive at Andrews Property Group.
He said: "Today's announcement will be a massive relief to tenants around the UK.
"Landlords will also be relieved that, they, too, will be cut some slack in the form of a three-month mortgage holiday of their own if their tenants are unable to meet their payments due to the virus.
"The decision of the government to take the strain off landlords, too, shows a joined-up strategy that will hopefully get homeowners, tenants and landlords through these extraordinary times.
"We are always very supportive of any tenant that gets into genuine difficulty with paying their rent whether that's through accident, unemployment or sickness, in this case the coronavirus.
"This remains a highly fluid situation and what's important is that this emergency legislation is reviewed on an ongoing basis in order to keep pace with events.
"What's vital is that landlords and tenants communicate openly at all times during the weeks and months ahead so that everyone can pull through this unprecedented situation relatively unscathed."
David Cox, chief executive, ARLA Propertymark added: "We are very conscious of the plight of tenants in these difficult times and appreciate any government action to help those affected by the current situation.
"Letting agencies rely on rental payments and therefore government must help to ensure agents can maintain their current service levels during any period where rent is not being paid.
"Specifically, we are calling on government to extend the retail discount on business rates to estate and letting agents."