Firm introduces new names to sustain business growth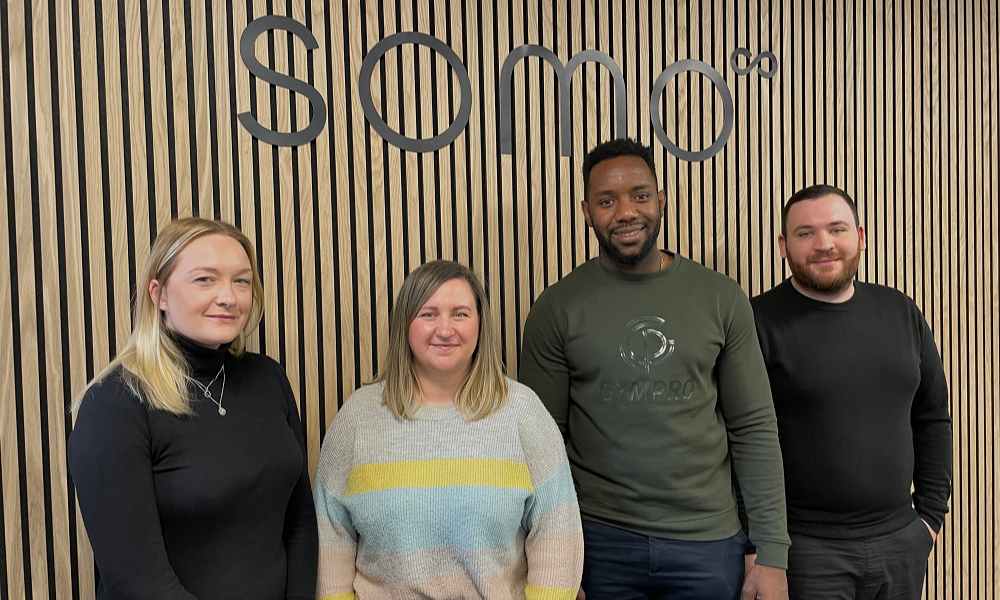 Bridging lender SoMo has announced the further expansion of its team with four new recruits due to increased business.
Laurel Livesey (second from left in picture) joins the specialist lending firm as its newest underwriter. With over five years of experience in the finance industry, Livesey will work on SoMo's increasing pipeline by assessing and reviewing cases and their credit worthiness.
In the newly created role of valuations manager, Rachel Killeen (leftmost in picture) will work alongside both the sales and underwriting teams to oversee the valuation process. The lender said her appointment is the start of SoMo's long-term vision to build its own specialist valuation panel. Killeen joins from Together, and brings with her 14 years of managerial experience in the retail sector.
Read more: SoMo names new sales director.
Reinforcing SoMo's sales team, Greg Applewhaite (second from right in picture) becomes its newest relationship director for the home counties. He joins SoMo with six years of sales experience in the finance industry across secured and unsecured lending. He will be responsible for building and nurturing relationships with brokers.
Another addition, Damiano Lo Presti (rightmost in picture) joins SoMo as relationship executive, tasked with supporting the lender's relationship directors, as well as maintaining SoMo's customer database.
Commenting on the new appointments, Lindsey O'Neill, senior talent acquisition partner at SoMo, said it was important to strengthen their team, not only to help support the company's growth, but to also maintain the quality of its customer service.