"My path in the mortgage industry has been a rewarding one"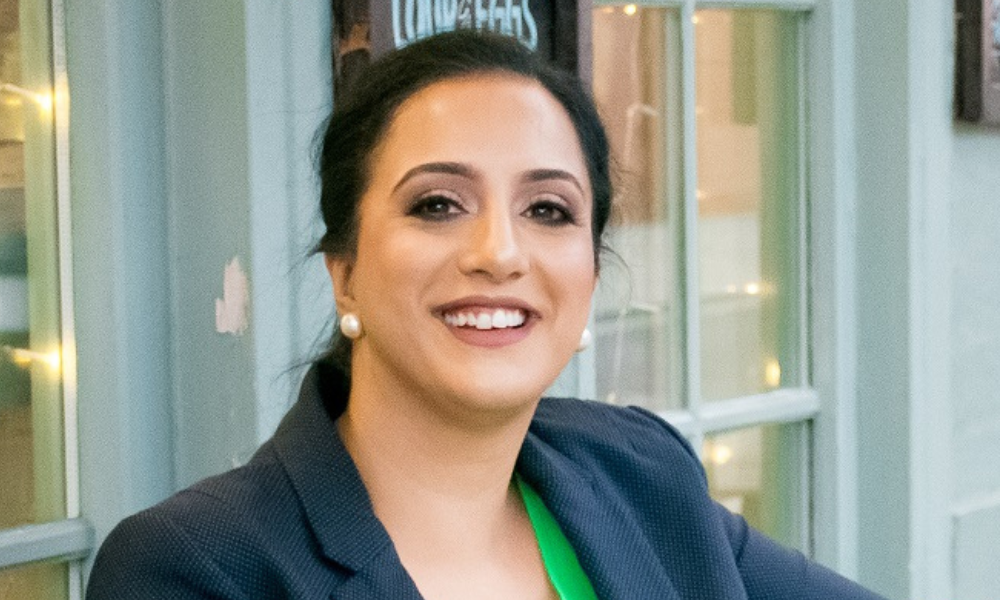 In 2020, in the middle of the first COVID-19 pandemic lockdown, Rita Kohli (pictured) courageously established her company, The Mortgage Stop, with the goal of providing mortgage and protection advice tailored to the unique needs of her clients.
Her journey into the mortgage industry, however, began two decades back, at a time when the financial landscape was vastly different from what it is today. Kohli shares with the Mortgage Introducer her story, of how she became a mortgage broker.
Getting into the industry
Kohli started working for HSBC in the bank's customer service centre in Leeds. It was a role that allowed her to interact with a diverse range of clients, understand their needs, and provide solutions.
"It was here that my passion for mortgages truly ignited," she related. "HSBC sponsored me to get my CeMAP qualifications, an opportunity I seized with both hands. It was a turning point in my career, setting me on a path that I continue to tread with enthusiasm and dedication."
Find out more about Rita Kohli, the talented woman behind The Mortgage Stop. https://t.co/otWLwQTLUg #womeninbusiness #womeninfinancialservices #mortgageadvice pic.twitter.com/yfTI8pPQXF

— themortgagestop (@themortgagestop) January 10, 2022
Kohli then moved to Southampton and joined the high street bank's mortgage service centre, where her interest in mortgages continued to grow.
"I was fascinated by the complexities of the mortgage market and the impact it had on people's lives," she said. "I loved speaking to people, getting to know them, and finding solutions that helped them meet their goals. It was during this time that I realised the power of a mortgage – it was not just a financial product, but a tool that could help people achieve their dreams of homeownership."
So, after roles at HSBC and The Post Office (Bank of Ireland), she realised that she wanted to offer more comprehensive solutions to clients' needs. She wanted to go beyond the offerings of a single lender and provide options that catered to the unique needs of each client.
That realisation led her to join St. James Place Wealth Management as a whole-of-market adviser, in a role that allowed her to expand her knowledge and expertise and provide a more holistic service to her clients. However, when the pandemic hit, she saw an opportunity to start her own business.
"I launched The Mortgage Stop in the second week of lockdown," Kohli recalled. "It was a daunting decision, but one that I felt was right. I believed in my ability to provide exceptional service to my clients, and I was ready to take on the challenge of running my own business.
"It has been a rewarding journey ever since. Today, we have grown to a team of five, and my husband, Rohit, has even joined the business."
Motivation to continue as a broker
In her over 23 years of experience in financial services, Kohli said she has been through the highs and lows of the industry. She has seen the market boom and bust, navigated the complexities of regulatory changes, and adapted to the evolving needs of clients.
"It has been tough at times, and all signs indicate that it is about to get tough again," she stated. "However, with a clear focus, building trust and dedication to how we want to run our business, I am confident that we will get through it."
Her primary motivation as a broker, she said, is her love for helping people.
"I am all about the client, understanding their needs, and helping them develop solutions," Kohli expressed. "This client-centric approach is what drives me every day. It is what gets me out of bed in the morning and keeps me going, even on tough days.
"Sometimes, this involves having honest conversations about the reality of their situation, especially in today's market. It is not always easy, but it is necessary. I believe in transparency and honesty, and I make sure my clients are fully aware of their options and the potential challenges they may face."
The Mortgage Stop founder said that working with clients is rewarding, particularly with first-time buyers.
"I also build long-term relationships and support them throughout their life journey," she added. "It is not just about securing their first mortgage; it is about helping them navigate the complexities of homeownership, from understanding mortgage terms to managing their finances effectively."
Looking to the future
Kohli shared that her future goals involve continuing to grow The Mortgage Stop by building relationships with clients and instilling this ethos throughout her company.
"I want to create a company culture that values client relationships and prioritises their needs," she said. "I have even started seeing the next generation of families who are starting to purchase their first homes, which is a true compliment.
"Unlike many mortgage advisers who focus on quick, transactional business, I see myself as an adviser who should be providing ongoing support. I believe that the role of a mortgage adviser does not end once the mortgage is secured. It is about being there for the client, providing advice and support as their needs and circumstances change."
A believer in people development, Kohli took on an apprentice and someone seeking a career change, saying she wanted to create opportunities for others to grow and succeed in the mortgage industry by sharing her knowledge and experience.
"I have a clear plan for expanding the business, and my husband and business partner, Rohit, and I are steadfast in achieving it," she added. "We are adapting to the tumultuous mortgage market, but that is what makes for a successful business – adaptability. We are prepared to face the challenges that lie ahead, and we are committed to providing the best service to our clients, no matter what."
In conclusion, Kohli believes her journey in the mortgage industry has been a rewarding one.
"It has been filled with challenges and triumphs, highs and lows, but I wouldn't have it any other way," she said. "I am excited about the future, and I am committed to continuing to serve my clients with the dedication and expertise they have come to expect from me and The Mortgage Stop."
Are you a mortgage broker who also has a story to tell? Leave a comment in the discussion box at the bottom of the page, and you might get your story featured here too.