A new Analytics and Reporting Dashboard allows users to better understand and manage their broker business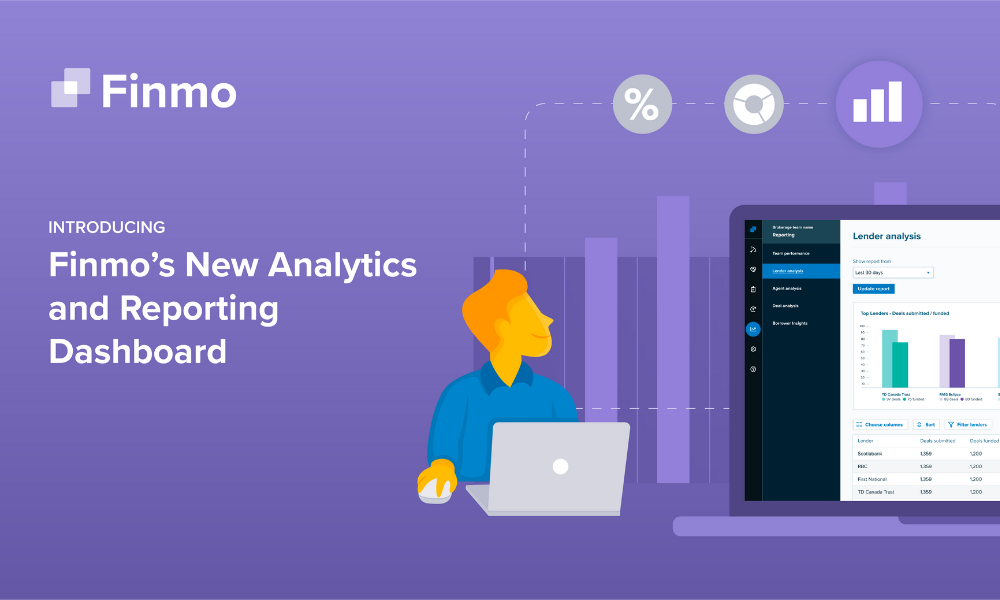 This article was produced in partnership with Lendesk
Fergal McAlinden of Canadian Mortgage Professional spoke with Carter Zimmerman of Lendesk on the latest Finmo developments
2021 proved to be one of the most memorable years to date for Lendesk, with the mortgage fintech capping off a blockbuster 12 months with the launch of Finmo's new Analytics and Reporting Dashboard.
The new development, which is now live, is offered to brokers at no cost – representing part of an optimized Finmo platform that now boasts no subscription fee.
Carter Zimmerman, president at Lendesk, told Canadian Mortgage Professional that the dashboard had been designed to help brokers streamline and improve the efficiency of their daily work, allowing them to identify where they could improve through an array of mortgage-specific business metrics.
"The dashboard is all about surfacing insights. It enables brokers to not only understand their business, but find ways to optimize and grow," he said. "Being able to understand funnel efficiency, improve relationships with lenders and determine business profitability are key factors to growing a broker business.
"These insights are a result of a broker working their deal in Finmo and allowing us to take that and turn it into useful data for our users. For Finmo's dashboard capabilities, this is really only the start."
Zimmerman said that brokers could use the dashboard to pinpoint areas of growth versus underperformance, comparing different time periods by analyzing deals submitted, funded volume and submitted volume.
Insight on average BPS for brokers is also provided, allowing them to assess how profitable their business is based on their current approach.
A variety of metrics are featured in Dashboard, helping brokers improve efficiencies with lenders by explaining average mortgage size, lead to application ratio, application to fund ratio and lead to fund ratio, among others.
The dashboard solves a key problem for most brokers in the industry – wanting actionable insights on their business but not having the time or resources to collate them.
Designed specifically for ease of use, the dashboard is low effort to start using and maintain, but produces high value for users. Once a deal is funded by a lender, it automatically updates, with a broker also able to expedite the process with deals that they know they're going to fund. By marking the application as funded, the deal will be highlighted on the dashboard within one hour.
The dashboard is included for brokers who sign up to Finmo (again, at no subscription fee), with those interested able to see a short overview video of the tool and its features here.
Zimmerman also noted that more is to come on the dashboard front next year, and that brokers should expect further features to be rolled out throughout 2022.
Those enhancements will allow brokers to go even deeper on client behaviour, analyzing where business is being sent, how their team allocates submissions and fundings, and more.
"We have more dashboards to be released in 2022 – Lender Analysis, Deal Analysis, Agent Analysis and Borrower Insights – so brokers should stay tuned for those updates," he said.
Brokers can learn more about Finmo and try the dashboard out by visiting lendesk.com/finmo.
Carter Zimmerman is president of Lendesk, a Canadian technology company that is modernizing the mortgage industry for mortgage professionals and lenders. Carter Zimmerman was also awarded as one of the best young mortgage brokers and professionals in Canada. To learn more about the winners, read the Rising Star 2023 special report.