Providing funds for seniors' facilities has always been risky. Post-COVID-19, it's an even dicier proposition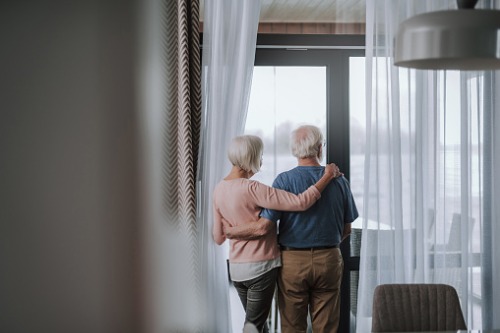 Since the COVID-19 outbreak, there have been few more distressing images than those coming from Canada's seniors care homes, which have been linked to approximately 50 percent of the country's total number of coronavirus deaths.
It's a challenging time for one of the most unique and critical niche segments of the commercial market. Tough questions are being asked about the quality of care being administered in seniors care facilities at the same time the need for them is intensifying. According to the Conference Board of Canada, by 2035 there will be a need for an additional 199,000 long-term care beds across the country. Those new beds are projected to require $64 billion in capital spending and $130 billion in operational spending between 2018 and 2035.
A significant amount of those funds will come from the private sector, who will be calling upon a select group of lenders to determine the legitimacy of their operations and the level of risk they face.
One such lender is Daniela Peeva of Mortgage Alliance Commercial. As one of the few brokers in Canada lender-approved to work directly with CMHC on such transactions, she has spent ample time underwriting deals for senior care facility owner-operators. Because of the colossal amount of risk involved with running these facilities, Peeva says CMHC backing is one of the only options available.
"If your loan is insured with CMHC, you don't have problems with securing senior lending financing," she says. "But if you don't qualify, you're a big risk. Private lenders don't like seniors housing and a lot of conventional lenders don't like it."
Senior housing has always had a limited number of lenders and limited financing opportunities. Now that the industry is under the microscope, lenders will be evaluating the potential risks far more closely.
Peeva says evaluating the viability of a deal often requires a close look at two critical components: location and the owner-operator's level of experience.
The community a facility is located in can play an outsized role in determining it success. In large, affluent cities like Toronto, where thousands of aging residents already populate the wait lists of the city's care homes, a facility can bank on a reliable stream of future income.
But in smaller, more isolated communities like Bobcaygeon, where 29 residents died at a single nursing home in April, the possibility of replacing them, and the income they represent, with new residents is greatly reduced.
"If we're talking a very small market, then it becomes even higher risk," says Peeva.
Harrowing events like the one in Bobcaygeon were unthinkable a month ago. Now that story after story has detailed similar mass casualties at an unthinkable number of care facilities, they've entered the public consciousness. Lenders, more than ever, have a responsibility to thoroughly vet the owner-operators seeking financing for these potentially disastrous transactions.
Peeva says evaluating an owner's previous experience is one of the key components to determining a care home's viability. If the owner has already successfully managed a facility, the sailing can be relatively clear. If that experience is lacking, there may still be a way forward.
"If you're hiring a top management firm that has a great reputation, maybe we can mitigate that risk," she says, adding that a client's success in running other types of businesses can also be used to justify the loan.
Peeva doesn't feel that the owners of the properties where multiple deaths occurred are likely to be wiped out by the bad press and damage to their reputations. But if these facilities are still carrying debt loads of 40 percent, she says they "better have waiting lists with 50, 60, 70 people."
With COVID-19 still very much a concern for seniors' care homes, many that depend on the efforts of residents' families – bringing in meals, helping with cleaning and changing – have lost that much-needed assistance due to social distancing measures. That could mean a continued lack of resources when Canada's seniors need it most.
"It's not a pretty situation right now," Peeva says.