OREA and Nanos Research unveiled the new report during a live webcast on Tuesday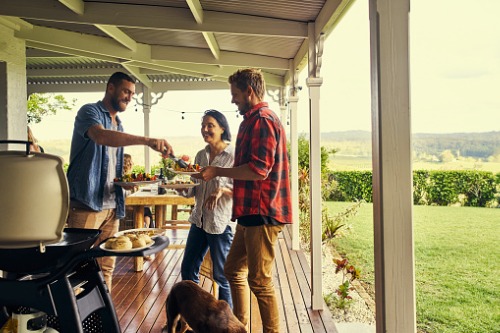 On Tuesday, the Ontario Real Estate Association and Nanos Research provided the province's realtors with a possible glimpse into the future. The groups' joint release, Pulse Check on Consumer Attitudes, found that an overwhelming percentage of Ontarians actively involved in the housing market now consider rural or suburban living a more attractive option than they did only a few months ago.
According to the Pulse Check, 60 percent of Ontarians who took the Nanos poll either "agree" or "somewhat agree" that living in a rural area is more appealing now than before the start of the COVID-19 pandemic. When asked if living in the suburbs has become more appealing, 61 percent either agreed or agreed somewhat. Only 34 percent of respondents said downtown living has grown more attractive.
During the webcast that accompanied the Pulse Check's release, Nick Nanos was quick to tamp down any talk of an out-and-out desertion of the GTA by homebuyers.
"I don't think this is going to manifest itself into an exodus out into the 'burbs and rural Ontario," Nanos said. "But what this means is [those options are] now on the agenda."
Melanie Piche of the BREL Team, another guest on the webinar, doesn't see the city emptying out anytime soon. Instead, she sees COVID-19 as "the great accelerator" causing buyers to accelerate their real estate plans.
"We've seen people that had been talking about moving to the county, or moving to the country, or moving to the suburbs in five or ten years, or downsizing to a condo in Toronto in five or ten years who are now doing it as opposed to waiting," Piche said. "We're seeing a lot of those lifestyle choices happening sooner rather than later, but I don't think it's a new trend."
The survey also asked Ontarians if being in isolation had changed their view of what they want in their next home. Thirty-one percent said yes. Of that group, 30 percent want a larger home with more amenities, while 19 percent want more outdoor space. Respondents also want to be away from the city (seven percent) and have space for a home office (six percent).
"Those first-time buyers are certainly looking to move into space," OREA president Sean Morrison said, "and I think that that is also affecting what they're looking for in that space. They are looking for that backyard space. They are looking for that finish-able, or finished, basement so they can have some office space should they have to work at home."
When renters were asked about their interest in purchasing homes, 54 percent said their interest levels had not changed, with 25 percent saying they have become even more interested in buying since the pandemic. A similar 23 percent of homeowners said they are more likely to buy a second property now compared to before the pandemic, although 53 percent said they were either "less likely" or "somewhat less likely" to buy a second home.
The questions specific to COVID-19 provided some of the survey's most interesting data. Only 10 percent of homeowners said they were participating in a mortgage deferral program, while 76 percent said they are not. Five percent said they plan on participating in a deferral program; nine percent said they are still unsure of their mortgage plans.
Ontarians were quite optimistic when asked about the approaching end of extended government support programs. Almost 60 percent of respondents said they are either "not worried" or "somewhat not worried" (whatever that means), while 36 percent are either "worried" or "somewhat worried".
In a question that should bring a smile to the face of MBN readers far and wide, 59 percent of respondents still think homeownership is either a "good" or "very good" investment. But Piche said prospective investors shouldn't take for granted that they'll be getting any kind of COVID-19 discount to juice their ROI.
"Buyers, certainly in Toronto, are hoping that prices have gone down and that this is their opportunity to come in," she said. "I think that's what we saw in June. What we're seeing now is that usual stalemate that we have, 'who's going to blink first?' Are the sellers going to lower their prices or are the first-time buyers going to be like, 'Prices aren't going down. I've got to get in now before they go back up.' I think we're back at that point."