The association welcomed mortgage professionals to a packed two-day event in Vaughan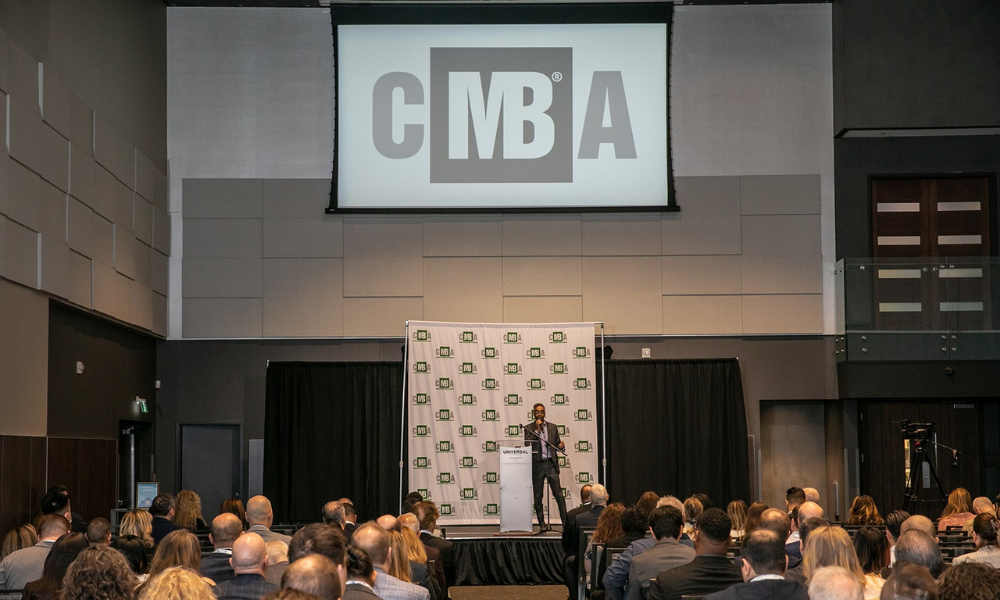 The Canadian Mortgage Brokers Association – Ontario (CMBA-ON) hosted its annual spring trade show and gala evening in Vaughan in April, welcoming members from across the province's mortgage industry for the packed two-day event.
Vaughan's Universal Event Space was the venue for the event, held from April 06-07, which had over 400 attendees for the gala and around 650 for the trade show component.
The occasion marked the latest in the association's series of in-person events, which resumed last September after being moved to a virtual setting throughout much of the COVID-19 pandemic.
CMBA-ON's executive director Petra Keller told Canadian Mortgage Professional that the association had received overwhelmingly positive feedback from attendees and members who clearly relished the opportunity to network and mingle with their fellow mortgage professionals in a face-to-face capacity again.
"The feedback I received was that it was great to be out again seeing people in real time – getting reacquainted with people, understanding product knowledge and learning how to be out in the real world again and not by way of a virtual call," she said.
"It's very rewarding to be able to host events in person again. Those who are still new to being out in the world again get a feeling of being on Cloud Nine; it's very euphoric. To see and hear people say how much they enjoyed themselves is very warming to me."
Seventy (70) exhibitors had booths at the trade show portion of the event, with the conference agenda featuring opening remarks from title sponsors Canadian Mortgages, Inc. (CMI) before an update from the Financial Services Regulatory Authority of Ontario (FSRA) through its head of financial institutions and mortgage brokerage conduct Antoinette Leung.
Past president of Appraisal Institute of Canada (AIC) Ontario Dan Brewer provided a housing update for attendees, while an educational session explaining what happens when a deal falls through was delivered by Rabideau Law's principal lawyer Geoff Rabideau.
Read next: CMBA hosts "uplifting" charity night in support of SickKids
The keynote address was delivered by Janet Bannister, founder of Kijiji and partner at Real Ventures before the trade show got underway, with that portion of the afternoon followed by a lobby reception and prize draws.
That occasion rounded off the two-day event in style following the highly successful gala evening held the previous night. Sponsors included Equitable Bank as dinner title sponsor and Manulife Bank, which provided the evening's champagne station, with a spectacular fire show just part of the entertainment on display.
Speakers included Shubha Dasgupta (president), Reaza Ali (vice president) and Roberto Blanco (chair of events and treasurer).
Next up for CMBA-ON is its Professional Development Symposium in Ottawa, set to take place on May 05 at the Hilton Garden Inn Ottawa Airport.
That symposium and trade show will be held in collaboration with the Eastern Ontario Lenders Association (EOLA) with CMI's Steve Daigle, Equitable Bank's Andrea Haines and CWB Optimum Mortgage's Tom Taylor to take part in a panel discussion on preparing for the spring market.
BHBTV's Chris Baker will guide attendees through setting up a podcast, with Rabideau also bringing his popular presentation to the Ottawa show.
Read next: CMBA's in-person symposium – the key takeaways
On May 18, the association brings its Golf Life a Pro session back to Bolton, offering participants the chance to brush up on their golfing skills ahead of summer golf season through lessons at Glen Eagle.
A 90-minute lesson session is to be followed by a barbeque lunch and a round of nine holes before the day comes to a close with a light reception.
June 02 will see CMBA-ON host its Ottawa Golf Tournament at The Meadows Golf and Country Club, followed two weeks later (June 16) by the Spring Open Golf Tournament at Kitchener's Rebel Creek Golf Club.
On August 11, the association hosts its Legends on the Niagara SummerFest at Niagara Falls, with the Autumn Golf Classic Tournament on September 21 closing out its series of golf events.
Details are still to be revealed for its in-person professional development symposiums later this year, with Vaughan currently proposed for its October event and Ottawa the tentative location for a second in November.
The association's annual charity casino night will also return in the fall. Last November's event in Vaughan hosted around 200 attendees and saw CMBA raise a total of $25,000 for donation to the SickKids charity.