Lendesk is toasting the launch of its Lender Connect deal submission platform by giving brokers the chance to win a Tesla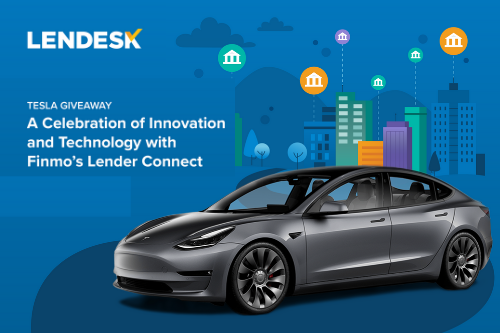 For Lendesk, it's a significant milestone for technology and innovation in the mortgage space: the launch of Lender Connect, a rapid deal submission platform that speeds up the process for brokers and allows them to work deals entirely through Finmo.
It's entirely fitting, then, that the fintech company is marking such a landmark release with a similarly spectacular giveaway. In a competition running between July 06 and Friday, September 10, Lendesk is offering Finmo users the chance to win a Tesla Model 3 – customizable in the winner's preferred colour – with favourable odds that should make every broker sit up and take note.
Speaking with Mortgage Broker News, Lendesk's chief product officer Carter Zimmerman said that the company was going big to celebrate the launch of Lender Connect, a fully-optimized toolkit that's been honed through a months-long beta testing process with hundreds of brokers and agents.
Lender Connect is linked to the Lendesk network and its roster of over 240 lenders including Scotiabank, MCAP Prime, CMLS Financial, First National, Home Trust and RFA.
"The next wave of innovation"
Zimmerman said that the Lendesk team's approach to developing Lender Connect was similar to that which made Finmo such a success: an industry-leading product development, closely attuned to the needs of brokers rather than to other competitors' products in the mortgage space.
"What Finmo is really good at is the borrower-broker workflow, and collecting applications and Smart Docs," he said. "We took the same product methodology and the same product approach to building Lender Connect.
"We're not looking at our competitors and asking, 'How do we build a product like that?' We genuinely study the problems that the broker has – and the solutions we're coming out with are what we believe are the next wave of innovation."
The reception from brokers and agents during the testing period has been "overwhelmingly" positive, with the platform helping mortgage professionals submit deals in a quicker, more efficient manner.
Read next: Understanding our industry's new reality: a mortgage in minutes
Zimmerman also noted his enthusiasm about other changes to the submission process, including further steps to ensure brokers submit a flawless deal to lenders.
"What I'm most excited about is the way that we've started to think about validations. If you're submitting a deal to a lender, you have your standard set of validations – the things that you have to keep in order to submit.
"What we've started to think about is, 'How do I look at what's provided in Lender Spotlight and add more clarity to the way that the deal should be underwritten?' It's an additional way of looking at the deal to help a broker eliminate the mistakes that they otherwise may have made if they didn't use Finmo."
That essentially functions like a spellcheck for mortgage submissions, allowing brokers to see the places that errors may have been made and change them before the deal is submitted, ensuring no oversights in the deal that lands on the lender's desk.
How to enter the Tesla giveaway
The steps to enter the competition couldn't be simpler. Users just have to set up their Lender Connect profile in Finmo – a process that takes five minutes for the majority of agents – with every deal submitted through Finmo and Lender Connect automatically counting as an entry to win. Those that currently don't use Finmo can try it out with a 30-day free trial, and also try their luck at winning a Tesla.
And now for the best part: every deal counts as one submitted application, meaning that brokers aren't restricted to one entry. The higher the volume a broker does on the platform, the more chances they have to win.
"These aren't lottery-ticket odds," Zimmerman pointed out. "If you're a good agent, and you're submitting your deals through Finmo's Lender Connect, you're going to have a really good shot at winning this."
Click here for more information on Lendesk's Lender Connect, and terms and conditions around the contest.