Expect continued declines in top markets, report says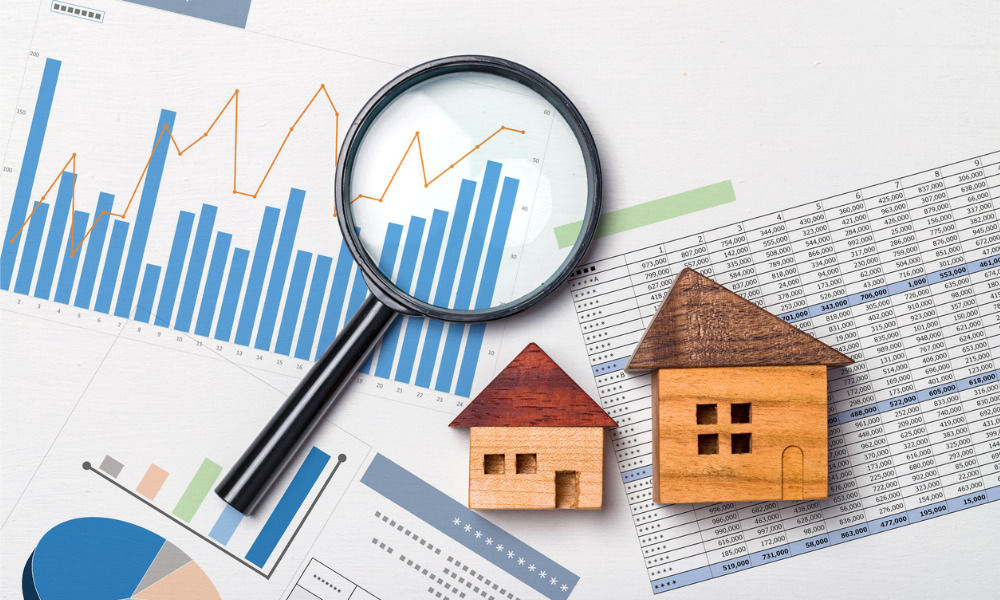 Home prices across Canada have fallen almost across the board in 2022 – and the market still has a way to go before those declines bottom out, according to a new report.
Real estate giant RE/MAX Canada said a survey of its brokers and agents revealed expectations that the national average residential sale price of a home in Canada would tumble by a further 2.2% between now and the end of the year, with lower sales also expected in 18 out of 30 markets surveyed.
Unsurprisingly, the main cause of that slowdown in sales activity appears to be the interest rate hikes that have taken place throughout this year: twenty-five (25) out of 30 brokers and agents described higher rates as having affected local residential market activity this year.
Meanwhile, 44% of Canadians say they're deciding to hit pause on buying a property this year due to those higher rates, according to a new Leger survey commissioned by RE/MAX, although more than a third (34%) said they would push on regardless.
The trajectory of sales and prices differs from market to market. Calgary, for instance, has emerged relatively unscathed from Canada's recent economic turmoil, with a 3% home price increase anticipated for the remainder of the year and Edmonton also expected to post price growth (1.5%).
That's largely related to oil prices, according to RE/MAX broker Cameron Forbes, who noted how correlated employment and the local economy are to that trend in the province.
"This is really a unique story for Alberta's major cities: because of the price of oil, their employment's actually increasing versus decreasing right now, where everybody else will be the reverse," he told Canadian Mortgage Professional.
Read next: First-time buyers: Is now the right time to enter the market?
Atlantic Canada, too, is set to see prices tick slowly upwards, especially in St. John's and Moncton where 7% and 6% growth, respectively, is anticipated.
Ontario is another story, and while Oakville and Muskoka are forecast for price growth in the RE/MAX survey, the province apart from those two markets is expected to see average residential sale prices either remain largely unchanged or fall by up to 10% in the coming months.
While inventory remains low in many parts of British Columbia, price growth is expected to continue to reverse across much of the west. In fact, the average residential sale price could fall by up to 6.5% across Western Canada and the Prairies excluding Calgary and Edmonton, RE/MAX indicated.
The number of would-be buyers opting to remain on the sidelines was somewhat surprising, Forbes said, considering the "unique opportunities" present in the current market.
Those include improved trade-up opportunities for existing homeowners and the fact that prices are adjusting more in the suburbs than in downtown cores.
"People who may have been thinking that they wanted to sell their condo and purchase the ground-oriented place with the backyard – what a great opportunity to do that," he said.
Read next: Fixed vs. variable: What's in store for the rest of 2022?
Meanwhile, lower prices, fewer bidding wars on properties, and more time to carry out home inspections have all helped the momentum swing back towards the buyer in the current market, Forbes added.
"The survey revealed a number of people still in the market, but also revealed a number of people kind of in a pause mode," he said. "It's really important that people do seek a professional realtor to help them with choices – because maybe now is the time to actually be in the market.
"Sometimes, it's better to not be with the herd. There are a lot of people who really could afford to make a transaction now for their family that would better fit their needs."
A cooler market has also meant a greater number of investment opportunities for buyers – particularly in Toronto, Vancouver, and Montreal – in the condo sector, according to Forbes.
Read more: Investment property mortgage rates: Everything you need to know
With rents currently increasing quickly because of lack of inventory and first-time buyers who can't purchase, there's still potential for strong return on investment on second properties, particularly in or around the core of those cities, he said.
"It's another opportunity for people, particularly when they have a lot of equity in their home when they're looking for an investment," he said. "It may make sense for them to get a mortgage to purchase a second property, an investment property."