All eyes have been on the Bank in recent weeks amid speculation of an impending rate increase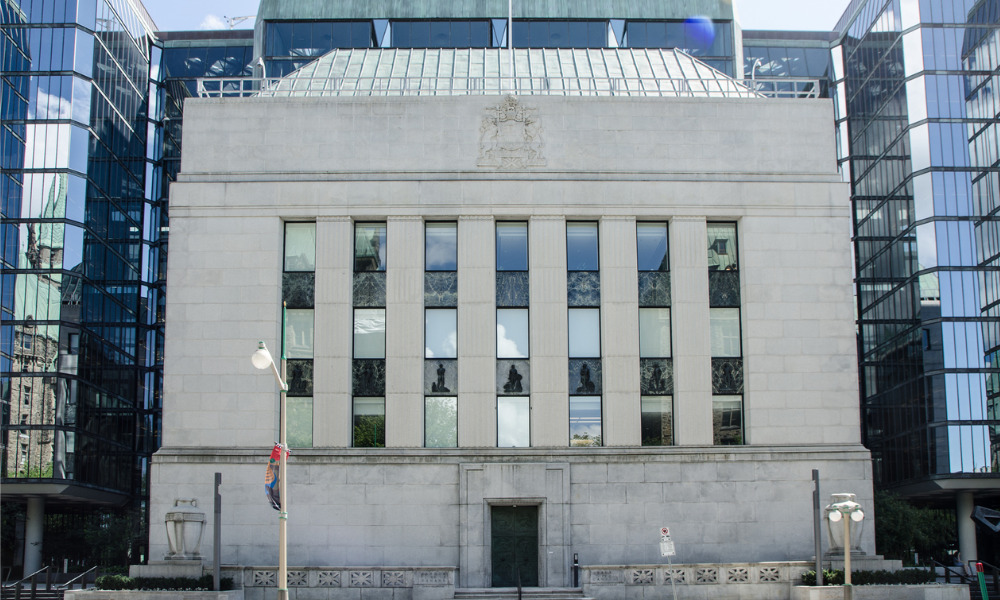 The Bank of Canada has once again stayed the course on its benchmark policy rate, announcing no change to that key rate in its first announcement of the year – but acknowledging that interest rates "will need to increase."
The central bank said that it was keeping its policy rate steady at 0.25%, belying some economists' predictions of a January rate hike, but also indicated that it would soon end its commitment to hold its policy rate at the effective lower bound.
While consumer price inflation (CPI) reached its highest level in Canada since 1991 last month, the announcement signals that the Bank is also keeping a watchful eye on the Omicron variant of COVID-19 sweeping the country.
December's annual inflation of 4.8% represented a 30-year high, according to figures released by Statistics Canada, but the country's economy also continues to be significantly affected by business closures and other restrictions because of Omicron.
Read next: When will the Bank of Canada raise interest rates?
Still, the Bank sounded a relatively positive note on the Omicron front, saying that it expected it to have milder economic downsides than previous waves of COVID-19.
"The Omicron variant is weighing on activity in the first quarter," the Bank said in its announcement. "While its economic impact will depend on how quickly this wave passes, it is expected to be less severe than previous waves.
"Economic growth is then expected to bounce back and remain robust over the projection horizon, led by consumer spending on services, and supported by strength in exports and business investment."
The Bank addressed inflation concerns in its statement, noting that core measures had edged up since October and CPI inflation was "well above" its target range – but also indicating that it expected inflation to "decline reasonably quickly" to about 3% by the end of the year.
"Near-term inflation expectations have moved up, but longer-run expectations remain anchored on the 2% target," it said. "The Bank will use its monetary policy tools to ensure that higher near-term inflation expectations do not become embedded in ongoing inflation."
Some economists had expected the inflation issue to push the Bank into hiking its benchmark rate in today's statement, marking the first of several rate increases over the course of the year.
Read next: Rate hikes, inflation to weigh heavily on household finances – poll
Silvana Dimino, a New York-based economist at J.P. Morgan, said in a note to clients this month that as many as five rate hikes were possible in 2022, with those moves set to push the benchmark rate to 1.5% by the end of the year.
That view was bolstered by employment statistics that saw 54,700 new jobs added to the national economy in December, according to Statistics Canada, far surpassing experts' predictions of a 25,000 increase that month.
However, Canadian Imperial Bank of Commerce (CIBC) deputy chief economist Benjamin Tal highlighted the dilemma facing the Bank in an interview with BNN Bloomberg, noting that it was caught between pandemic concerns and the wishes of the business community.
"We are in the middle of the winter. Omicron is still with us. It will be with us throughout the winter. So if you're the Bank of Canada, do you want to start raising interest rates in the middle of this madness?" he said. "At the same time, the business community is telling you to start moving."
The Bank of Canada's next announcement on its policy interest rate is scheduled to take place on March 02, with its next full outlook for the economy and inflation pencilled in for April 13.