Experts weigh in on the perfect time to list a home in the region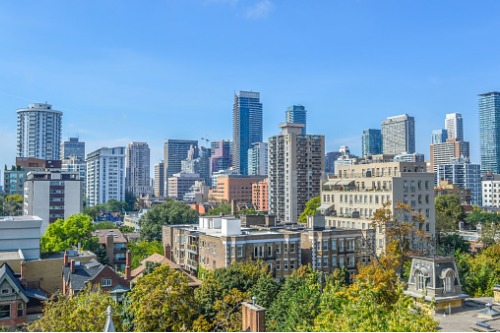 April 2021 marked an exceptional month for the Greater Toronto Area's housing market, with home sales activity surging more than four-fold from the same time last year, according to the Toronto Regional Real Estate Board's (TRREB) figures.
Home sales topped 13,663 during the month, far exceeding the 2,957 deals closed in April 2020 – the first full month since the COVID-19 pandemic struck. Sales numbers last April were also 36.6% higher than GTA's 10-year average for the month, TRREB's data showed.
In terms of new listings, April's 20,825 represented an 8.4% drop from March but more than a three-fold ascent from the 6,180 in same period last year.
Home prices in the region have likewise continued to soar, with the average selling price hitting $1,090,992 in April, a 33% jump from last year's $820,226.
Detached dwellings continued to lead the market, registering a 41% price growth year-on-year to $1,387,629. Median prices for every other home type also increased during the period, with semi-attached houses posting a 24% jump to $1,068,923, townhouse prices up 26% to $857,574, and condo prices climbing almost 20% to $691,791.
While these numbers are remarkable, increased demand and an active housing market are generally expected in April – with the exception of last year – as it runs in the middle of the spring market, which is considered a prime selling period.
When is the perfect time to list your GTA home?
Many experts consider spring – which starts in March and ends in May – and fall – running from September to November – as the peak months for home-selling. However, a lot of them also say that home-sellers in the region have other options apart from these traditionally hot months.
Spring market
The spring housing market in Toronto actually starts in early February and runs through the end of May, according to property experts Tanya Sidorova and Michael Inwood of Re/Max Professionals Sidorova Inwood Realty Inc.
In a blog post, the realtors said that the end of the holidays and the season's pleasant weather provide the perfect conditions for house hunting.
"By the time the spring market hits, the holidays are over," they wrote. "Life is less hectic, and the new year has brought with it a sense of renewal that makes buyers feel ready for a change."
"Not only that, but the warmer weather means a more pleasurable home hunt, further motivating those who want to start the search. Put simply, buyers tend to flood the market in the spring – and they're ready to make a purchase!"
The experts added that the sheer volume of home buyers could raise the chances of a listing getting multiple offers, while stiff competition could push up prices. They also noted how homes typically look better during the season.
"We also can't forget about curb appeal! In the springtime, it doesn't take much to make your home's exterior look incredible," they wrote.
Fall market
According to Sidorova and Inwood, autumn is another season that provides "some pretty impressive benefits" for Toronto home-sellers.
"At this time of year, buyers are primed to find their dream homes," they wrote. "The cottage trips and summer vacations are over, and families are settling into the school year. The return to routine means home hunters have more time to focus on buying – and making a big move."
The experts added that the although the market tended to slowdown during the period, buyer demand often remained strong.
"That's good news when it comes to the perceived value of your home," they wrote. "Since there aren't quite as many options for buyers, this is a great way to make your property stand out."
Off-peak months
However, according to GTA-based real estate agency and brokerage The BREL Team, there are also certain advantages of putting up a property for sale in off-peak months.
"The best time to list your home may well be when other sellers are busy at the cottage or getting ready for the holidays," the firm wrote in a blog post. "Homes listed in August and December, when there are traditionally fewer homes for sale, have an opportunity to stand out. Less competition from the neighbours and motivated off-season buyers can be an effective strategy for a quick sale at market value prices."
The company added listing in peak months might result in homes staying on the market longer or not getting a higher price because buyers "will have infinitely more options."
When benchmark prices are being set
According to the BREL Team, benchmark prices are set when multiple home sales "deviate from the norm, thus setting a new norm." The team cautioned, however, that just because one property sells significantly higher or lower than usual, it does not necessarily mean a new benchmark has been set.
"There may have been extenuating circumstances and that sale might be considered an outlier," it wrote. "But if multiple buyers buy multiple houses on a street, in a building, or in a neighbourhood at inflated prices, boom! You've got a new benchmark. It might just be the best time to sell your house."
Whenever the seller is ready
However, the experts admit that timing the market is not a one-size-fits-all strategy. For some home-sellers, the best time to list their property in the market is whenever they are ready.
"Market activity isn't just impacted by seasonal fluctuations," the BREL Team wrote. "It's also impacted by interest rates, lending rules, overall economic health and activity, and the employment market."
"Listing during either the spring or fall market can lead to significant benefits, since these tend to be convenient periods for buyers and sellers alike," Sidorova and Inwood wrote. "That said, even the winter holidays and the peak of summer can be great times to sell. It all depends on your needs, goals, and preferences."