New survey shows half of Canadians are still pessimistic about the economic future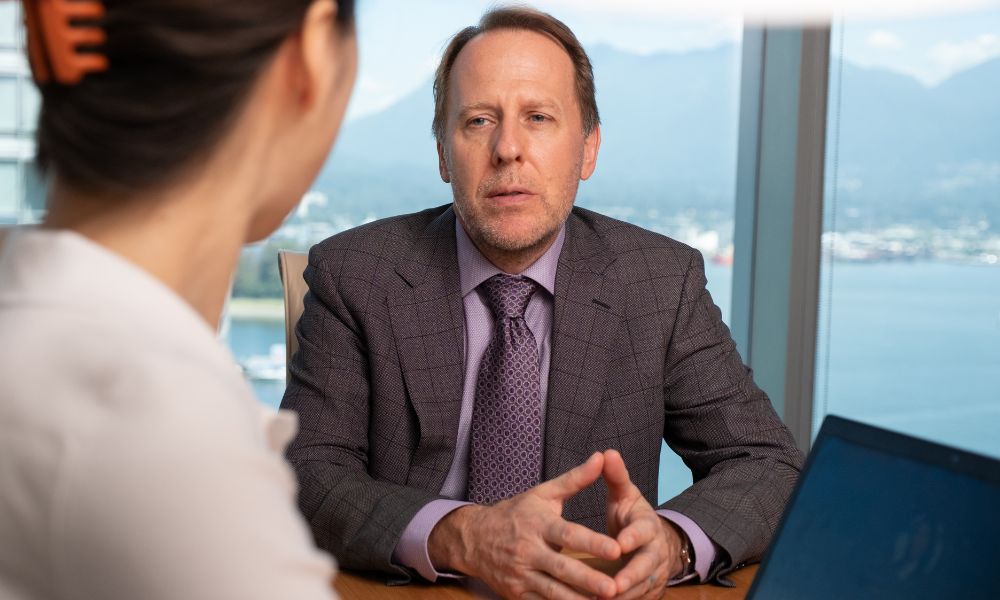 The Bank of Canada may be done for now on its rate-hiking cycle – but a large percentage of Canadians believe the worst of their economic struggles is still to come, according to a new poll.
The latest iteration of the MNP Consumer Debt Index, a quarterly survey conducted by Ipsos, showed that fully 50% of Canadians believe the economic cycle has not yet reached its worst phase, with 57% indicating further rate increases would plunge them into financial trouble and 46% saying they are $200 or less away from not being able to meet their financial obligations.
Those are concerning trends, the insolvency firm's president Grant Bazian (pictured top) told Canadian Mortgage Professional, reflecting the unease that's gripped the economic climate because of rapid rate hikes and geopolitical strife in recent times.
"[On] interest rates, the Bank of Canada just announced they're flat, which is good, but there's still this uncertainty," he said. "If our survey can be extrapolated, it means half of Canadians feel that things are getting worse – and that's not a good feeling for Canadians."
Indeed, while the Bank of Canada has now kept its trendsetting interest rate – which influences whether variable mortgage rates rise or fall – unchanged for its last two announcements, economists including Desjardins' Royce Mendes have suggested that the full impact of its multiple hikes over the past year has not yet become clear.
ICYMI: Inflation is coming down. This is good news, but it is not job done.https://t.co/1gRpceCIXE#economy #cdnecon pic.twitter.com/zPJQDsLda2

— Bank of Canada (@bankofcanada) April 13, 2023
Is there any positive economic news on the horizon?
Bazian said there was at least a small positive from the survey: the fact that the percentage of respondents indicating a rate hike would push them toward bankruptcy or cause significant financial stress has fallen slightly (2%) since January, from 59%.
"I guess that's a bit of a positive light, so I think people are managing their money well enough," he said. "Most people, there's still that concern, but it's not as bad as it was the last couple of quarters."
The Index is also up by 12 points over an all-time low in the first quarter of the year, with 55% of Canadians indicating their confidence in being able to cover all living and family expenses without falling further into debt during the next year.
Unsurprisingly, a large majority of Canadians (83%) are more careful with how they spend their money amid the cost-of-living crisis that's emerged since the height of the COVID-19 pandemic.
Still, for Canadians on variable-rate mortgages, worries are particularly acute because of the severity of those rate increases over the past 12 months, Bazian added.
"If you have debt, [rate hikes are] obviously a concern – especially if it's a variable interest-rate mortgage or if it's a line of credit that operates on variable interest," he said.
"Variable, of course, is going to be a concern for people because these upticks in interest rates are going to increase their monthly payments – fewer payments being made towards principal or towards interest, and it's just not really helping people get out of their debt situation."
What other trends did the survey reveal?
While inflation has continued to fall in recent months, it remains well above the Bank of Canada's target level of 2%, with rampant price growth having put the squeeze on Canadians' ability to pay at the pump and for groceries.
The Bank of Canada indicated on April 12 that it expects inflation to continue returning to more normal levels in the coming month, although it has also warned against the possibility that it may prove stickier or more pervasive than expected.
Thirty-three percent (33%) of Canadians said economic conditions over the last six months had been worse than they expected, with three in 10 saying they don't make enough money to cover all their bills and debt payments.
Many Canadians are also seeing the amount of money left over after bills are paid continue to fall. The average household has $787 available at the end of the month, a decline of $64 from the first quarter of the year – and unsurprisingly, 61% of Canadians agree that the impact of rising interest rates is a concern for their financial situation.
Make sure to get all the latest news to your inbox on Canada's mortgage and housing markets by signing up for our free daily newsletter here.