At Vine Group Mortgage Alliance, mortgage agents are leveraging niche markets to grow their business amid cooler activity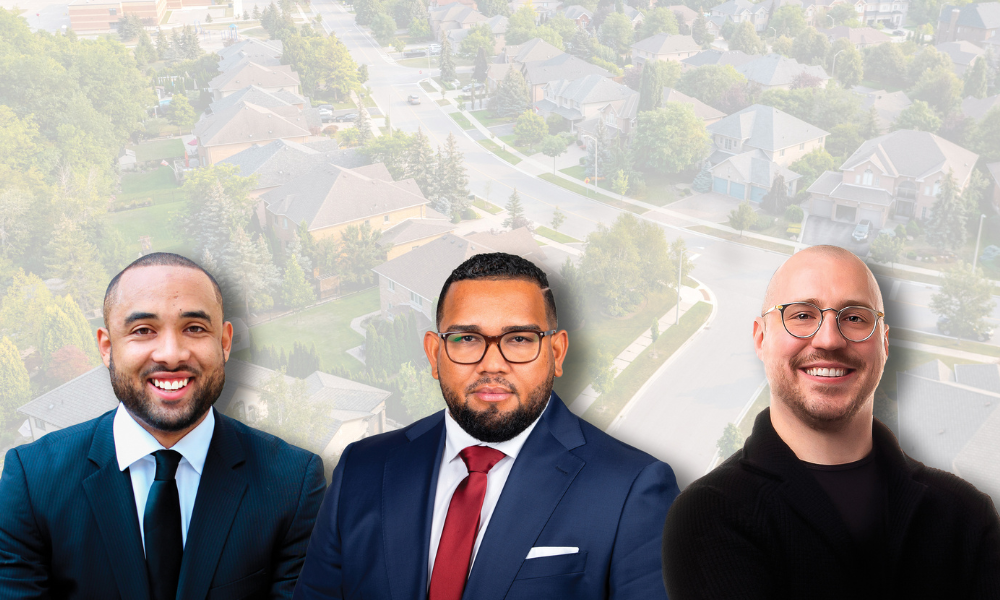 This article was produced in partnership with Vine Group Mortgage Alliance
Fergal McAlinden of Canadian Mortgage Professional spoke with Hugo Dos Reis, Jerome St. Bernard, Max Escrogin, and Johnson Andrews of Vine Group Mortgage Alliance to hear how they've been sourcing new opportunities in the current market
While interest rates spiked and new purchases slowed throughout most of last year in Canada's housing market, there's still plenty of opportunity for agents and brokers who are ready to innovate and adapt to the new climate they face as 2023 gets underway.
In that much-changed market, now more than ever is the time for mortgage professionals to focus on educating clients and establishing themselves as a trusted source of expertise in specific areas, according to Hugo Dos Reis, partner and broker at Vine Group Mortgage Alliance.
"There's still a healthy amount of demand for our market and there's always an opportunity to do business," he told Canadian Mortgage Professional. "You just have to find a niche, provide some education to clients, and you can still excel in the current market – and possibly do even better."
That's been evident at Vine Group, which has seen numerous successful mortgage agents leverage niche markets to grow their business and develop new business in recent years.
The digital approach
Among those is Jerome St. Bernard, a Toronto-based agent who has cultivated his own brand and established himself as a voice of expertise through social media. A variety of platforms – primarily Instagram, but also Facebook, YouTube and LinkedIn – have allowed him to amplify his voice and reach a client base that may never have been accessible otherwise.
Through his own social media posts including Instagram reels, stories and seminars, St. Bernard showcases his knowledge of the mortgage space while also adding his own personal touches, blending an informative approach with more light-hearted moments.
"It really is about getting out a mixture of knowledge and a bit of personality," he told CMP. "I want to educate people and try not to come off as someone who's selling something, but more so as a source of expertise, sprinkling in a bit of humour, too."
While he'd had a social media presence from the get-go as a mortgage agent, things really took off online for St. Bernard when the COVID-19 pandemic hit, meaning fewer client visits and a need to pivot to a more digital-first approach.
"I said, 'If people aren't seeing me in person, they need to see me somewhere,'" he explained, "and I wanted to keep top of mind. COVID forced me there and I liked the online space – it's helped my business. I've grown my business, and from then to now I've stayed consistent with it."
St. Bernard's social media-focused approach proved especially popular among a particular demographic: first-time homebuyers, most of whom are avid Instagram users and found his blend of expertise and humour to be a winning combination.
"The more creative you get with it, the better it goes," he said. "I added a little bit of comedy, sprinkling some fun stuff here and there. Having a little fun with it does help business overall."
Finding alternative solutions
Another Vine Group agent who established his own niche is Max Escrogin, who specializes in finding solutions for clients on the "B" side and business-for-self (BFS) Canadians.
That's a segment of the market that Escrogin developed expertise in through his own experience as a self-employed businessperson, exploring the different avenues available to BFS individuals when they're unable to qualify through the bank.
In many cases, clients are unaware of the various options that exist to them after they've been turned away by larger institutional lenders, Escrogin said, highlighting the importance of education and guiding customers through their choices.
"The main key is educating your clients because they often don't know what they don't know," he said. "I want to make sure my clients make an informed decision and have all the information available."
Being able to find a way for borrowers who feel they've exhausted every other possibility is an excellent way of driving repeat business and referrals, according to Escrogin, because it shows the merit of an agent or broker who can provide solutions where none seem available. "You bring value when you can do more than just the regular cookie-cutter deal," he said.
A local source of expertise
For Johnson Andrews, the opportunity to develop niche business arose when he moved from Toronto back to his home market of the Niagara region, tapping into the network he had already established there to showcase his expertise and mortgage know-how.
Having been a prominent member of the local community before his stint in Toronto, Andrews focused intently on client relationships and word of mouth to build a strong referral base and keep business coming through the door.
"One thing I think I've been good at is creating a referral network, as well as turning clients that I've closed deals with into referral partners," he explained. "From that, if I have a funnel in which business is coming – if I can then turn all the closed business with my client into referral partners – then theoretically I should double my business every year because the funnels should fill consistently."
Andrews's local knowledge, and the fact that he's well-established in the community, means clients rarely view the experience as merely transactional – something that he works hard on himself, he said.
"I don't want it to feel structured or formal where my clients are concerned," he said. "I want to be a person that cares about them, who they can always reach out to but that has the answer – or at least knows the person who has the answer.
"In growing up here I created those relationships, and that creates a lot of trust with my clients as well."
The success of those agents reinforces the fact that opportunity remains for those who can service the needs of clients in the current market, said Dos Reis.
"The really good brokers are the ones that are looking at providing real value," he said. "Those are the ones that I think will succeed in the long term, and once the market picks up and gets a little bit stronger, they're the ones that will get the most business."
Vine Group is a team member of Mortgage Alliance.