Infrastructure and support have proven essential to the team's rapid rise in the broker channel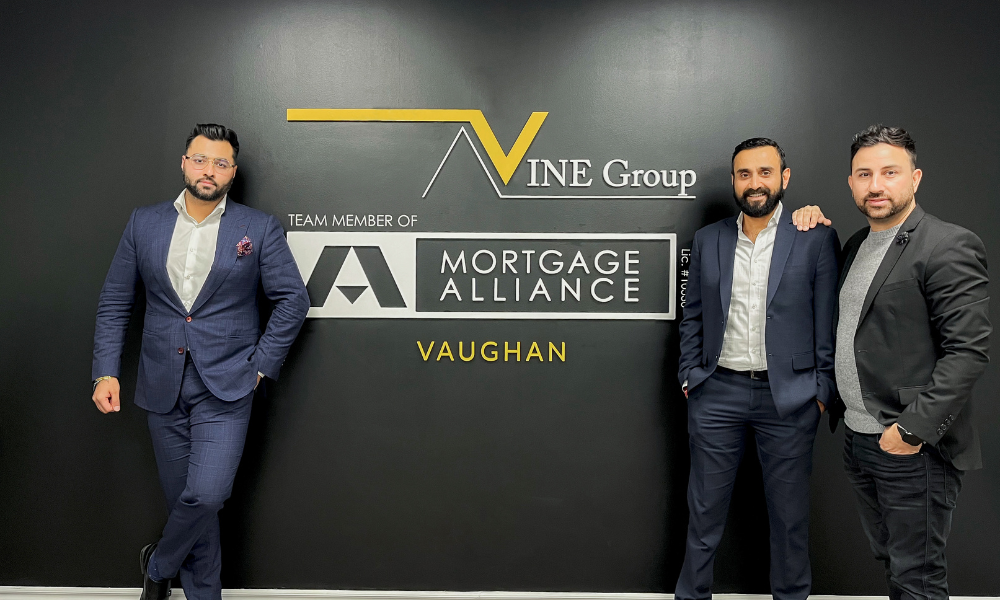 This article was produced in partnership with Vine Group Mortgage Alliance
Fergal McAlinden of Canadian Mortgage Professional spoke with Jimmy Elamad, Raja Paul, Goldy Singh (mortgage brokers) of Vine Group Mortgage Alliance on their experience moving from the banking space to the broker channel in the past eight months, and with Hugo Dos Reis (partner and broker) on the company's infrastructure and support for new brokers
Eight months after making the switch from banking to the broker channel with Vine Group Mortgage Alliance, a trio of mortgage advisors have hit the ground running in their new roles with combined funded volumes of over $100 million already.
Jimmy Elamad (pictured, third on right), Raja Paul (second from right) and Goldy Singh (first on left), who joined Vine earlier this year after distinguished careers in the banking space with TD, told Canadian Mortgage Professional that the partnership had proven an excellent match, with its rapid growth requiring the recent opening of a new office in Vaughan.
Elamad said the trio's vast experience banking in a team environment had allowed them to take the good from the banking world and transition effectively to the broker channel, while collaborating with the infrastructure built by Vine also helped spur its strong growth over a short period of time.
That sentiment was echoed by Singh. "Working in the bank has allowed us to build a strong foundational core in the financial field. This has been crucial in allowing for our rapid growth on the broker side," he said. "The ability for us to be able to transition quickly was a result of our teamwork and collaboration as ex-bankers."
With each member of the team having between 11 and 20 years of experience in the banking sector, their knowledge of credit has been an invaluable asset, according to Paul, especially when it comes to understanding B lending guidelines in the broker space.
Singh said navigating from one lender to over 60 had required the team to collaborate with one another to learn solutions quickly and offer options to clients – with the support of Vine's hub and technology also playing a part in the quick learning and development on the broker side.
That doesn't mean there weren't challenges – but having access to Vine's team and system helped the team overcome them, according to Paul.
"The collaboration with Vine Group Mortgage Alliance really helped us amplify our knowledge in a short period of time, and the support that we got did make sure that in the first few months, we had somebody to lean on in the management of the company itself," he said.
The ability to access a variety of different lenders and products means the team has the opportunity to provide a comprehensive slate of possible solutions for clients, something that's rarely possible in the banking space.
It's been a crucial factor in the trio's strong start in the broker channel, Singh said. "What it comes down to is that we no longer say no to customers," he explained. "We're able to listen to them and pinpoint what their needs are. When you have more different options to provide to a client, the customer truly believes they're getting advice."
Elamad said the helpfulness and knowledge of underwriters at different levels had been one of the biggest revelations about the switch from banking to brokering. "They look for ways to say yes quicker, and provide options and solutions to complex deals," he said.
"There's unity amongst agents and brokers. Everyone is ready and willing to give advice and tips on how to succeed in this new world."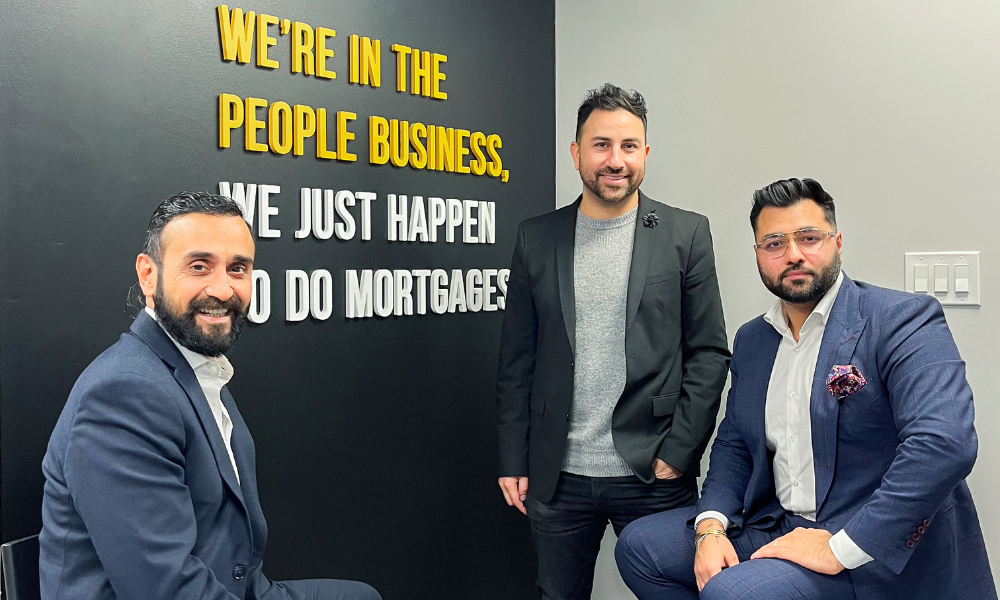 A well-managed transition
The trio has also been struck by the solid work-life balance offered in the broker channel, one that they said had been a welcome development that allowed them more free time outside of their professional lives – even while remaining hugely profitable at work.
"I am able to have a life outside of work on weekdays," said Elamad, who highlighted the mental and physical benefits of the switch to the broker space. "I can pick up my kids from school, make dinner, and be a present father.
The ability to scale the team's book of business while also managing personal time more efficiently has been a "crucial win" on the broker channel, according to Singh, while Paul described how daily work had also become more streamlined and efficient.
"The amount of time spent with each client is made up of quality conversation," he said. "Hence, once the deal is approved, it's smooth for the client."
Of course, while the team have combined experience in the mortgage space of over 45 years, that switch from the banking to broker channel can sometimes be a difficult one, and among the main reasons a banker might decide not to make the change.
That's where Vine Group Mortgage Alliance's infrastructure proved an invaluable asset over the past six months, according to Elamad. He said that it had been a big factor in helping the trio acclimatize and move from one space to the other with minimal disruption.
One of the main reasons for that, he added, is the similar journey undertaken by many of Vine Group Mortgage Alliance's leadership team, meaning that they were already well attuned to what it means to make the switch.
"In regard to the transition from banker to broker, we joined a team that did what we did and are ex-bankers as well, allowing us to skip a lot of the pain points," he said. "That was one of the main reasons we joined Vine because with the infrastructure that they had in place, we were able to feel confident knowing we were going to get the support."
Most top-performing mortgage specialists will already have a process in place that may need a slight adjustment in moving to the broker space, a fact the Vine Group Mortgage Alliance leadership is well aware of.
"We share with anyone that we try to bring on that it's going to be different over here," said Vine Group Mortgage Alliance's partner and mortgage broker Hugo Dos Reis. "The processes are different, and whatever you've been doing before, you're going to need to adapt to this new world.
"But once you allow that new process to happen, you'll find yourself more efficient. I think that's where we've always added value, specifically for top performers."
Vine Group is a team member of Mortgage Alliance