Company is "open for business" amidst changing mortgage landscape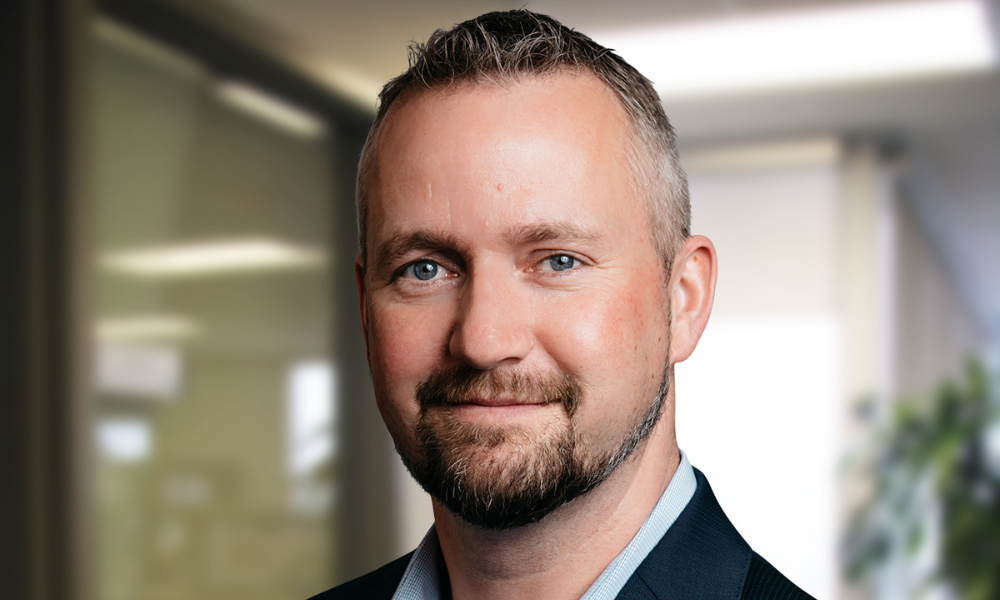 The challenges of the mortgage market in 2022 have been well documented, with activity cooling significantly from the record highs of recent years and both lenders and brokers having to adjust their approach to eke out new business in a less frenzied environment.
Still, that doesn't mean opportunity has disintegrated completely – and Bridgewater Bank's vice president for national sales, Jason Provencher (pictured top), struck an optimistic tone when Canadian Mortgage Professional caught up with him at the recent Mortgage Professionals Canada (MPC) National Conference in Vancouver.
Provencher, whose experience in the mortgage industry spans over 30 years, told CMP that the bank was in growth mode, utilizing valuable face-to-face time with mortgage brokers and other professionals to strengthen existing relationships and cultivate new ones.
"For us, we're in a period of acquisition," he said. "We're looking to enhance our relationships and bring more on. We're talking to the networks, and we're open for business. There was a period of time when everybody was doing well in the market, and they maybe didn't need relationships – you were meeting targets.
Read next: Where are brokers focusing their attention as purchase market cools?
"And now it's more about, 'Let's go out and find some new areas…' That's what we're doing. We're looking to sign up more relationships and get our BDMs a lot more active."
While a smaller lender than the country's leading banks, Bridgewater nonetheless achieved success in recent years without having a large slate of products, although change is afoot in that regard with new programs coming onto the market from the company.
"We have opportunity," Provencher said. "One of the things [about us] is, we don't have a full suite of products. We did that purposefully – we were achieving target without launching new product and now because of what we're experiencing in the market, we're going to be adding product for our brokers.
"It's going to be a bit different – we're a smaller lender, so we get our market share by getting in front of people and maybe taking a little bit from other lenders. We're going to launch some new products by the end of the year, increase our sales staff, and look to add more relationships."
That relationship-driven approach, and the value the company draws from speaking with mortgage professionals through in-person interactions, meant that the two-day event was a particularly important one for Bridgewater, according to Provencher.
He said the opportunity to meet with brokers and other lenders in a live environment was especially appreciated after two years of virtual meetings brought about by the COVID-19 pandemic and public health restrictions.
Read next: Principal broker on what it takes to thrive in current market
"It's nice to get that personal interaction. We're all Zoomed out," he said. "Nothing beats face-to-face contact. As a smaller lender, we have to make our presence well-made, and we take every advantage that we can when we put ourselves in front of brokers.
"Whether that's the way we set up the booth or attending all the various breakout sessions and functions that are happening this weekend, that's what we do. We're a friendly group when it comes to that – just getting in front of people. Nothing will ever beat that."
It's been a whirlwind year for Bridgewater, with the company named among the top lenders in Canada based on brokers' views in CMP's recent Brokers on Lenders survey.
Provencher said that strong positive feedback on its turnaround time was a testament to the work of Bridgewater's close-knit team, with the bank great thought put into the file process and a tighter escalation process.
The company's TYLF approach towards brokers – Treat You Like Family and Friends – also found favour in the eyes of brokers, who felt their support from business development managers at Bridgewater was of a particularly high quality. Equally essential is the fact that the company's BDMs don't "sugarcoat" approval and timelines for funding, something Provencher said helped serve as the foundation to strong relationships.
Meanwhile, he added that hard work behind the scenes had helped account for a very strong performance on overall service levels, with focuses on improving service including a move away from Calgary as the only hub for attracting new talent.
Bridgewater has strengthened its underwriting presence in Ontario and British Columbia, a development Provencher said had had a "tremendous impact" for the company's broker partners.