Far from being middlemen, BDMs are becoming a vital link between brokers and lenders in an era of rapid policy changes. Australia's top BDMs tell MPA how they can help your business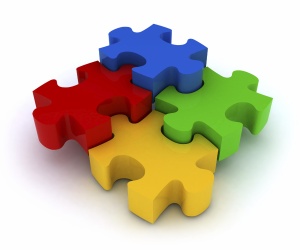 Far from being middlemen, BDMs are becoming a vital link between brokers and lenders in an era of rapid policy changes. Australia's top BDMs tell MPA how they can help your business
BDMs are now the most important asset a lender can have. Don't take it from us – that's what you told MPA in 2017's Brokers on Banks report, where BDMs were rated as more important than turnaround times, credit policy and all other factors when picking a bank.
This wasn't always the case. Up to 2016, turnaround times were brokers' top priority – while discounted interest rates, bonus commissions and special policies could also help lenders get ahead. Whether because of APRA or regulation, lending in 2017 is a different ball game, with unpredictable policy and rate changes coming thick and fast. Far from just drumming up business, BDMs are increasingly tasked with helping brokers keep up.
BDM of the Year at the Australian Mortgage Awards,
Shannon Gibbons
of
Westpac
, describes himself as a "problem solver and a gatekeeper". Having 400 brokers and a vast number of credit, risk and mortgage back-office staff to work with, Gibbons has a vital part to play in maintaining turnaround times: "When applications from brokers come across their desks, they have all the information they need to progress quickly."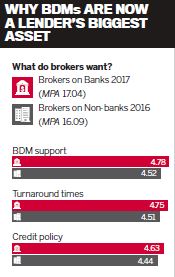 BDMs have long provided a vital second opinion for applications before they get lodged. John Loukadellis,
Macquarie
Bank BDM and Non-major BDM of the Year, has a favourite line for brokers: "Call me for all your scenarios, and then I can work out what is a
Macquarie
application and can guide you where to place the deals I cannot do."
Working with the broker to check policies, collect supporting documentation and order valuations, Loukadellis aims to provide his brokers with a "formal approval quickly".
Macquarie is branchless and so having a BDM who has a close relationship with brokers is particularly important.
At
Liberty
Financial this challenge is particularly acute, not only do they lack branches, but often they deal with nonconforming scenarios that require extra work. BDM Alf Vasta aims to see four to five broking firms a day, to talk to them about solutions-based lending, and he also runs group sessions.
"It's just getting a whiteboard and then structuring live situations or scenarios and engaging," he says. "Because you've got different levels of experience in the room, you can get different viewpoints."
Educating brokers in this way helped Vasta clinch the Non-bank BDM of the Year award in 2016.
There is another type of BDM, one with a role that is slightly different: an aggregator BDM. Hannah Carter has worked at
AFG
since 2014, as a relationship manager, dealing with existing
AFG
brokers, and has just begun working as a BDM. Her job is to help 250 brokers build their businesses, and changing regulation is keeping her busy.
"Working with these groups that may have had a strong focus or a lot of their business going down these avenues – such as working with Chinese clients buying investment properties here – as soon as regulators change the rules we need to be getting these guys looking at other models for their business," she says.

"We need to be the front line in providing training sessions and supporting brokers, as well as being the go-to person for policy changes, administration support and loan scenarios" John Loukadellis, Macquarie Bank
Tips for brokers
Working with brokers for several years means BDMs that MPA spoke to have a number of tips for brokers. Westpac BDM Gibbons says the best brokers he's worked with have great relationships with customers, referral sources and BDMs.

"In my experience, that comes from getting to know the individual first and the business person second," he says.

In addition to using Westpac's Broker Base website, Gibbons encourages brokers to talk to him if in doubt: "We see hundreds of these deals every week and can help brokers pre-empt issues that could arise before submitting the application."



At Macquarie, Loukadellis finds his best brokers keep in mind previous loan scenarios and keep on top of policy, order valuations upfront and attend industry and professional development days, which makes it easier to keep in touch.

"It's always a pleasure to deal with brokers who are keen to sit face-to-face with you and hear about policy updates and changes," he says.

When it comes to specialist lending, a broker's notes are important, says Vasta.

"Detailed broker notes are the key; it gives the underwriter a clear picture; it makes them understand what the client wants to do and how to move forward, and enables us, because we have so many solutions, to assist the client as best we can," he says.

Brokers should also keep in mind Liberty may need extra information further down the line, Vasta adds: "We may ask for credit history on deals we're not consolidating. As it's a specialist loan, we want to make sure we're putting a client in a better position."

Following Liberty's documentation checklist goes a long way to achieving this, says Vasta.
Finally, from Carter's point of view at AFG, the best brokers are not afraid to diversify and provide all lines of business with good referral partners to back it up. Those that stand out are "brokers that want to achieve more; the selfdrive, whether it be a big organisation or oneman band. It may involve more training, or networking with other brokers, to write more business and do better by their client."

"It's about getting an understanding of what their business is all about" Alf Vasta, Liberty Financial

BDMs as business partners
Lenders and aggregators invest heavily in technology and talk of its increasing role, so you might presume it's changing the role of their BDMs. Loukadellis says this is the case, arguing the role of a BDM is "constantly changing" and that "there's no better time to be a BDM who prides themselves on going above and beyond for your broker network."

Not all of our brokers saw technology having such a big impact, however. Westpac's Gibbons agreed that mobile technology has enabled BDMs to get on the road more and visit brokers, but cautioned that the "most important thing about this role is never going to change, and that is being available to brokers and helping them achieve great outcomes for our customers."

As Carter puts it: "There's only so much you can get from a webinar. I think brokers want to be, in most instances, much more involved and have that face-to-face contact."

The role of a BDM is changing, but not simply because of technology. Aggregator BDMs such as Carter's have long worked with brokers to build their businesses, but now lender BDMs are also going beyond a purely sales-orientated role.

At Macquarie, Loukadellis sees himself as a one-stop shop: "We need to be the front line in providing training and supporting brokers, as well as being the go-to person for policy changes, administration support and loan scenarios, which technology allows us to do."

At Liberty, Vasta's work as a BDM includes providing training, scenario workshops and helping his brokers build referral networks. As brokers try to become less transactional, BDMs are aiming to do the same.

"I certainly don't see myself as transactional," says Vasta. "From a BDM, what brokers want to see is support and reliability."

He sees his brokers as business partners: "When I go and see brokers, it's to get an idea of what their business is all about, what they're trying to achieve in the long run and what's keeping them up at night."
Shannon Gibbons has since left Westpac to pursue other interests.