Brokers keen to quiz guest speaker Mark Bouris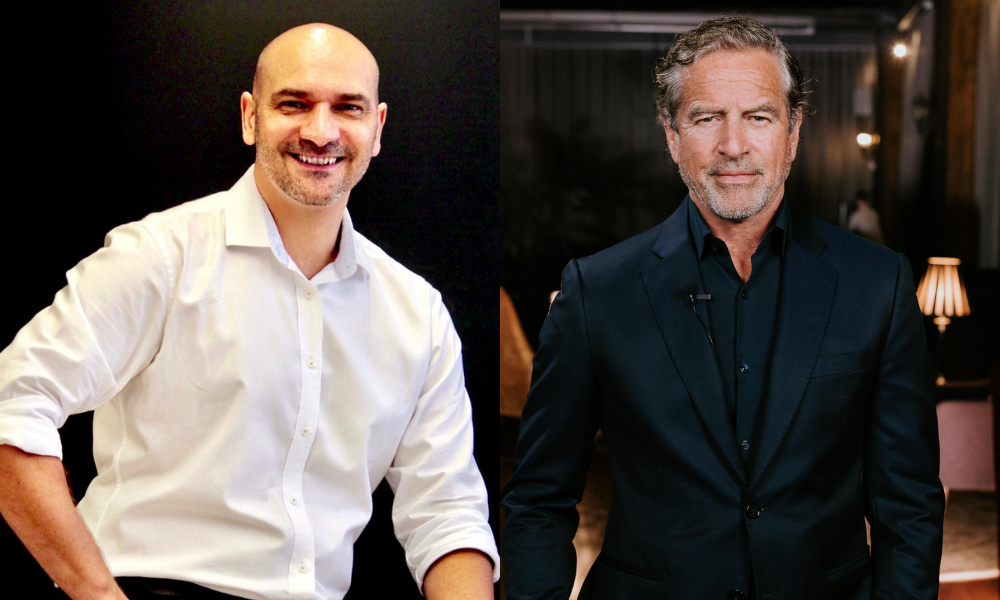 The industry is gearing up for National Finance Brokers Day, and participants already have a list of questions to put to keynote speaker Mark Bouris.
National Finance Brokers Day 2022, to be held on Aug. 17, at Amora Hotel in Sydney, is an opportunity for brokers, lenders and the wider industry to rally together, celebrate the industry and reflect on its successes.
Event founder and head of third-party relationships at Marketplace Finance Dino Pacella (pictured above left) has been working behind the scenes to bring National Finance Brokers Day to life. This year's event marks the first full-day conference – and it's the first opportunity for brokers, consumers and lenders to join under one roof.
Mark Bouris (pictured above right) will discuss investing in today's property market. In 2015, Bouris was awarded a Member of the Order of Australia for significant service to the finance industry, particularly the mortgage sector. A major drawcard at this year's conference, Bouris has built a highly successful career as a finance specialist and has penned several books, including Wealth Wizard, The Yellow Brick Road to Your Financial Security and What It Takes.
Read more: National Finance Brokers Day returns bigger and better
As the official media partner of National Finance Brokers Day 2022, MPA asked a selection of attendees what they'd like Bouris to discuss, as the country heads into an environment of rising interest rates and cooling property prices.
Clear Credit Solutions CEO Peter Cole said he was keen to get an update on building a property portfolio in the current market – the best locations to invest, types of properties to buy, and how far to dial up the LVR.
"Most importantly, are short-term considerations about interest rates and the economy important, or should investors focus exclusively on the long term?" Cole said.
Cole, whose business is a platinum sponsor of the conference, said he would be celebrating what the mortgage broking industry has achieved since National Finance Brokers Day was founded in 2015.
"Back then, only half of Australians used a broker when buying a home, but now, two-thirds of Australians use brokers – a figure that is likely to keep increasing in the years ahead," Cole said.
Read more: What's driving homebuyers to use brokers?
In addition to hearing from Bouris, Cole said he looked forward to hearing from speaker and retired aerial skier Jacqui Cooper.
"I want to learn how she achieved so much success, what obstacles she had to overcome and what she'd do differently if she had to do her career all over again," Cole said.
Refinance to Invest principal borrower's agent Stephen Dinte is interested to know if Bouris foresees a significant property market correction.
Along with other brokers, Dinte said he would be celebrating success within the industry.
"Despite the bad press heaped on brokers at the Royal Commission, brokers have continued to do what they do best and that is to provide an invaluable service to consumers," Dinte said.
Atelier Wealth managing director and founder Aaron Christie-David said Bouris's philosophy was all about giving confidence to clients, which resonated with him.
"I'm looking forward to hearing what Mark's most confident and optimistic about. Is it the return of first home buyers, that regional markets continue their trend of attracting more city workers, and the opportunities for investors across residential and commercial property," Christie-David said.
He looked forward to networking with peers and industry colleagues at the event and acknowledging what the industry had achieved.
"We've all rolled our sleeves up and done the hard work over the last few years, all very fortunate to have favourable conditions when so many businesses were impacted," Christie-David said. "The way our industry comes together and connects is truly unique and given this day is all about celebrating what we stand for and the strength of our proposition, it is a testament to how far we've come as an industry."
Christie-David looked forward to hearing from Jacquie Cooper, as elite sportspeople "always have great stories about their journey achieving success", and from speakers and fellow peers Mhairi MacLeod and Graeme Holm, to learn more about their journey and plans.
Ahead of the event, Pacella re-emphasised the importance of National Finance Brokers Day speakers and event partners, whose support made it possible to celebrate the broking industry with both a full-day conference, and a celebratory after-party.
National Finance Brokers Day will run from 9am to 4.30pm at Amora Hotel in Sydney, including a catered lunch, and morning and afternoon tea, followed by an optional after party at Marble Bar.
Brokers are encouraged to invite customers they think could benefit from the knowledge and networking opportunities available at the event, and to generate goodwill.
Tickets prices are $99 + GST for the live event (discount for table of eight), $69 + GST for the cocktail function, and $29 + GST for the live stream. As capacity at the hotel and after party is limited, brokers wanting to attend events in person are encouraged to purchase tickets as soon as possible.
More information and registration details are available on the National Finance Brokers Day website. Subject to availability, registrations are open until the event date of Wednesday, 17 August.