Brokers welcome to use digital platform to help clients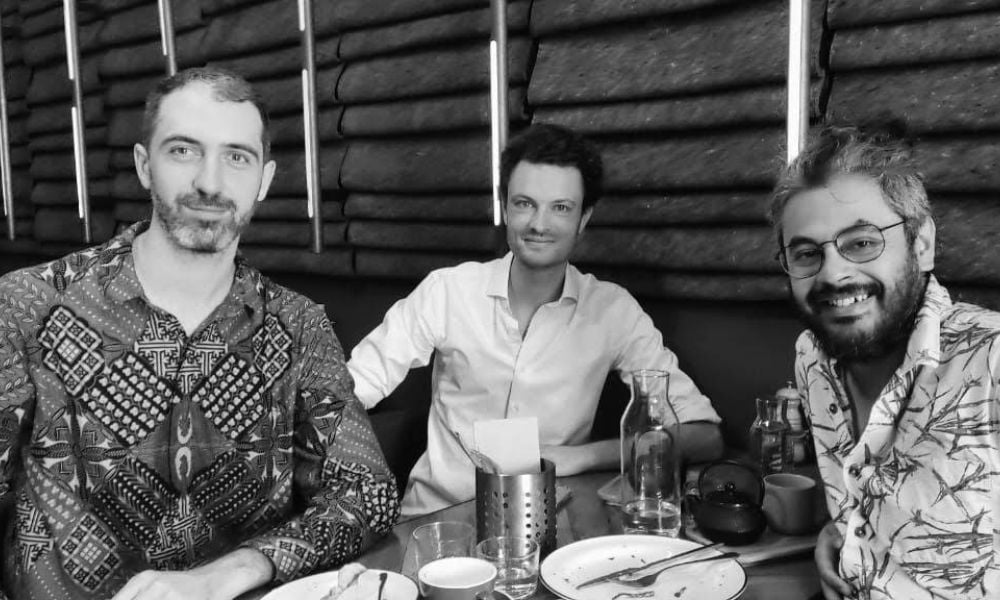 Australian fintech Upworth has raised $1 million in capital from leading angel investors while launching a free consumer product designed to allow everyday Australians to take control of their finances.
Essentially Upworth is a mortgage broking company working with aggregator outsource Financial. Two of Upworth's three founders – CEO Alexandre Chavotier and chief operating officer and chief marketing officer Maxime Chaury (pictured above centre and left) – are accredited mortgage brokers in Australia, and also FBAA members.
Together with chief technology officer Carlos Rios (pictured above right), the company hopes to democratise money management for all.
According to Chaury, Upworth's offerings are available to brokers and non-brokers of outsource Financial, which recently added private lender Aquamore to its panel, or other aggregators.
"It is not a B2B-focused solution at this stage, we are passionate about empowering the consumers directly," Chaury said.
"That said, brokers are welcome to use the tool with their clients to have an overview of their clients' situation."
Chavotier, an ex-leader at McKinsey & AI firm Quantum Black in Sydney, said the trio was proud to bring Upworth to the world, starting with Australia "providing individuals with powerful tools to achieve financial independence".
Upworth's use of open banking streamlines refinancing
Upworth's platform leverages open banking technology to deliver a range of benefits to its users.
The digital platform connects consumers with financial products that align with their specific needs, beginning with home loans. This includes a mortgage refinancing module that enables users to determine within 60 seconds whether they can save money on their existing loans.
This feature was developed with the best interests duty (BID) in mind, according to Chaury, ensuring that Upworth prioritised the best interests of its clients.
"We employ technology to provide enhanced mortgage advice to our clients, while also delivering a seamless digital experience for obtaining or refinancing their mortgages," Chaury said. "In fact, we proactively scan the market daily to identify potential refinancing opportunities for our clients."
This proactive approach is facilitated by a sophisticated control tower powered by open banking and AI, empowering individuals through data accessibility.
"We utilise open banking to inform our customers about the most competitive rates and offers available, while also enabling them to consolidate all their bank accounts and loans into a single platform on Upworth," Chaury said.
Upworth platform is free for all users
Chaury said the Upworth platform was free for all users and allowed clients to track their assets and liabilities – and especially their home and associated mortgages – through the platform.
"We have advanced real estate and mortgage trackers, which enable our clients (and anyone else) to see all the key metrics related to their property or property investment through time, to identify refinancing savings opportunities and go through the process of getting a mortgage in a smooth and digital way," Chaury said.
The solution also gives users free access to 170,000 securities across 70+ global exchanges, a control tower leveraging open banking and AI to share unique insights and help consumers grow their wealth.
The trio is also working on new tools that should be available to users from 2024, including a self-serve financial roadmap to achieve retirement goals, a fee-scanner to identify how to reduce financial costs and many more premium features.
Upworth users benefit from extra security features
The fintech has prioritised security and privacy with all data stored in Australia and data exchanges subject to AES-256 military-grade encryption protocols.
Chaury said security was of prime importance for Australians businesses which lost almost $100 million to email compromise scams last financial year.
"We really emphasise that when users connect their different accounts in their Upworth profile, we don't store login credentials, the data stored is remaining in Australia, and it is anonymized and encrypted with military grade encryption protocols," Chaury said.
"Our privacy policy prevents any type of data selling to third party and we operate within the stringent standards of the Australian consumer data rights legislation (that is mandatory for accredited data recipients-ADR accessing the open banking data like Upworth)."