Most rate rises effective from November 17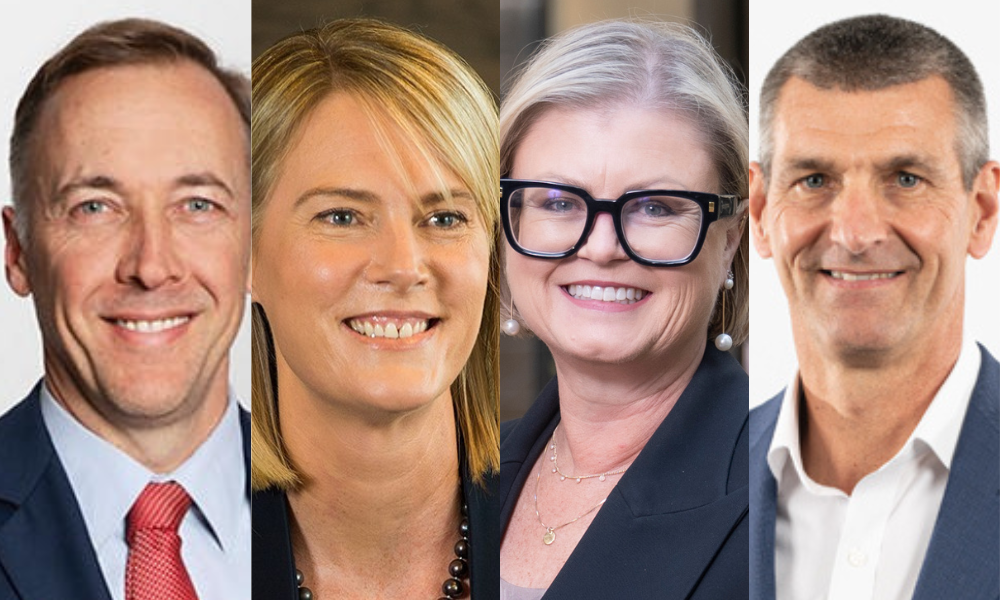 The Commonwealth Bank joined its big bank cohorts in passing on Tuesday's cash rate hike to its variable borrowers following the RBA's November meeting.
CBA revealed on Thursday afternoon that it would increase its variable home loan reference rates by 0.25% after NAB, ANZ and Macquarie Bank announced on Wednesday that they too would pass on the cash rate hike to their variable borrowers in full, effective November 17.
Westpac also revealed on Wednesday night that its home loan variable interest rates will increase by 0.25% for new and existing customers, but that won't be effective until November 21.
The latest announcement from CommBank means all of Australian's major banks have announced they are passing the interest rates on in full following the RBA's decision to lift the cash rate for the first time in four months.
Banks aware of pressure on customers
CommBank group executive, retail banking, Angus Sullivan (pictured above left) said the bank was aware that Australians were facing increasing cost of living pressures and for some households it was more difficult than for others. He urged people to seek help sooner than later.
"Customers who are struggling are top of mind for us and helping customers when they need it is our priority," Sullivan said.
"We encourage customers to message us in the CommBank app as soon as possible if they need support.
"We have added functionality for customers to chat online with us to explore their options, which some customers feel more comfortable doing than talking on the phone."
In concert with the variable rate rise, the Commonwealth Bank's The NetBank Saver variable introductory rate will increase by 0.35% to 5.10% and the fixed bonus margin will increase by 0.20% to 2.75%. The standard variable interest rate will increase by 0.15% to 2.35%.
The Commonwealth Bank's GoalSaver with bonus interest rate will increase by 0.25% to 4.90% and its Youthsaver with bonus interest rate will increase by 0.25% to 5%.
Westpac reveals advantages for savers
At the same time as announcing its variable home loan rate rise, Westpac Life's total variable rate with bonus interest will increase by 0.25% to 5%, effective 17 November while the Westpac eSaver total variable rate for the first five months will increase by 0.25% to 5% for new customers applying online, effective November 17.
On Wednesday, NAB announced a 0.25 percentage point hike to its Reward Saver account, however, there has not been any changes to its iSaver account.
ANZ will also increase the rate available to savings customers on the ANZ Plus Save account by 0.25%, with balances less than $250,000 to increase to 4.90%, and balances $250,000 or more to increase to 3.75%, effective 16 November 2023.
ANZ said it would continue to review other deposit rates.
Bonuses for Macquarie customers' savings accounts
Macquarie revealed its savings account welcome rate will be increased to 5.50% for new customers, for the first four months on balances up to $250,000, effective November 10.
From November 17, the ongoing interest rate Macquarie customers earn on both their savings and everyday transaction accounts will increase by 0.25% to 4.75%, on balances up to $1 million.
Following the RBA move, non-major banks ING and Auswide Bank also revealed they would increase their loan interest rates by 25 basis points effective from November 14.
ING said the increase would apply to all variable home loan rates for new and existing customers. For term deposits, which applies to new account openings with balances of $10,000 or more, a 12-month term deposit, would receive a - a 0.30% per annum rate increase taking the rate to 5.30%, while for a six- month term deposit the rate would rise 0.25% to 5.05%.
For ING's Savings Accelerator there will be a 0.35% per annum rate increase, for new and existing clients, with a Savings Accelerator balance greater than $150,000. This takes the rate to 4.70%.
Auswide's 0.25% increase will apply to home, business and personal loans for existing customers and to most new fixed rate home and business loans. Auswide bank issued credit cards will also increase by 0.25% from 1 December 2023. Variable rate pricing for new home loans remains under review.
Martin Barrett, managing director of Auswide Bank (pictured above far right) said market analysts and economists had largely predicted the increase based on the latest inflation figures.
"The RBA is trying to ensure inflation falls back inside its 2-3% target by the end of 2025," Barrett said. "Recent commentary from the new RBA governor Michele Bullock had indicated the RBA would have low tolerance if inflation differed from the forecast – which it has."
Barrett said Auswide Bank's customer service teams are available to support any borrowers experiencing difficulties in meeting their increased loan repayments.
AMP Bank's variable rate home loans will also increase by 0.25% effective November 10 for new customers and November 13 for existing customers.
ME Bank, BOQ, ING Australia and Virgin Money have announced full rate increases for variable mortgage customers.
ANZ Group executive Australia retail Maile Carnegie (pictured above second from left) said the rate changes would affect customers and their household budgets differently.
"Over the past 18 months, we've been proactively reaching out to thousands of home loan customers each month, to check in with them about their circumstances and loan arrangements."
Carnegie encouraged anyone facing difficulty to reach out.
"Our team is trained to support customers, and we encourage anyone who would like to better understand the options available to them to connect with us."
NAB group executive for personal banking Rachel Slade (pictured above second from right) also encouraged anyone concerned about their finances to contact their bank.
"While most of our customers are in good shape, there may be some people who are more concerned about the first rate rise since mid-year which is why it's crucial to reach out to your bank as soon as you can. We're here to help," Slade said.
"Customers continue to build and flex their budgeting muscle and they're responding to cost of living pressures by reducing their spending on dining out, fuel and leisure travel."
A lot of borrowers will feel pressure before Christmas
Mozo's money expert Rachel Wastell said the number of providers which had announced they would pass on the RBA's cash rate hike in full meant significant pressure would be placed on family budgets, just before Christmas.
"Owning a home in Australia has always been touted as the great Australian dream, but for mortgage holders this dream is probably starting to feel more like a nightmare, especially for those who weren't able to make additional repayments and give themselves some breathing room," Wastell said.
"The average Australian mortgage holder is now scrambling to find upwards of a thousand dollars more every month, which equates to hundreds of dollars more a week, just to cover these rising repayments.
"Recent Mozo research revealed that 1 in 6 Australians were already coughing up 40% to 60% of their monthly income to cover the 12th rate rises to June this year, so this hike is likely to inflict some in."

The RBA decision on Tuesday didn't come as a surprise to most finance experts, including economist Warren Hogan, with some predicting there might be more rises in the pipeline.
Are you surprised to see the big four pass on the cash rate rise to their customers? Share your thoughts below