Credit licences will soon be required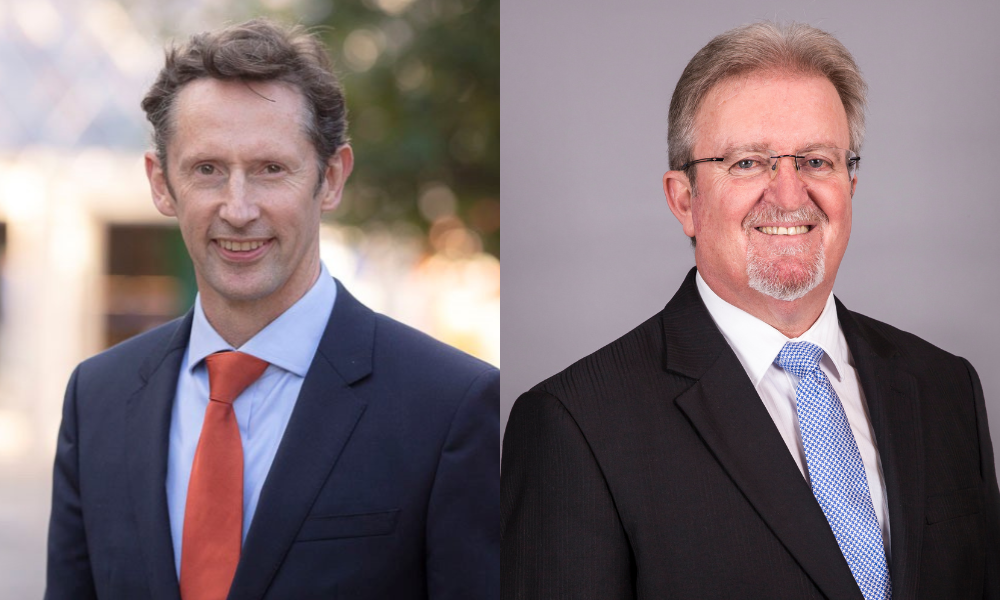 Buy now pay later products will soon be regulated under the Credit Act, resulting in increased requirements for providers and greater protections for vulnerable consumers, the assistant treasurer has confirmed.
In an address to the Responsible Lending & Borrowing Summit on Monday, Assistant Treasurer and Minister for Financial Services Stephen Jones (pictured above left) said that a change in law will ensure that buy now, pay later (BNPL) products are "regulated as credit products".
The Albanese government will prevent lending to those who can't afford it, without stopping safe, prudent BNPL use, he said.
The decision follows a consultation paper released by the government on November 21, seeking feedback on the future regulatory framework of buy now, pay later (BNPL).
Providers of buy now, pay later services will be required to hold an Australian Credit Licence, comply with responsible lending obligations and meet statutory dispute resolution and hardship requirements, Jones said.
They will also be required to comply with statutory product disclosure guidelines. Existing restrictions on unacceptable marketing will still apply, and providers will be required to meet a range of other minimum standards in relation to their conduct and products, he said.
There are now 7 million active BNPL accounts in Australia. The average consumer uses it for 18.2 transactions per year, with an average transaction amount of $136, Jones said.
From an industry perspective, the government would bring BNPL into line with other regulated credit providers, simplify its regulatory system and address concerns about competitive neutrality, he said.
"The responsible lending regime will be central to our approach. However, our legislation ensures that the obligations on BNPL providers are scalable and technologically neutral. We will make sure they are the right fit for the risk level of their products," Jones said.
The decision follows concerns voiced by the mortgage and finance broking industry that buy now pay later products were adversely affecting mortgage applicants.
Borro founder and senior mortgage broker Cara Giovinazzo said in November that lenders were taking a tougher line on BNPL activities, and that the BNPL facilities were showing on borrowers' credit reports, reducing their credit scores.
Bringing BNPL under the Credit Act was one of the options put forward by Treasury for regulatory intervention, along with developing a mandatory industry-specific code.
FBAA managing director Peter White (pictured above right) said the industry body "firmly supports" Minister for Financial Sevices Stephen Jones on the outcomes of the regulatory approach to BNPL products.
Having spoken on a panel session at the Consumer Credit Conference where the proposed regulation of the BNPL sector was discussed in depth, White said he was supportive of it coming under Responsible Lending Obligations and the National Consumer Protection Act.
"This sector being required to meet responsible lending obligations and to hold an Australian Credit Licence will do all it can to ensure consumers are well protected when using this kind of facility and that they understand the impacts on their credit when doing so," White said.
While mortgage brokers don't assist with BNPL applications, when borrowers apply for a home loan through a broker, White acknowledged that brokers are connected to the overarching due diligence in mortgage repayment serviceability.
Borrowers using BNPL facilities would continue to need to watch out that they do not impact home loan applications, he said.
Industry to be consulted on detail
Under the Albanese government's plan, ASIC will have strong enforcement powers and the industry will be consulted on the detail, Jones said.
While the government did not want to make it harder for consumers who were excluded from additional forms of credit and use BNPL "carefully and fugally", Jones said that there were other situations where borrowers had multiple accounts and didn't pay them off.
According to a Financial counsellor for Good Shepherd, they would be cases of 3-4 accounts, which people kept rolling over.
"It keeps them in poverty… there's always a point where people can't manage more," Jones said.
Jones acknowledged that while each person was different, there is always a point where BNPL could become a problem.
"We have had to find a balance. And we think we've done it," he said.
Draft legislation out later this year
Jones said he expected draft legislation to be out for consultation later this year, with the final Bill introduced in Parliament by the end of 2023.
Treasury would work closely with the industry and consumer groups over the coming months, he said.