Creating a safe space where people can bring their true selves to work is paramount for Liberty – and building greater LGBTQI+ awareness and inclusion is one of its key goals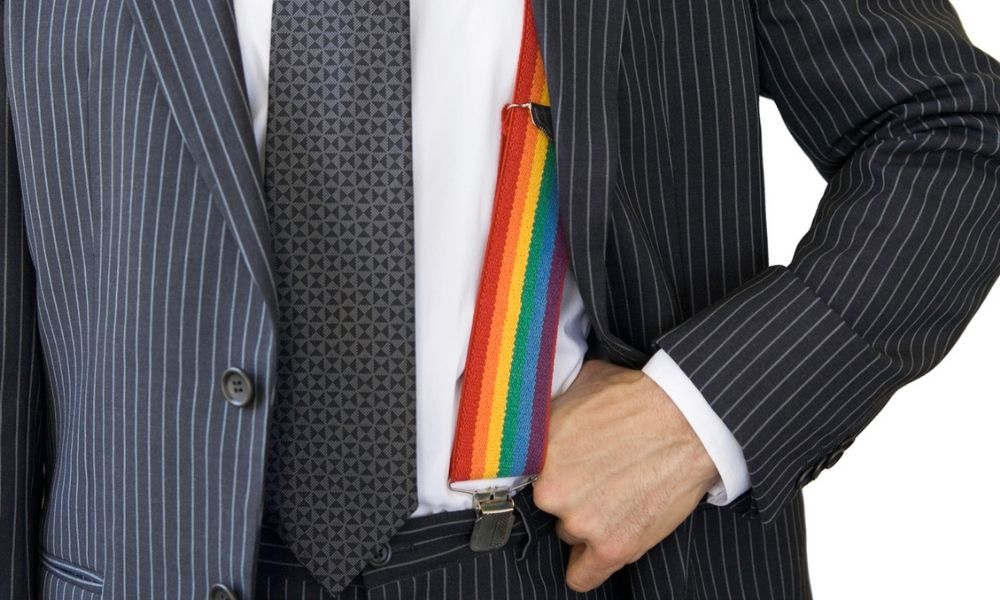 "When you start a new job you try and find your tribe, because the reality of being same-sex attracted is that you don't know if a workspace is safe. So you have to try to find someone in the LGBTQI community in your workspace to ask them, 'What's it like here?' When you ask that, you mean, 'Can I be out? Is this safe?'"
That's the experience of many LGBTQI+ individuals in the workplace, and creating a safe environment where they can feel they belong is something Liberty takes seriously.
The comments come from a Liberty employee who is also a member of the financial institution's Pride Network, and they go on to say: "Having the Pride Network there provides the names and contacts and such a sense of comfort that you can truly bring your whole self to work each day."
Established in 2019, the network aims to provide a safe space for team members to come together to support one another with the unique challenges and experiences LGBTQI+ staff may face.
"To us, being a truly significant employer means creating an environment where everyone can bring their authentic selves to work," says Liberty CEO James Boyle. "An important part of this is ensuring team members feel comfortable to be out in the workplace, should they wish to be. The well-being of our team is of the utmost importance, and we know that we are stronger together.
"As a business, we have built an incredibly diverse and inclusive culture, which we're very proud of. To continue this trajectory, we're committed to a range of important initiatives, and working towards greater LGBTQI+ awareness and inclusion is one of our key goals."
Through workshops, events, activities and resources, Liberty aims to create visibility and empower its LGBTQI+ staff. With a range of Pride banners, lanyards and Liberty-branded Pride T-shirts, it wants to create greater awareness of the LGBTQI+ community.
"We believe this is an important step in supporting community members to feel comfortable and safe when they come to work at Liberty," says Boyle.
It seems such initiatives are sorely needed. According to the Diversity Council of Australia's Out at Work: From Prejudice to Pride report, LGBTQI+ people make up the second-largest diversity group, ranging from 10% to 15% of the population. However, the report indicates that only one third of LGBTQI+ employees are fully out at work.
For Liberty, creating a safe and inclusive environment for its LGBTQI+ people is not just the right thing to do; in a diverse world it simply makes business sense too.
"Inclusion has always been important for Liberty. Since day one, our goal has been to support financial inclusion by looking outside the box to support more people to get financial," says Boyle.
Earlier this year, Liberty received Bronze status and was recognised as Most Improved Small Employer in the Australian Workplace Equality Index annual LGBTQ Inclusion Awards. However, the organisation is not resting on its laurels.
"While accolades like these are a great indicator that we're on the right track, we know there is still much more important work to do in this space, and this is just the beginning," says Boyle.
Liberty's diversity and inclusion goals extend across different areas and are designed to unite and integrate its community. Recognising that financial services has historically been a male-dominated industry, Liberty is committed to supporting the women in its workforce with a range of programs and partnerships. "This includes partnerships with Work180, Grad Girls and Diversity Council Australia, as well as our in-house Women in Leadership workshops, which empower our female leaders with guidance, training and support," says Boyle.
Liberty is a proud sponsor of the MFAA Opportunities for Women initiative and has been a finalist in the Employer of the Year category of the Australian Women in Finance Awards for the past two years. The company also provides disability awareness training for all its leaders, and offers all staff membership of the Diversity Council of Australia, giving them access to a range of learning resources, unique research and more.
The different cultures that make up Liberty's workforce are honoured through a range of education initiatives featuring guest speakers from a variety of backgrounds, as well as 'Around the Globe' catered lunches comprising cuisines from all over the world.
With respect to reconciliation, Liberty's Reconciliation Action Plan is currently being finalised, and a new Reconciliation Committee is in place.
"We understand that true, authentic inclusion takes time, and that there are simply no quick solutions," says Boyle. "But we're committed to laying the groundwork needed to build a truly inclusive culture."