Balance benefits business, say female leaders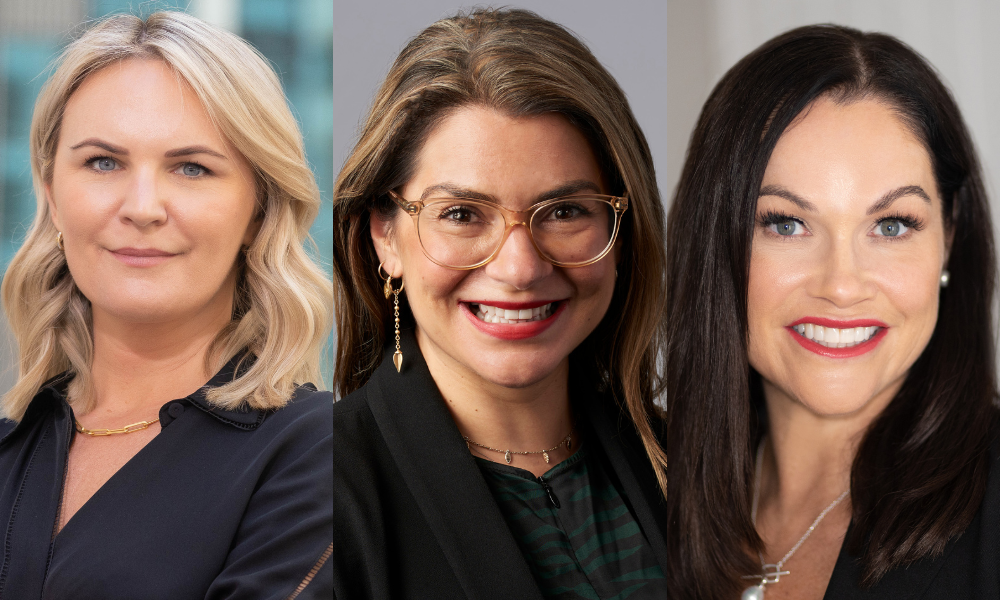 In recognition of the benefits of gender equity and diversity, female leaders within the mortgage and finance broking industry are helping to pave the way for lasting change.
Supporting diversity is about including people from different social and ethnic backgrounds and genders. From a workplace perspective, the key touchpoints are acquisition and retention, advancement opportunities, and ongoing support and mentoring.
To commemorate International Women's Day, three female business leaders share how they are championing equity and diversity within the workplace, leading to better outcomes for themselves, their business, employees and clients.
OnDeck chief operating officer Charlene Batson (pictured above left) acknowledged that the gender imbalance across the finance broking sector reflected a range of factors, from the traditional culture, through to workplace operations.
Women fill 40% of leadership roles within OnDeck, and one in three roles business-wide are held by women, Batson said. This figure is "considerably higher" than the fintech sector as a whole, she said, noting that industry-wide, female participation "is closer to 20%".
NAB head of strategic partnerships, broker distribution Nicole Triandos (pictured above centre) said for a society to truly embrace equity, there needs to be acceptance and diversity of thought.
The best way to embrace equity is to unlock new thinking by looking outside our immediate circle, Triandos said.
"In my opinion, the best way to achieve this is to surround yourself with people outside your network and learn from them," she said.
Having started her finance career in the motor trade, Astute Ability Finance Group principal broker and managing director Mhairi MacLeod (pictured above right) said gender equity was broader than the number of females within the industry.
Women need men – and other women – to support them, MacLeod said. Women have traditionally assumed the role of caregiver, and with more women now juggling careers and family, women have paved the way for greater acceptance of both genders balancing work commitments with caregiving responsibilities, she said.
"Men are now benefiting from [females'] thought leadership … it's not just about females getting equality – it's also about males," MacLeod said.
Achieving a balanced workplace
As a supporter of the MFAA Women in Finance Broking initiative aimed at increasing female participation in the finance and broking industry, Batson said OnDeck was committed to making strong progress to build a gender diverse workplace.
And the small business lender is also taking its own steps to attract women to finance broking, she said.
"OnDeck is focused on building a workplace where women can thrive by setting the right kind of goals for women to work towards, offering workplace flexibility to support women, writing job descriptions that connect with women, and setting KPIs that nurture long term success," Batson said.
MacLeod said recruitment within her business, which currently employed two males and six females, was driven by the skill set required. Considerations around parental leave and maternity leave, and opportunities to grow were equal for both genders.
Being aware of unconscious gender bias
Batson said there had been times in her career when she had experienced unconscious gender bias.
"There have been occasions when I've felt a man gets a different response to the same thing a woman may be saying," Batson said. "This is something both men and women are guilty of in different settings. The main point for the OnDeck team is that we are encouraging everyone to be aware of this across the business."
Commitment to gender equity has wider benefits
OnDeck's commitment to gender equity has provided additional benefits, such as being ranked one of the Best Places to Work in Australia, where 92% of its employees said they agreed that OnDeck is great place to work.
"We are very proud that 98% of the OnDeck team say they can be themselves at work, and employees at OnDeck are treated fairly regardless of their age, gender, sexual orientation, race or ethnicity," Batson said.
Overall, Batson said she was proud of the diversity OnDeck had achieved to-date.
"It's a plus for our business - and our clients, who are gender diverse, and 2023 is shaping up to be even better," Batson said.
The importance of mentoring
Triandos said that she challenged herself to mix with people outside of her network, as they provided an opportunity to learn.
"I challenge myself to continue to put these thoughts into action, and mentor people from all different backgrounds, both within and outside the broking industry," Triandos said.
Reflecting on over 20 years working in banking and finance, Triandos said that significant progress had been made to forge a more diverse and equitable industry.
"I am excited and passionate to see what we all can do together to keep this momentum going," Triandos said.
MacLeod applauded work of the MFAA, which through Industry Intelligence Service reports and initiatives such as Opportunities for Women, had not only embraced and championed gender equality and inclusion but also made it measurable.
"Now we're able to measure it, and we're able to unlock those small pieces of the puzzle that we need to change and adapt," MacLeod said.