Jump to winners | Jump to methodology | View PDF
The Elements of a Happy Workplace
Thirty-eight percent of Australian employees plan to look for a new job over the current financial year, according to recruiting services firm Hays. Another 39% say they may not plan on looking, but they would be open to new opportunities.
The reasons behind these figures were attributed to a lack of opportunities for promotion, uncompetitive salaries, poor management style or workplace culture, and poor training and development, among others.
The 13 winners of MPA's first Top Mortgage Employers awards, however, are not likely to have these problems because their employees have rated them highly on several factors. Despite the upheaval caused by COVID-19 and changes to the way most people worked, as well as changes to regulations, all of the Top Mortgage Employers achieved ratings above 4 out of 5.
The area that received the highest rating was "my coworkers and I have a good working relationship," showing how relationship-focused and tight-knit the mortgage industry is. The areas with the highest ratings were those focused on company culture and leader management style, more than the areas related to benefits and compensation.
The importance of flexibility
As well as rating the performance of their employers on various factors, employees were also asked to rate those factors in terms of their importance.
Unsurprisingly, given the majority of workplace changes brought about by COVID-19 and the nature of the mortgage broking industry, the most important benefit for employers to offer was flexible work options. This was particularly the case for employees aged between 40 and 59. Those aged over 60 were the least likely to prioritise flexible working arrangements.
Flexible working was ranked more important by those in companies with 26–100 employees and least important by those with fewer than 25 employees. It was also more important for those employees who have worked in the industry for more than 10 years.
Across all the age groups, the younger cohort (18–29) almost consistently ranked everything higher than the older groups. In particular, they were much more likely to highly rate "company supporting community/charitable organisations", "time off to support community service activities/volunteering", and "company being involved in green or sustainable business practices".
Asked how their organisation could improve, one employee said, "Every organisation can always improve, maybe more time/days to spend with our charities doing unpaid/volunteer work."
Those in the younger age bracket were also more likely to think performance reviews, employee recognition and diversity programs were important. They were also the group to rank all the healthcare benefits more highly and, despite being the furthest away from retirement, ranked a retirement plan most highly. On average, the age groups that provided a lower score of importance for a retirement plan were those aged 30–39 and over 60.
Company size also made a difference in terms of what employees thought was more important. The employers who have 10–25 employees, on average, found healthcare benefits less important. After flexible work options, those smaller groups considered employee team building as the most important factor, followed by employee recognition.
Pepper Money was the only group with more than 500 employees. These employees gave an above average score to the importance of flexible work options, rating it 4.62. Equally rated as high by this group – and again above average – was bonus/incentive programs.
Across the board, many of the factors became less important the longer the employees worked for their companies. Those who have been employed for six to 10 years ranked everything lower in importance than those who have been employed for less than a year, demonstrating the shift in expectations as younger generations move in.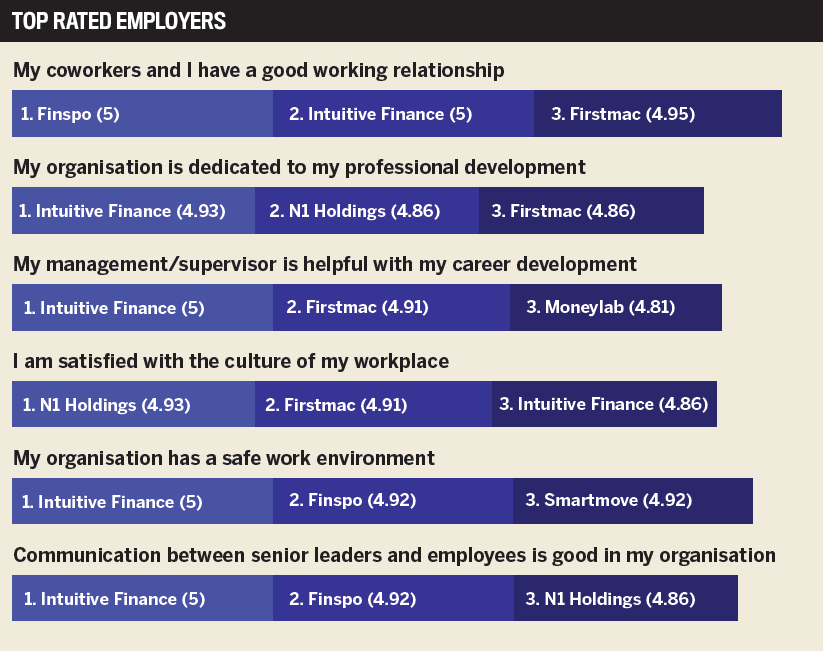 How the companies stack up
While those areas were voted as important priorities for employees, are the organisations doing enough?
The Top Mortgage Employers scored an average of 4.65 for their offering of flexible work options, which was the most important factor for all employees. In this area, 89% of employees said they were satisfied with their company.
Finspo achieved a perfect average score of 5 for its flexible work options. One employee described the company as "very flexible in terms of days off or choosing which day or time to work. There is truly a work-life balance that they respect. Family matters are prioritised with no judgement from the management team."
Employees were very positive about their companies' safe work environments, giving a score of 4.79. This has been a notable area of concern for many brokers, as their roles often require them to visit other people's homes.
Intuitive Finance achieved an average score of 5 in this area, followed by Finspo and Smartmove, both of which were rated 4.92.
Employees were also positive about their company supporting their professional development, the support of their managers in career development training and communication between senior leaders and employees.
Also obtaining a score of 5 for both manager support and communication from senior leaders, Intuitive Finance was complimented by employees for professional development days and training.
"I feel like I can be anything with the support of IF. Andrew is an amazing leader and has a wealth of knowledge. Better still, he wants to and does pass this on to all the staff daily in his quest to improve everybody," said one employee.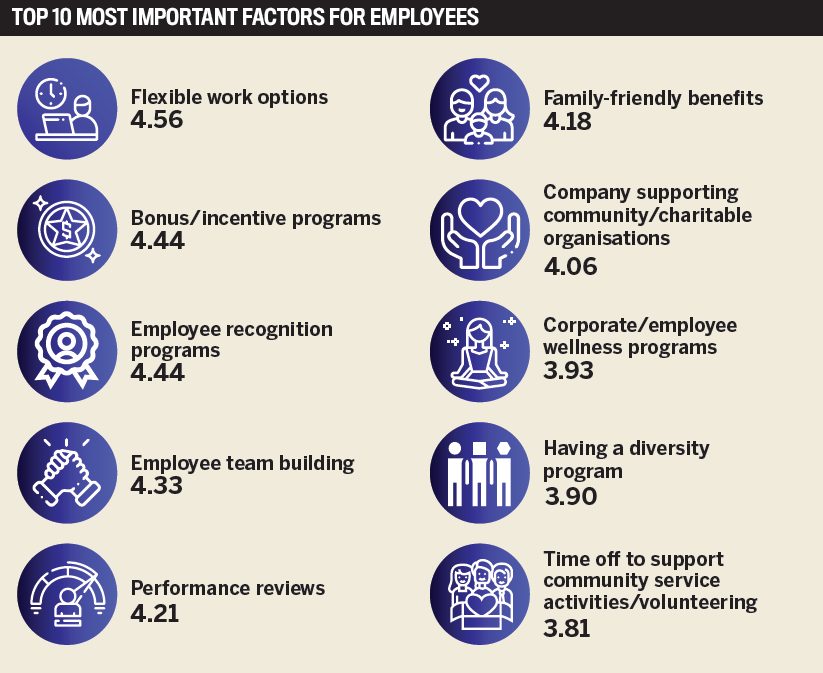 Areas for improvement
Of the total respondents, 86% were happy with their organisations' overall compensation, scoring it an average of 4.42 across the top companies.
Benefits or compensation that companies were asked about specifically included medical coverage, retirement plans, wellness programs and support, and loyalty leave. Employers were asked to include the number of weeks available to employees each year for sick leave, personal/care leave and vacation.
Among the employee respondents, 75% either agreed or strongly agreed that they were happy with their company's healthcare benefits. The average rating across the Top Mortgage Employers for this area was 4.07. N1 Holdings achieved the highest rating for its healthcare-related benefits with an average score of 4.71, followed by Firstmac with an average of 4.45. Commenting on Home Loan Experts, one employee said the company takes care of its workforce "both mentally and physically".
Of all the benefits offered, loyalty leave and/or sabbatical structure was rated most highly, with an employer average of 4.32. Firstmac obtained the highest rating for loyalty leave with a score of 4.82.
Employers' retirement plans were rated the lowest, with an average score of 3.95. However, retirement plans were ranked more important than healthcare coverage such as medical, dental, vision, disability benefits, life insurance and long-term care.
Although employees attributed high importance to having a good bonus/incentive structure, only 79% of employees were satisfied with their employers in this area, achieving a lower score than the majority of other areas.
Firstmac, which employees described as "a great company to work for … [that] really cares about their staff," achieved the highest score for its bonus/incentive structure.
10-25 EMPLOYEES
Finspo
Intuitive Finance
Money Quest Australia
Property Planning Australia
26-100 EMPLOYEES
Coronis Finance
Loan Gallery Finance
Smartmove Professional Mortgage Advisors
500+ EMPLOYEES
The process of finding and recognising the best employers in the Australian mortgage industry took place over two phases. First, MPA invited organisations to submit their details through a survey, where they were able to describe their offerings and business practices. Then, employees from the nominated companies were asked to fill out their own anonymous survey to rate their satisfaction with a number of key factors such as compensation, employee development, culture and work environment. Each company was required to meet a minimum number of employee responses based on overall size. Companies that achieved a satisfaction rating of 80% or greater were named a Top Mortgage Employer.