Jump to winners | Jump to methodology | View PDF
Mortgage broker opinion matters more than ever to banks as the third party originates an increasing share of the loan market. The latest MFAA data shows:
• the broker share of home loans is at 69.3% of the market, the highest share on record for a December quarter
• the value of commercial lending settled by brokers for the six months to March 2022 showed a 55.7% year-on-year increase
Banks have invested heavily in trying to improve products, systems, services and support to keep in favour with brokers. The MPA Brokers on Banks 2023 survey reveals which lenders have succeeded in brokers' eyes.
MPA asked hundreds of brokers across Australia to name their preferred lenders and their wish lists concerning banks in an anonymous survey. Brokers were asked to score banks' performances in the last 12 months across 10 criteria [see What do brokers want from banks? boxout below].
The results illustrate a highly competitive industry, with banks jostling with each other to provide the best loan products to brokers and their customers.
Themes explored include incumbents versus challengers, the importance of technology, and a growing and changing broker demographic.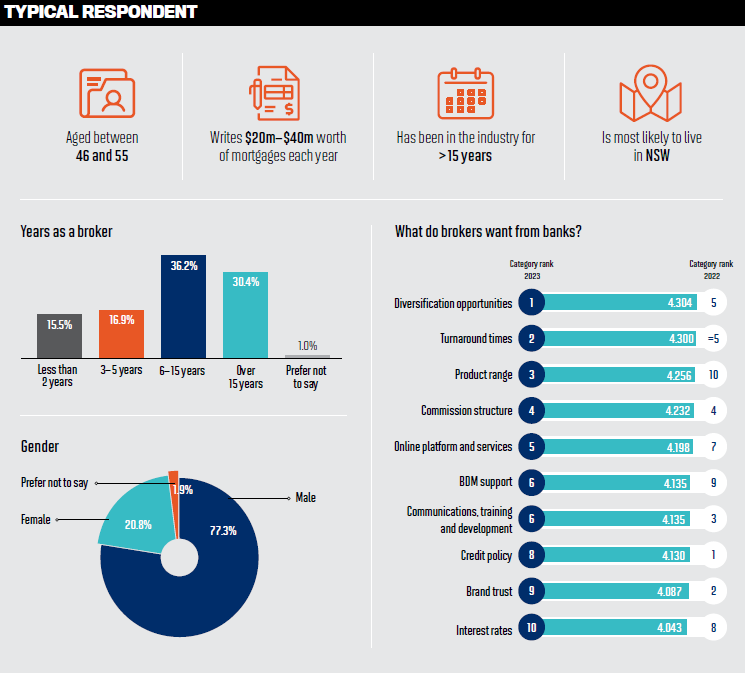 PRODUCTS AND PRICING
As the RBA ended ultra-loose monetary policy, brokers chose diversification opportunities from the banks as their number one priority, while 2022's top priority – credit policy – slipped down the rankings to eighth place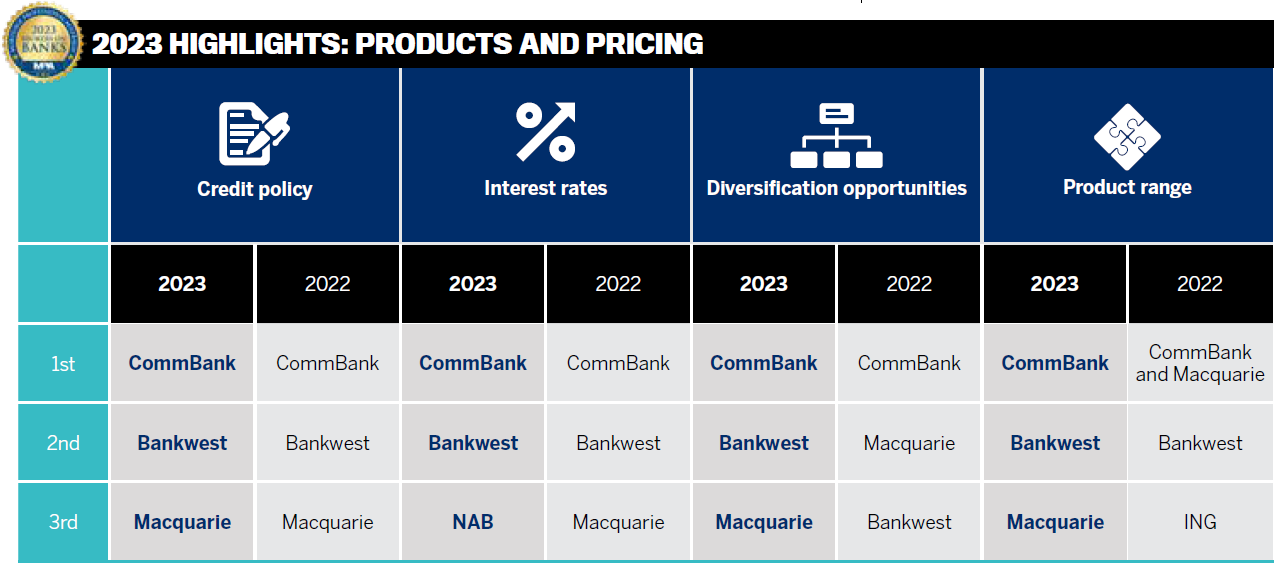 The importance of diversifying products away from a reliance on home loans just pipped turnaround times as the number one priority of brokers in this year's survey. The change happened quickly, as a year ago diversification placed fifth.
As new home loan mortgage lending dropped below the $30bn high-water mark in the second half of 2022, mortgage brokers streamlined their strategies by looking at commercial opportunities and elsewhere.
For the second year running, Macquarie Bank achieved the top spot in Brokers on Banks overall. It came first in the categories of turnaround times, brand trust and online platform and services and ranked third for its product range and diversification opportunities.
"[I gave more business to] Macquarie Bank due to the excellent service levels, from assessment turnaround times to doc prep to settlement, plus they have very competitive interest rates across the board," said one broker.
CommBank topped the diversification category and ranked first for credit policy, interest rates and product range. This is a repeat of last year's results; however, CommBank shared the podium for product range with Macquarie Bank in 2022. Brokers' comments on CommBank included:
• "[They are, compared to last year] easier to deal with and [have] easy product with good brand awareness"
• "CBA's credit and security policy is extensive and varied and allows for more deals to be done. They also have great turnaround times, competitive pricing, and multiple offsets for package holders"
Reinforcing how important diversification has become to brokers in 2023, the strongly related category of product range leapt from last place in 2022 to third this year. The focus on home loans last year as record-low interest rates caused a rush into private property pushed other lending products down the list of priorities. Now that boom is fading.
Respondents cited ANZ (ranking fifth) as well as AMP Bank for interest rates, while Suncorp and Bankwest received accolades for credit policy, ranking fifth and second respectively. Other non-major banks were also praised by brokers.
FBAA managing director Peter White attributes the rise in non-major banks to two factors: "I think a lot of it comes down to speed of service.
They're lifting their game and turning around loans quicker than before, where historically they were slower. The other piece is having better and sharper products."
Stephen Michaels, director of residential and SME at Catalyst Advisers, said better rates and turnaround times were the main reasons brokers were favouring the non-majors.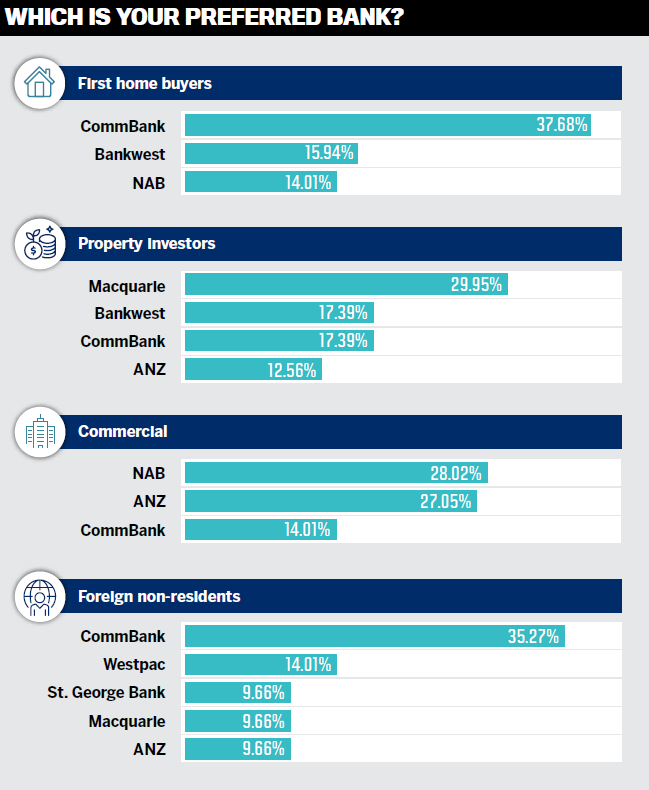 BROKER SUPPORT
Commission structure ranked fourth in overall importance but was still a higher priority for brokers than communications, training and development (sixth) and brand trust (ninth).
Macquarie Bank retained top spot in the brand trust category in 2023, while Bankwest and ING swapped last year's positions, winning silver and bronze respectively.
According to MFAA data, both upfront and trail commission continue to rise across the industry, and other MPA surveys of top brokers show they settled amounts far above those of previous years over the last 12 months.
Brokers praised Bankwest's "great commission structure", and the Perth-based lender topped this category again in 2023.
Communications, training and development ranked sixth overall, compared to third last year – as brokers struggled with technology and training during the pandemic.
Macquarie Bank was frequently cited as easy to deal with in this year's survey, but one broker demurred, saying its standards had slipped:
"They are getting harder to deal with. We are actively looking to better spread our business away, and this has been mostly to ubank, NAB and to a lesser extent MyState."
Suncorp was cited for robust broker support mainly related to improved turnaround times, and Bankwest was often praised for its strong service ethos. "Their customer support and service is second to none," said one broker.
CommBank and NAB both increased their staff numbers, by 11% and 7% respectively, which likely contributed to their good rankings in communications – number one for CommBank and a jump from seventh last year to fourth for NAB in 2023.
Conversely, Westpac reduced its full-time staff in FY22 by 6%, slipping to ninth in communications from fifth in 2022.
Multiple brokers cited Westpac and its retail and business banking entity St. George Bank as having weak broker support and being difficult to work with and prone to errors:
• "Every time is a bad experience. [The] BDMs are terrible, processing is far too slow, and every deal has multiple processing errors through the process ... probably the worst I have ever seen in 25 years"
• "Westpac [makes] shocking mistakes having major impacts on my business, and the client experience is dreadful – I feel so sorry for the clients"
ANZ, which reduced staff numbers by 2%, was also criticised for weak communication processes and long turnaround times. However, these problems may have been addressed: one broker said that after starting to use them again, the bank had "improved these issues significantly".
Smaller banks did not escape criticism.
"Bluestone [is an] absolute shambles to deal with – I get incorrect information from the BDM in relation to scenarios, assessors have provided conflicting information, [and it has] inconsistent policy," complained one broker.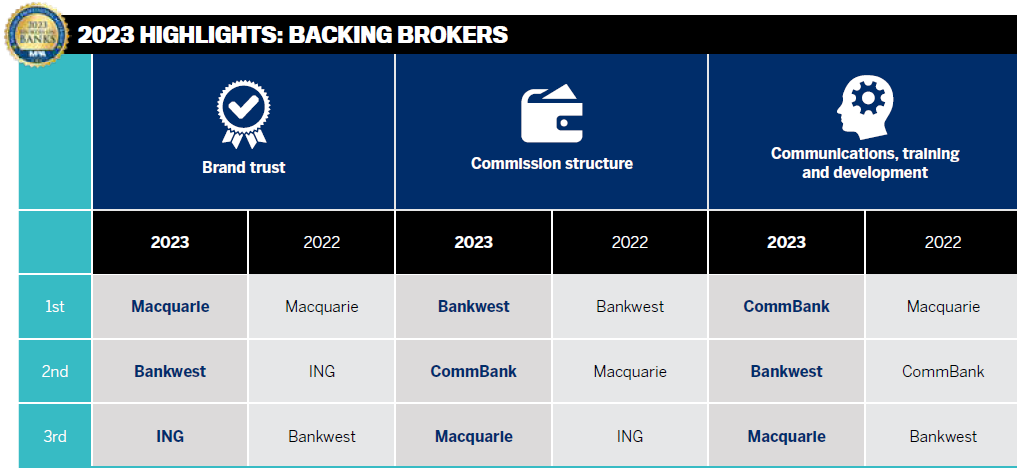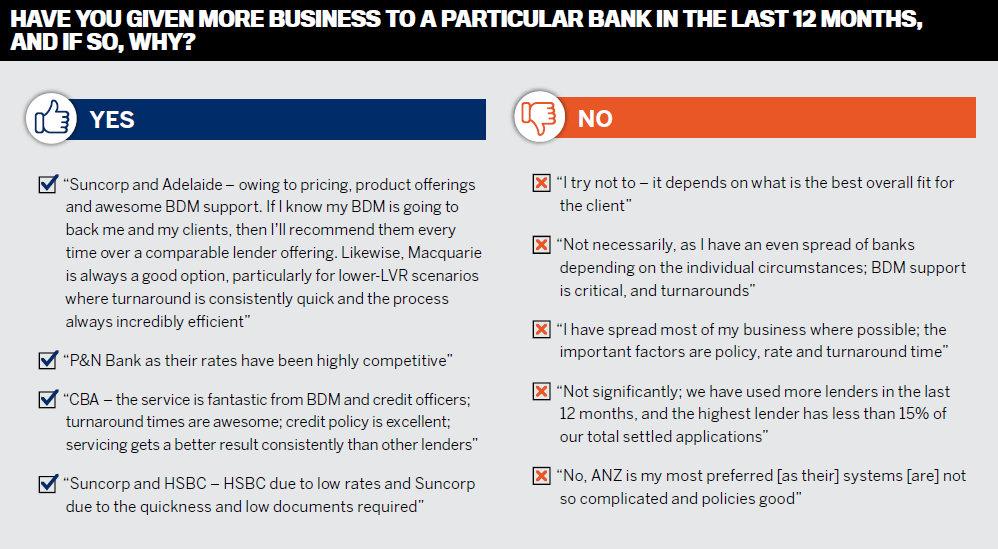 TECHNOLOGY, TURNAROUND TIMES AND SERVICE
Brokers have adapted to technology ushered in during the pandemic but expect it to result in better service and faster turnaround times – and a good BDM can make a world of difference
Only a small margin of error exists between the top broker need and their second most important priority – turnaround times. This year's result shows the continuing importance of speed to settlement in securing brokers' affections. There is clear frustration among brokers when timelines go awry:
• "[I'm] not a big fan of chatting and waiting so long for a response when I am busy with 10 different files"
• "Suncorp's settlements team let them down – I've received approval in three hours and their settlements team have taken three weeks to update me"
This is emphasised by Catalyst Advisers' Stephen Michaels, who says, "Turnaround time is very important. A lot of customers in this day and age, they need a decision and they need to move fast."
More brokers this year said turnaround times were better, with over 75% reporting that they had improved or improved significantly, compared to just 47.85% in 2022. Only 6.28% said times had worsened over the last year.
Macquarie Bank topped this category, with CommBank and Bankwest taking second and third.
Some of the most ebullient praise from brokers was reserved for their BDMs. Several brokers said Bankwest BDMs were top-rate, while Suncorp was said to have a much-improved BDM experience, ranking fourth overall. CommBank BDMs were highly rated, and one broker described Macquarie BDMs as "phenomenal".
The final tally showed Bankwest as the winner in the BDMs category, followed by Macquarie Bank and CommBank. Adelaide Bank dropped from third in 2022 to sixth.
Macquarie Bank was ranked number one for online platform and services, with ING second and Bankwest third. Brokers were keen to highlight new technology that had made their lives easier.
Bankwest's new platform was singled out by a range of brokers:
• "[The] Bankwest online portal is amazing; you can upload docs and do pricing without having to get the customers to sign anything, which means a much quicker and streamlined process, which also has massively helped with retention"
• "The Bankwest pricing feature and online document submission has been a game changer"
Asked for comment, KPMG Australia's head of banking, Steve Jackson, says, "The majors [will] accelerate their digital transformation efforts … and bring efficient, technology-enabled solutions to their core middle and back-office processes, where much of the scale of their cost bases exists."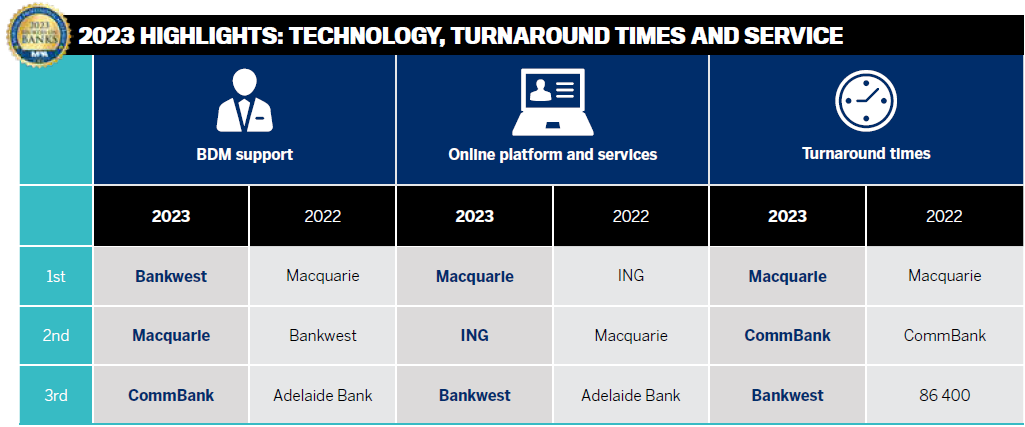 WHAT YOU'RE SAYING
2022 was beset by fast rate hikes, severe natural disasters, a cost of living crisis and problematic inflation. Here's what brokers had to say about rates, channel conflict, green lending and the assessment of living expenses by banks
The reserve bank lifted rates for the first time in 12 years in May 2022, dominating headlines. Many brokers see it as a return to a more orthodox monetary stance for the central bank and are simply getting on with business. Others are concerned about vulnerable clients.
MPA asked brokers how worried they were about rates. One of the most important concerns is whether the RBA has the right tools to calibrate a policy that can accurately hit a moving target – going too far with rate hikes would be just as bad as not doing enough.
Green lending is a key topic in 2023, with banks from Suncorp to CommBank recently offering cheaper rates on home loans for customers who reduce their dwellings' environmental footprint. Even so, many brokers said they were yet to write a 'green loan' or even be asked about one by a customer.
The higher cost of living due to rising inflation has made bank assessments of living expenses a moving feast of standards and, according to some brokers, a minefield of technicalities and loopholes.
While it's inevitable that borrowers will be assessed at a higher level in the current environment as they spend more on the same basics, many brokers want a consistent approach from banks.
But banks have also been chasing a high volume of loans in the last year as borrowers look to refinance, often through first-party means, raising concerns about channel conflict.
As the pie of new loans starts to shrink, the parameters of this dynamic may become more clearly defined. It may be less of an issue than in the past as brokers increasingly take share from the banks: more brokers rated channel conflict a minor problem than a major one in 2023.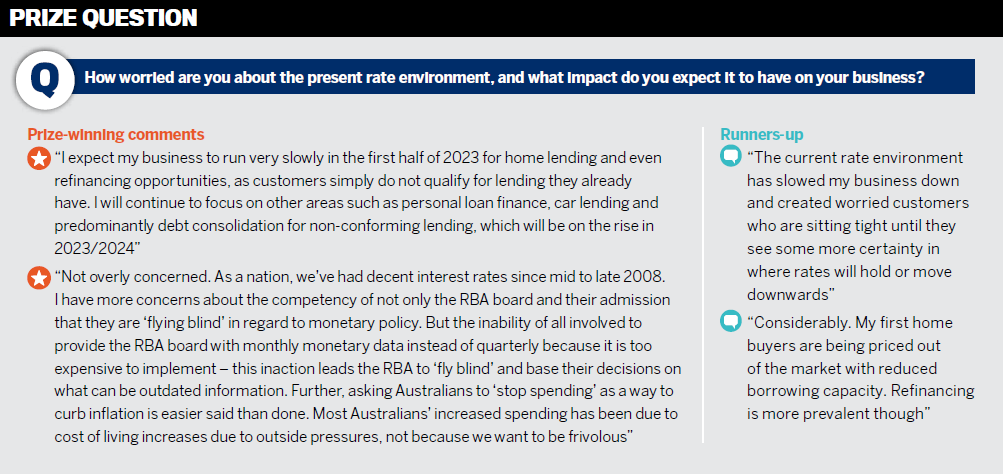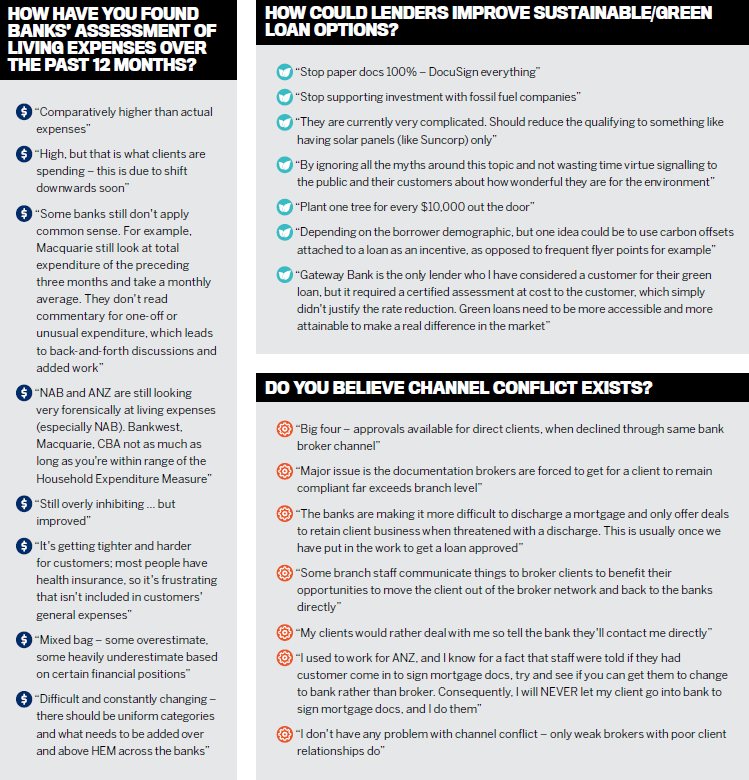 FINAL RESULTS
MPA presents the overall winners of the 2023 Broker on Banks survey, highlighting the areas these banks excelled in and why brokers favoured them above the rest of the pack
1st - Macquarie

2nd - Bankwest

3rd - CommBank
4th - NAB


Overall Score: 3.51

5th - Suncorp


Overall Score: 3.48

6th - ING


Overall Score: 3.45

7th - ANZ


Overall Score: 3.29

8th - Adelaide Bank


Overall Score: 3.29

9th - ME (Bank)


Overall Score: 3.12

10th - St. George Bank


Overall Score: 3.03
Note: Scores go from 1 (very bad) to 5 (very good)

MACQUARIE
1st
Position in 2022: 2nd
Position in 2021: 2nd
Macquarie Bank has solidified its position as the top bank in brokers' eyes by keeping the number one spot for two years running. While it didn't get the most golds of any bank this year, a strong, consistent performance saw Macquarie Bank on the podium in some capacity for every category bar interest rates, where it came in fourth.
Strong suits were brand trust, online platform and services and the all-important turnaround times, which it also won in the last three years. Categories in which it slipped from first place included BDM support, communications and product range, but its performance in these areas was still good enough to help one of Australia's largest banks take out overall honours. Macquarie Bank was also brokers' most preferred bank for property investor clients by a wide margin.
Before 2020, Macquarie Bank was often within the top 10 but not the top five, suggesting that the bank's response to the challenges of the pandemic years has been outstanding. Macquarie Bank can now not only be considered the top challenger bank to the big four but also the bank to beat when it comes to broker reputation.
Macquarie Bank's strong suits were brand trust, online platform and services and the all-important turnaround times

BANKWEST
2nd
Position in 2022: 2nd
Position in 2021: 1st
Bankwest took home more silvers than any other bank, with a hoard of six in 2023 versus four last year. It won two golds, for BDM support and commission structure. Commission structure is a consistent strength for the bank, with 2023 marking the fourth year in a row that Bankwest has come first in this area. But its win for BDM support came down to a slim margin – a few extra votes for Macquarie Bank would have seen this category go to the Sydney bank.
Bankwest only just missed gold for its product range, suggesting that a minor improvement here could see the Perth bank flip this section.
Given the high praise for Bankwest's online platform, it is perhaps surprising that it only picked up bronze in this category, but as time goes on more brokers may come to appreciate the end-to-end digital home loan portal developed largely in consultation with brokers.
Bankwest also jumped from bronze to silver for communications, and it improved its ranking as an option for both first home buyers and property investors, moving into second in both areas.

CommBank
3rd
Position in 2022: 3rd
Position in 2021: 7th
Despite finishing third overall, CommBank won more golds than Macquarie Bank or Bankwest, with a haul of five. What dragged Australia's biggest bank down to third was an eighth-place finish in the online platform and services category.
Although CommBank improved from a dismal 16th place in this area last year, its climb up the rankings wasn't enough to compete with smaller rivals such as Bankwest or Suncorp.
CommBank also underperformed slightly in the category of brand trust, finishing fourth. Still, the fact that it won gold for communications, credit policy, interest rates, diversification opportunities (this year's number one priority for brokers) and product range shows that CommBank is a force to be reckoned with.
CommBank was also brokers' most preferred bank for both first home buyers and foreign non-residents and is the first among the big four to introduce a green home loan for houses that meet certain environmental standards.

NAB
4th
Position in 2022: 5th
Position in 2021: 5th
NAB moved up one spot this year, from fifth place to fourth. Brokers rated the big four bank their top choice for commercial clients, just ahead of ANZ.
NAB claimed one bronze this year after failing to finish in the top three in any category in 2022. Its bronze was for interest rates, while it ranked fourth for product range, commission structure, communications, diversification opportunities and turnaround times.
Like the other big four banks, NAB was mainly let down by weak scores for online platform and services, finishing in a mediocre 12th place, up from 14th in 2022. Its BDM support also has room for improvement at a rank of seventh. Even so, NAB improved in most categories, and this is reflected in its growing share of home lending originated by brokers, up from 40% in 2021 to 44.2% a year later.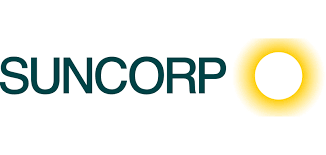 Suncorp
4th
Position in 2022: 10th
Position in 2021: 10th
Suncorp Bank leapt into the top five in 2023, muscling out regional banks and larger players alike with a much-improved performance, up from 10th place last year.
It rated well among brokers with commercial clients and scored a respectable fourth in the BDM support and online platform and services categories. A number of brokers praised a more concerted effort to listen to feedback and noted improvements in Suncorp's loan approval systems.
The consistent ability of challenger banks to punch above their weight with online platforms and broker portals shows how important digital has become and why banks need to prioritise technological innovation.
BROKERS' PICKS
As well as ranking the banks in 10 categories, brokers were asked to name their favourite mortgage products of the last 12 months. Here are the top three
Bankwest

CommBank

Macquarie Bank
BANKWEST

Complete Variable Home Loan Package
Bankwest's Complete Variable Home Loan Package is back in the top spot, where it reigned supreme from 2019 to 2021 before losing out to Macquarie Bank last year.
Brokers cited a range of positives for the product, including great BDM support, low rates, excellent after-settlement access, great commission structure, fast turnaround times, its cashback payment and free credit card, and the option of an offset account on a low fee.
But once again, the portal experience appeared to be a huge positive for Bankwest, with multiple brokers praising it as "amazing", "easy to use" or having "excellent features".
"Great BDM support, low rates and great tools to support our business – their broker portal is great," said one broker.
Bankwest was also praised as a customer-friendly bank, while others cited its flexibility.
"We have had a few off-the-plan purchases, and having a six-month turnaround between doc execution and settlement is important for those clients as the councils can hold things up waiting for the registration," a broker said.
Another highlighted "fast turnaround times, easy credit policy" and said the "product has the features that our customers want".
COMMBANK

Mortgage Advantage Home Loan Package
CommBank's MAV loan retained its second-place spot in 2023, suggesting the product is continuing to win fans among brokers after breaking into the top three last year.
Brokers praised the MAV package for its offset benefits, flexibility, price policy, quick turnarounds and competitive pricing.
Reflecting CommBank's ranking as brokers' top choice for first home buyers, one broker said: "[MAV is a] great option for first home buyers and single parents as a low-cost option and a great rate." Another cited "multiple offset accounts, excellent turnaround times, aggressive pricing, good systems and tools, great credit policy and participating in the home guarantee scheme" as key factors.
Some brokers liked the discounted rates available with MAV.
"[It] suits the basic needs of clients, especially first home buyers or clients wanting a no-frills loan product. Easily set up and easy to manage from a client's perspective as well," another said.
MACQUARIE BANK

Offset Home Loan Package
A popular product that has a history of being in the top three, Macquarie Bank's Offset Home Loan Package came in third in 2023, knocked off the top rung from last year.
Brokers like Macquarie Bank's competitive rates, fast turnaround times and great BDM support. They also praised the bank's "slick service" and "no frills contract". One said, "[Macquarie has] extremely competitive interest rates, consistent turnaround times, multiple offsets [and an] excellent process through to settlement."
Higher pricing was outweighed by other positives: "Not the cheapest product, but [it] comes with the best service pre-settlement and the best online platform post service."
Another broker praised the bank's "very fast turnaround times, excellent BDM support, straightforward credit policy and assessment process, very competitive interest rates, strong borrowing capacity, and an easy-to-use servicing calculator".