Jump to winners | Jump to methodology | View PDF
Aggregators have worked incredibly hard over the last few years, supporting brokers through the royal commission, the subsequent discussion over remuneration, and then the COVID-19 outbreak. Their work is often done behind the scenes, but on top of providing hands-on training and education for brokers, they lobby lenders and work with industry bodies to fight for changes.
The 2021 survey results are fairly positive about the support aggregators have given brokers in the last year, particularly around the technological changes they have had to introduce. They not only switched to virtual platforms for meetings but provided extra training webinars and video updates, as well as system updates that allowed brokers to upload digitally signed documents.
During the past year brokers had to deal with lenders changing their policies and putting the brakes on new lending. They also saw a shift in demand coming from specific borrower segments as first home buyers and refinancers swamped the market.
Aggregators had to step up to make sure brokers were supported with this unexpected surge of lending. In the first home buyer sector there were government incentives the aggregators needed to keep brokers abreast of, and to assist refinancers brokers also needed to understand all the changes to interest rates and cashback offers.
Only 4% of brokers surveyed said their aggregator had not done enough for broker development. In fact, when asked a hypothetical question on what might make them leave their aggregator, many said they would not even consider it.
Brokers' list of priorities remained fairly consistent with the previous year's results. Accurate and on-time commissions continued to be their top priority, but IT and CRM support moved up the ranks from fourth place to second. This is no surprise, considering how much reliance on technology and aggregator CRMs there was over the last year.
Many brokers complimented their aggregators' CRM systems, although when asked whether they had re-evaluated what they needed from their aggregators, a number of brokers commented that they wanted better CRM support.
Compliance support moved down to third place in the priority list with the same score as last year. When it came to the best interests duty, brokers seemed content with aggregator support in that area.
After a brief stint away from the bottom of the list in 2020, lead generation dropped back down to last place this year. This is possibly due to a change in sentiment, as last year brokers felt they needed more support in attracting new customers but subsequently saw a boom in business.
Thank you to all the brokers who took part in the 2021 survey. Read on as, over the following pages, we dive into each of the categories in which they ranked the aggregators and reveal the results in more detail.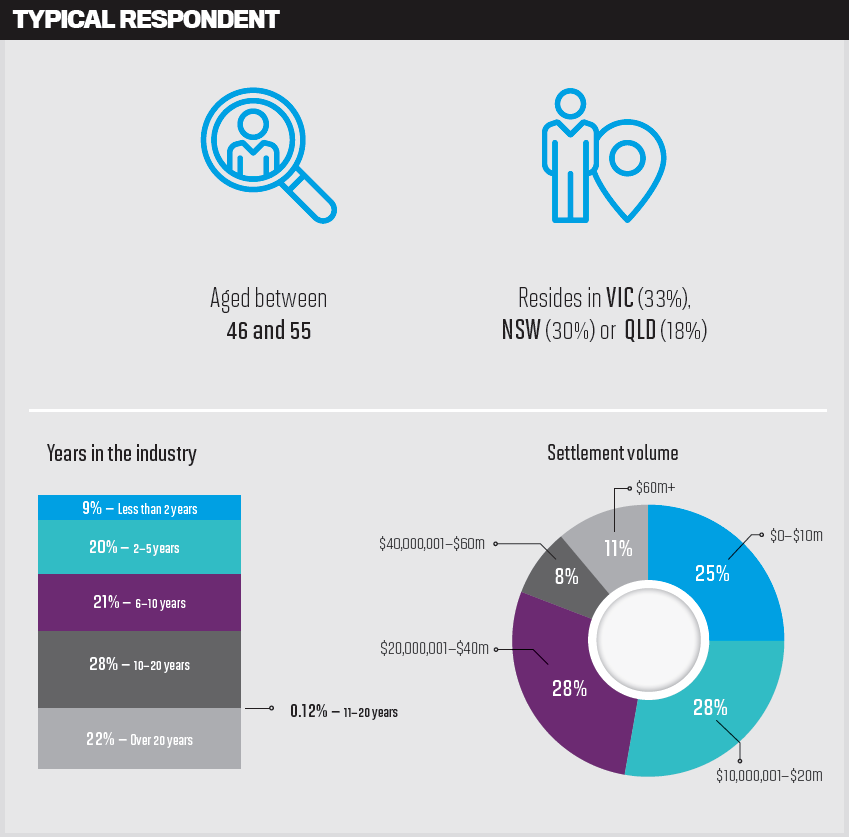 In this year's survey, brokers were asked to rank their aggregators across 11 categories: accurate and on-time commission payments; IT and CRM support; quality of lending panel; communication with brokers; BDM support; training and education; additional income streams; marketing support; white label offering; and lead generation. Brokers could rank their aggregator with a score out of five in each category.
Due to the varying sizes of aggregator groups and the disparity in the number of respondents per aggregator, only those that achieved a response rate of at least 10% of the overall number of respondents were included in the final list.
MPA also asked brokers a series of questions relating to their aggregator's service and other needs, but these did not have an effect on the overall score.
Brokers' top priorities: Brokers have been seeking additional support from their aggregators during a year of ongoing uncertainty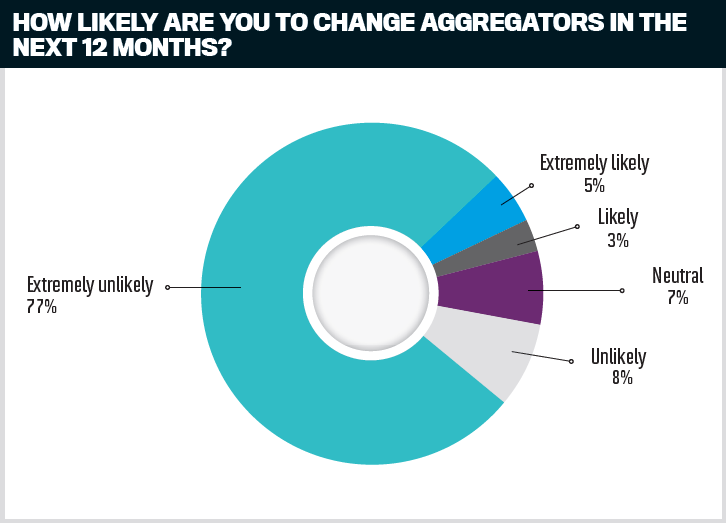 There was a great deal of pressure on aggregators over the last year as they navigated the impacts of the pandemic on their own businesses while at the same time supporting brokers with compliance, training, lender turnaround times, and much more behind the scenes.
The majority of brokers still think it's extremely unlikely they will leave their aggregator in the next 12 months – 5% down on the same time last year. However, that has not changed the figures for those who say they are likely to leave their aggregator. Instead, brokers are easing more towards a neutral stance.
The main reasons for brokers considering leaving their aggregator are not massively different from what they were in 2020, with just one change to the top five factors.
Brokers are still putting a high priority on IT and CRM support. Poor performance in this area was listed, for the second year in a row, as the top reason they would leave their aggregator, reflecting the particular importance of tech support to brokers throughout the pandemic.

With restrictions in place limiting physical interaction over the past year, brokers relied on technology more than ever. Building and maintaining strong relationships with their customers when they were not able to meet in person meant brokers were using CRM software to set up marketing emails and contact reminders; it was imperative that aggregators could provide the right tools to support them.
IT and CRM support also received the second-highest ranking when brokers were asked to prioritise the awards categories, showing just how important it has been to them. It was the fourth-highest priority in 2020 and the seventh highest in 2019.
Loan Market achieved the top score for IT and CRM support this year for the second year in a row, thanks to its award-winning MyCRM platform.
A higher proportion of brokers this year said they would leave their aggregator if they received poor BDM support. This factor took joint third place with poor compliance support, which was higher in the list in last year's survey, presumably as brokers were more worried about increasing regulation.
Reappearing as the fifth reason why brokers would leave their aggregators was poor quality of lending panel. This has replaced poor communication, which fell to sixth position this year after featuring in the top five in 2020 when brokers really needed the extra communication.
Getting paid: Brokers who earn commission have settled higher loan values over the last year, but some are still concerned about their aggregator's commission splits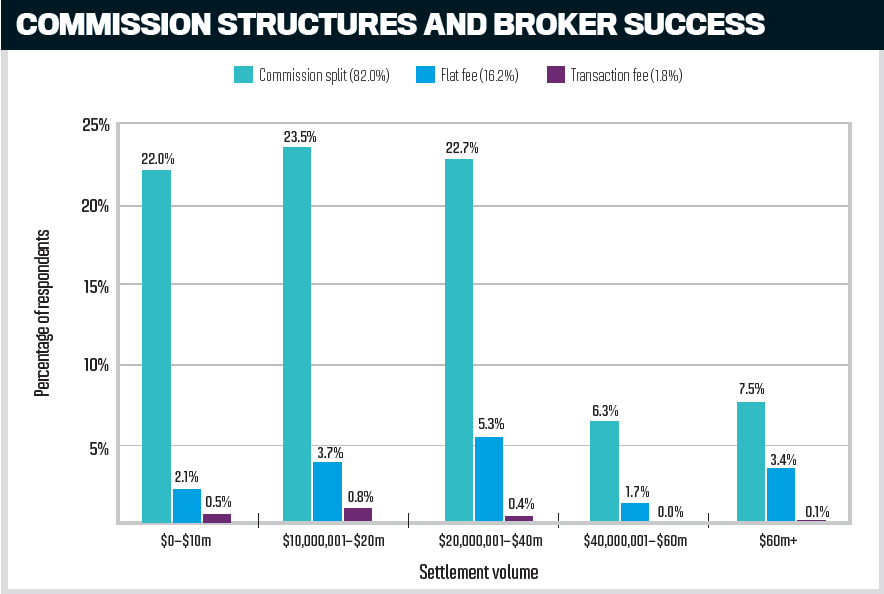 Commission has always been an high priority for brokers, coming in at the top of the rankings year after year. Loan Market took the top spot for accurate and on-time commission payments in 2021, with a higher score than it received in the survey last year.
Brokers continue to have faith in their aggregators, with 90% saying hidden costs are not a problem. Of those who said hidden costs were either a problem or a major problem, several reasons were given.
One broker said they had experienced unrelated cost increases, paying for what should have already been supplied. Another said they were being charged fees out of cycle and it was hard to trace the amount they had been charged.
"They have a number of separate fees that make it di cult to work out what their total cost is," said a broker from NSW.

A Queensland broker said, "The hidden cost of implementing a completely new operating platform has been frustrating as it further increases the acquisition costs at a time when there is downward pressure on incomes."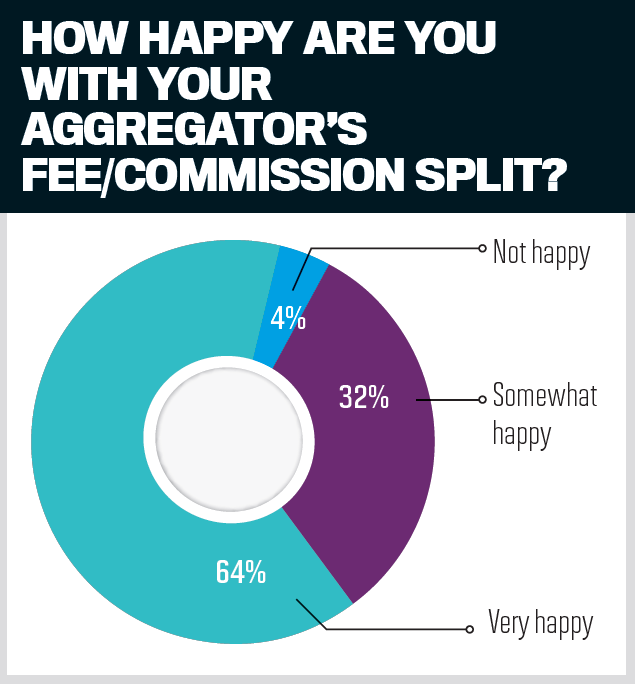 Other brokers said that although their aggregators' fees were not necessarily 'hidden', they were still too big.
"Commission split, franchise fee, technology fee, fees for credit reports, bank statements, etc., etc., etc. So many fees it hurts," said another broker from Queensland.
The majority of brokers are also happy with their aggregators' fees and commission splits. However, the level of happiness has reduced, with 4% fewer brokers being 'very happy' and an increase in the proportion of those who are 'somewhat happy'.
This is the second year that brokers' happiness with fees and commission splits has dropped though. In 2019, just over 70% said they were 'very happy' and 24% were 'somewhat happy'.
Unsurprisingly, the proportion of surveyed brokers who are earning commissions remains high. Eighty-two per cent of respondents said they earned commissions, compared to 16% earning a flat fee and just under 2% earning a transaction fee.
The figures show that most of the brokers who earn commissions settled between $10m and $20m in the past year, but most of those who earn a flat fee settled between $20m and $40m. The same was true in 2020 for brokers earning a flat fee, but there has been a slight shift for brokers earning a commission: last year they were more likely to settle between $0 and $10m. The higher value of settlements achieved by commission-earning brokers is probably due to the record settlement volumes seen over the past year.
Growing your business: With training and PD days held virtually for much of the last 18 months, one aggregator has come out on top in all areas of business development support

Despite a lack of in-person events and professional development days over the past year and a half, brokers are mostly happy with how aggregators have helped them. Eighty per cent of survey respondents said aggregators had definitely done enough to support their development, with just 4% saying they had not.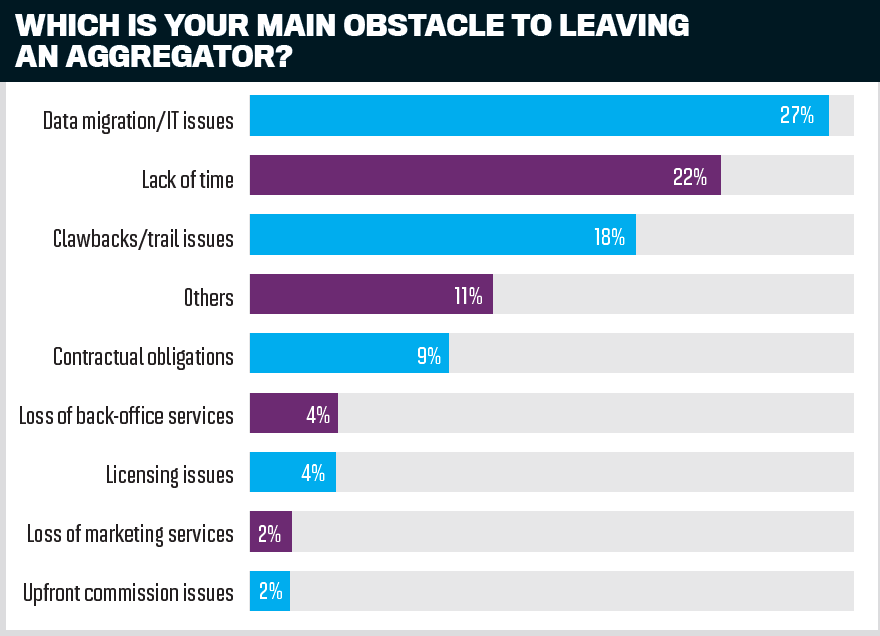 Asked how COVID-19 had made them re-evaluate what they needed from their aggregators, brokers said it had highlighted areas like technology, marketing support and BDM interaction as areas that were important to them.
For the most part, brokers felt that aggregators had delivered as their needs changed. Several brokers said after the outbreak of the pandemic they needed frequent communication and updates – and aggregators stepped up to provide that.
"When COVID hit, they went into action and held weekly webinars to keep us updated," a broker from Queensland said of their aggregator.
Another broker, from the ACT, said: "It has been vital to feel like I am still connected with others during this time. Having the support, education and resources needed has been such a relief, and I know that brokers with some of the other aggregators have not had this same level provided."
Some brokers had not only re-evaluated what they needed but realised that what they were getting wasn't good enough.
"It has made me realise that their old-fashioned, non-technology approach is never going to support us into the future, and it is obvious they don't see it as a priority or know how to do it," said a broker from Queensland.
Another broker, from NSW, said they needed "more support and frequent contact by BDMs".
"I feel that they are reactive and not proactive," they added.
Asked what the main obstacles were to leaving their aggregator, the majority of brokers said it would be issues related to data migration and IT.
Demonstrating how busy brokers have been over the last year, the next-biggest obstacle was a lack of time; this moved up from third place last year. Another change from last year is the 3% drop in the number of brokers who said loss of marketing support would be a problem.
Of the 11% of brokers who said there would be other obstacles to leaving, many mentioned the unknown problems they might experience at other aggregators, the hassle of reaccreditation and loss of relationships.
What you're saying: With a review into broker remuneration coming next year, we asked brokers what they would expect from their aggregators if a change to the structure was implemented