There are two tiers of awards for each category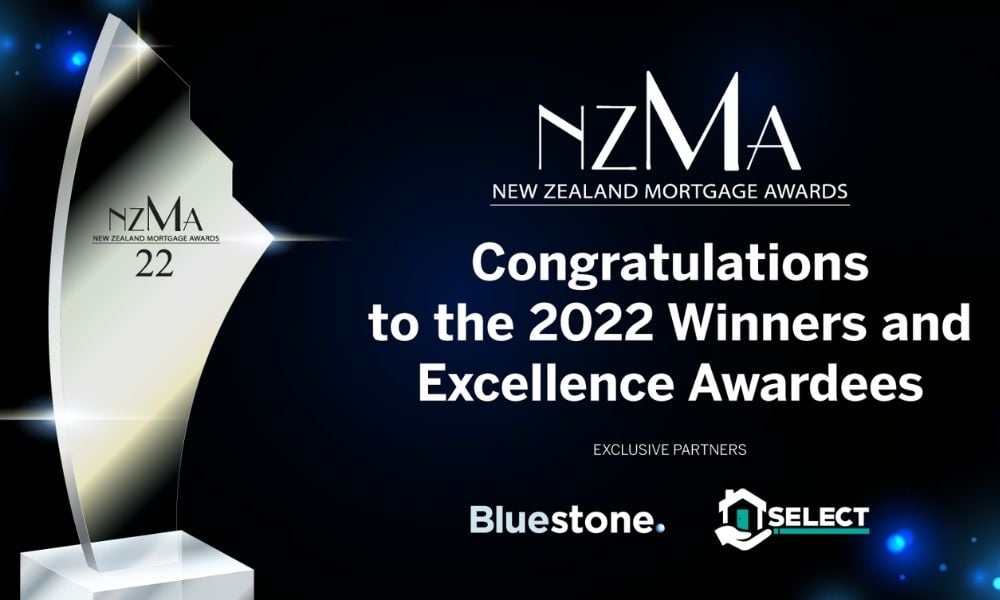 New Zealand Adviser is proud to announce the winners and excellence awardees of the New Zealand Mortgage Awards 2022 (NZMAs) across three adviser categories.
This year's annual NZMAs, presented by NZ Adviser, teamed up with Bluestone, a lender that specialises in residential home loans in New Zealand and Australia, as well as Select Home Loans (Select), a mortgage lender offering solutions that cater to borrowers' ever-changing financial needs.
This leading independent awards program in the New Zealand mortgage industry identified the best advisers by asking individuals and companies to nominate themselves or their peers in three adviser categories, focusing on achievements from the last 12 months. The Mortgage Awards team then conducted research and gathered editorial insights to supplement and verify the materials submitted in the nominations.
Afterwards, an independent panel of judges appointed by NZ Adviser reviewed the submissions and allocated each nominee with a confidential and impartial score. Composed of mortgage and finance leaders from across New Zealand, the judges were:
Eugene Bartsaikin, managing director, Twine Financial Advisers
Julius Capilitan, lending member advisory committee/managing director, Financial Advice New Zealand/Century21Financial
Adrienne Church, general manager NZ, Prospa
Tony Dench, CEO, SHARE
Dev Dhingra, founder/CEO/principal adviser, The Fundmaster
Anton Douglas, CEO, Midlands Mortgage Trust
Glenys Holden, CEO, Norfolk Mortgage Trust
Luke Jackson, NZ head, Resimac
Sarah Johnston, CEO, Astute Financial Management
Tony Mounce, director, Tony Mounce Mortgages & Insurance
Elyce Peters, director and mobile mortgage adviser, The Mortgage Girls
Katrina Shanks, CEO, Financial Advice New Zealand
Tahei Simpson, mortgage adviser, Vega Lend
Aaron Skilton, CEO, New Zealand Home Loans
Once the judging had been completed, the nominees with the highest scores in each category were conferred with excellence awards, while the nominee with the highest overall score in each category was identified as the winner of the category.
We are proud to announce that the winners of the 2022 NZMAs across the adviser categories are…
Independent Mortgage Adviser of the Year
Winner
Satyan Mehra, iConsult
Excellence Awardees
Cameron Marcroft, Loan Market
Kaushal Patel, Onelife Financial Services
Kewan Vaidhya, Aprilis Mortgages
Prateek Malhotra, Everest Financial Services – T/A Loan and Insurance Market
Regional Mortgage Adviser of the Year
Winners
Alastair Watson, Loan Market
Scott Jackson, Mike Pero Mortgages – Nelson & Tasman
Excellence Awardees
Brent Jaslarz, NZ Financial Services Group
Jen Taylor, Taylored Mortgages
Malcolm Shepherd, Quantum Financial Advisers
Young Gun of the Year
Winner
Jen Taylor, Taylored Mortgages
Excellence Awardee
Cowan Henderson, NZHL
Thank you for participating in this year's NZMAs, and congratulations to all the winners! You can see the winners of the other categories on the NZMA website.