Purchaser will be given a year's supply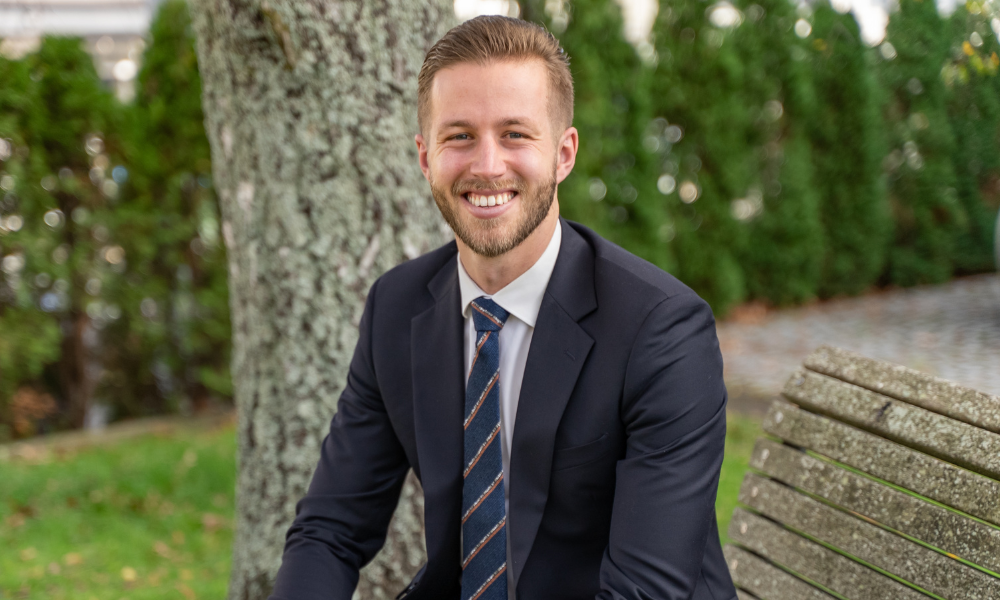 A real estate agent is hoping the prospect of a year's supply of eggs will lure prospective homebuyers to a property he is selling in the Auckland suburb of Three Kings.
New Zealand's property downturn is putting the balance of power into buyers' hands. Residential property values are down 7.2% year-on-year, according to the latest CoreLogic report. The CoreLogic House Price Index fell 0.3% in January, marking the tenth consecutive month of declines.
Ray White Remuera salesperson Ben Ryken (pictured above) is hoping a year's supply of free eggs (a dozen a week from settlement date) will be a drawcard for potential buyers, after a ban on battery caged hens which came into effect this year caused supermarket supplies to dwindle.
Ryken's past marketing campaigns have included a year's supply of free avocado on toast and complimentary gym memberships to help shift properties. He told NZ Adviser the property, a two-bedroom apartment located at the Three Kings end of Mount Eden Road "fell out of people's search ranges", noting it borders the more affluent areas of Mt Eden and Epsom.
The property goes to auction on February 8, and is expected to sell around the $1 million mark.
"In any sort of market, even a hot market like the so-called 'COVID boom', we've been finding ways to get buyers through properties when there is a slow start … we sat down with the sellers and thought what is something that we can help first home buyers with," Ryken said.
The apartment is likely to appeal to first home buyers looking for a low maintenance apartment close to a cafe on the city fringe, he said.
With the value of a dozen eggs currently priced upwards of $7 and as high as $11, a year's supply could amount to a saving of $500 to $600, with convenience also playing a part.
"With supermarkets not having eggs on the shelves (and if they are, they've very expensive) we thought we could help by assisting with the buyers' breakfasts and that's one less thing buyers will need to think about," Ryken said.
In a slower property market, with realetate.co.nz January data showing that the average number of days onsite for residential homes in Auckland increased by 40% year-on-year, Ryken said the campaign had drummed up additional buyer interest.
"We've had a huge uptick of enquiries and our open home on Sunday had four times the amount of people through than the previous weekend so it's definitely caught buyers' attention'... if anything, it's just made people stop and consider it, instead of just scrolling past on listing portals," Ryken said.
Discussing various tactics used to generate interest in properties, he said real estate agents are negotiators and also marketers.
"Our job is to get as many eyes on a property as we can to get our sellers the best result … sometimes we need to put a bit of sizzle on the property and offer something to the buyers that's going to get them excited."
Following official cash rate announcements, Ryken said buyer interest tended to taper off, but once they became accustomed to the interest rates rise, open home attendance resumed.
"It really is price-range dependent – everything in that early $1m range is still chugging along nicely and people are just changing the price bands they're working in."
Ryken acknowledged that mortgage brokers working with first home buyers would likely to be working to a certain price point, and depending on household income, could be taking on an $800,000 to $900,000 mortgage.
"There's certainly opportunities out there and the mortgage brokers I work with are very creative in this environment to help get deals across the line for our mutual clients," Ryken said. "It's all about finding a way, instead of saying 'no', it's saying 'how'."
CoreLogic figures for Auckland show house prices fell 0.1% over January, reflecting a "mixed bag", with the city area rising by 0.8%. Auckland City's average values were still 7.2% lower than a year ago, with most other parts of the city down by 8% to 10%.
What is your view on buyer sentiment in Auckland property market? Share your thoughts in the comments section below.