Find out about the Non-Bank of the Year, among other categories…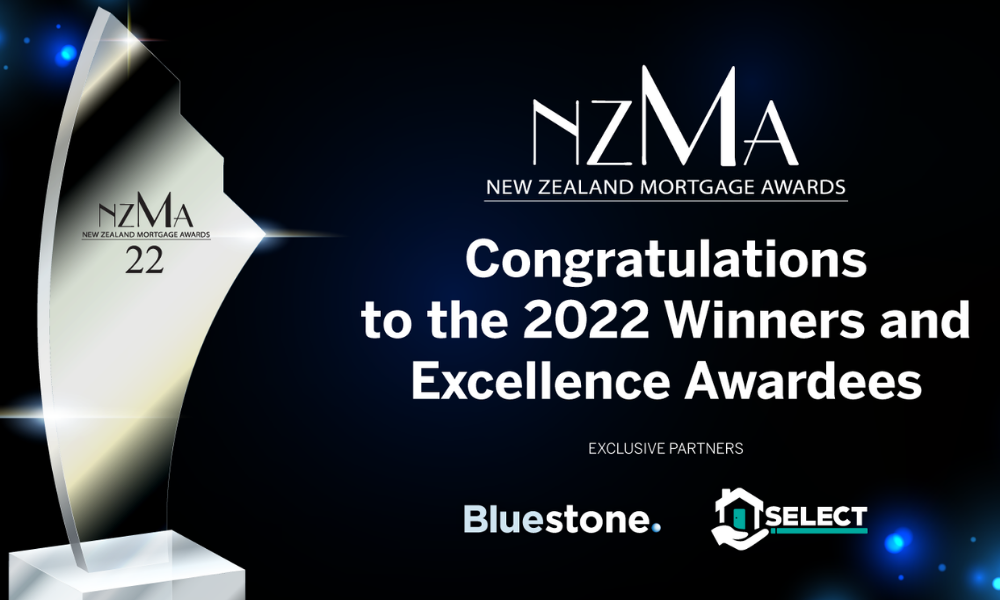 The winners and excellence awardees of the New Zealand Mortgage Awards 2022 (NZMA) have finally been announced after narrowing down the best of the best BDMs and lenders in the New Zealand mortgage industry.
The annual NZMAs is the leading independent awards program in the New Zealand mortgage industry, presented by NZ Adviser, the resource of choice for the country's most forward-thinking mortgage professionals. It showcases New Zealand's most outstanding advisers, brokerages, aggregators, lenders, BDMs, and service providers for their achievements, best practices, and leadership over the past 12 months.
This year's NZMAs partnered with Bluestone, a fast-growing lender specialising in residential home loans with over 21 years of experience across New Zealand and Australia, as well as Select Home Loans (Select), a mortgage lender offering a wide range of solutions that cater to borrowers' changing financial needs.
The first set of winners for the NZMAs 2022 took home the BDM and Lender Awards, where the former recognises the best non-bank BDM who provided excellent accessibility and communication, demonstrated understanding of their advisers' businesses and product knowledge, and added value to the brand they represent and the adviser channel.
BDM Awards
Best Non-Bank BDM
Winner
Ashlene Prasad, Resimac
Excellence Awardees
Adam Fasi, Prospa
Jonathan Singh, First Mortgage Trust
Luke Roberts, Bluestone Mortgages
Maree Maxwell, Bluestone Mortgages
Mark Nolan, Avanti Finance
The winners of the Lender Awards are:
NZ Non-Bank of the Year
Winner
Avanti Finance
Excellence Awardees
First Mortgage Trust
Pepper Money New Zealand
Prospa NZ
Resimac
New Zealand Adviser will bring you the remaining award winners over the next two days.