But four regions experienced declines, REINZ data shows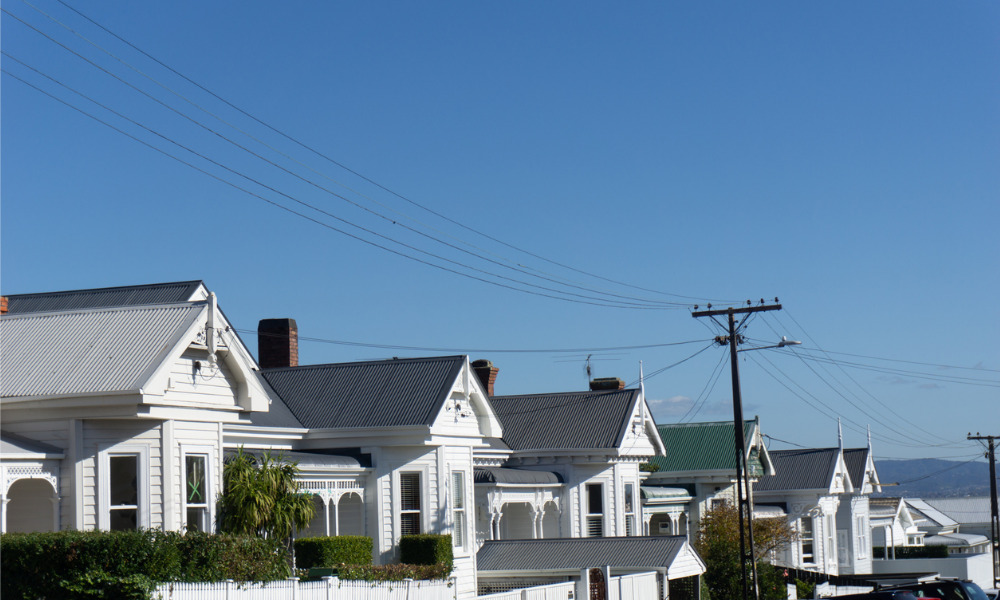 New Zealand's median house price increased 4.2% annually in June to $850,000, from $816,000 in June 2021, but some regions fared much better than others, fresh figures from the Real Estate Institute of New Zealand (REINZ) showed.
Read more: House prices hit record high – REINZ
The median residential property price for New Zealand, excluding Auckland, rose 9% from $680,000 in June last year to $741,000 in June 2022. There was a month-on-month increase of 1.1% from May's $73,000.
REINZ House Price Index (HPI) data, which is considered the most complete, accurate, and more up-to-date real estate data in NZ, showed national prices increased 0.7% year-on-year but were down 5.4% in the last three months, Stuff reported.
All regions saw declines in HPI movements over the past three months, with Canterbury, Taranaki, and Southland posting the best results, down 2.5% over the three months ended June.
Miles Workman, ANZ senior economist, said the HPI declined 0.9% month-on-month (seasonally adjusted), and was now down 6.6% from its November 2021 peak
"For a second month in a row, June's monthly decline was a little smaller than we were expecting," Workman said, adding that the unwinding of prices appeared relatively orderly for now amid the softening market.
Recent smaller-than-expected price falls suggested that while buyers were aware of the merits of patience as prices decline, sellers were not all that desperate.
"While that may change a little over coming months, this certainly isn't a Global-Financial-Crisis-style situation where unemployment is sharply, and very visibly, rising," Workman told Stuff.
ANZ forecasted a 12% peak to trough decline in prices.
In Auckland, there has been a 0.5% rise in median house prices compared to June last year and a 2.8% rise from May to June, with the median price now sitting at $1.16 million, REINZ figures showed.
Read next: REINZ data: House prices continue to soar across New Zealand
Central Auckland and Waitakere both saw declines in annual median prices, while the smaller territorial authorities of Rodney, Papakura, and Franklin had double-digit increases.
Canterbury reported the strongest annual percentage growth in June with its median price lifting 22.1% in the year to June from $565,000 to $690,000.
Waikato had an annual increase of 14.3% to $840,000, from $735,000 the previous year.
REINZ figures showed an annual decrease in median prices in four regions, including Wellington which dropped by 4.2%, Hawke's Bay by 1.4%, Manawatu/Whanganui by 1.1% and Taranaki by 0.2%.
Across New Zealand, the number of residential property sales fell 38.1% to 4,721 in the year to June, compared to 7,629 at the same time the prior year.
Month-on-month, sales was down by 17.3%, but the seasonally adjusted figures from May to June showed a 5.8% decrease, with sales typically declining over the winter months.
Jen Baird, REINZ chief executive, said despite the lower-than-expected sales activity, the drop wasn't as stark. She also said the annual house price performance was marginally better than expected.
"We're seeing volatility across the country as the market seeks equilibrium at a more moderate pace," Baird told Stuff.
Housing affordability, meanwhile, continued to be an issue for many house hunters, and "paired with tighter lending restrictions, higher interest rates, and concerns over inflation, we are seeing hesitancy among buyers," Baird said.
With the market stabilising and the high growth experienced in 2021 easing, the REINZ leader said downward pressure on prices may improve affordability.
"However, this is balanced with higher mortgage costs and wider economic headwinds that may continue to temper people's appetite for entering the market – as a buyer or seller," Baird said.
Some pressure on borrowers may also be alleviated due to changes to the Credit Contract & Consumer Finance Act (CCCFA) regulations, which took effect on July 7, Baird said.
"With more stock on the market, more opportunity for negotiation, and prices off their peak, for those with access to finance, there is opportunity here," Baird said.
Across New Zealand, 565 properties sold by auction in June comprised 12% of all sales compared to 26.3% in June 2021. In May, 10.9% of properties were sold by auction.
According to Kiwibank economists, the REINZ data for June painted a similar picture of the housing market in recent months, Stuff reported.
"Very tight credit conditions and a lack of confidence has sent house sales and prices falling," they said.
The Kiwibank economists said the 4,721 sales recorded by REINZ were the lowest for a June month since 2010. They were also surprised by the pace of price falls over the June quarter. From a forecasted 3.2% fall, the index instead fell almost 5% over the second quarter.
If this pace of house price decline persisted in the coming months, Kiwibank would be forced to revise down its forecast of a 10-11% annual decline in the December quarter, Stuff reported.
REINZ figures showed median days to sell across New Zealand is now 44. Kiwibank said it was because sales were few and far between the total supply of listed property continued to trend higher according to the REINZ figures. The bank said the total available supply of property surged by nearly 90% in 2022 from June last year and that "this growing supply is heaping more downward pressure on prices," Stuff reported.