CMHC blames "lower-trending multi-unit starts"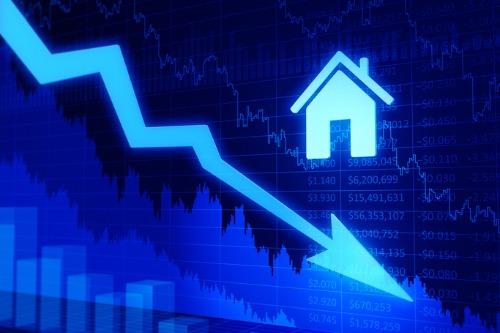 Last month saw a decline in housing starts, according to new data form the Canada Mortgage and Housing Corporation (CMHC).
The seasonally adjusted annual rate (SAAR) of housing starts totaled 210,069 units in February, a 1.9% decline from the 214,031 units recorded in January. Urban starts were also down by 1.9% from 203,220 units in January to 199,304 units in February. Within the urban sector, multiple urban starts fell by 6.1% to 146,072 units while single-detached urban starts increased by 11.9% to 53,232 units. Rural starts were estimated at a seasonally adjusted annual rate of 10,765 units.
The SAAR measurement of housing starts has seesawed over the past few months: January saw an 8.8% increase from December, but December recorded a 3% decline from November.
"The national trend in housing starts declined in February, driven by lower-trending multi-unit starts." said Bob Dugan, CMHC's chief economist. "Single and multi-unit starts in Toronto both trended lower, while activity in Montréal declined due to lower-trending multi-unit starts. This offset a slight up-tick in Vancouver, which follows four consecutive declines in that CMA."
Among the provinces, Saskatchewan recorded the steepest percentage decline in month-over-month housing starts, toppling from 3,270 units in January to 1,966 in February, a 40% fall. Quebec had the second greatest percentage decline during that period, with 44,991 in February compared to 73,304 in January, a 39 percent plummet.
On the flip side, Nova Scotia recorded the greatest percentage increase between the months: a 227% leap from the 2,378 housing starts in January to 7,771 in February. Prince Edward Island also recorded a three-digit percentage upswing, rising 163% from 429 housing starts in January to 1,127 last month.
Among the nation's major metropolitan areas, Guelph recorded the steepest percentage decline with an 80% drop from 667 housing starts in January to 133 last month. Saguenay recorded the second steepest drop, with a 72% plunge to 313 housing starts in February from 1,117 in January.
The major metropolitan areas that saw the most vibrant activity in housing starts during the year's first two months included Halifax (a 340% increase form 1,319 in January to 5,800 in February), Windsor (a 331% spike from January's 264 total to 1,137 in February) and Hamilton (a 307% rise from 1,734 in January to 7,061 in February).
The CMHC data follows a recently published report by Altus Group that found total housing starts in Canada during the 2010s were virtually identical to the previous decade. According to Altus Group's data, housing starts reached 201,000 units on an average by the end of the 2010s, tying for the second-best decade ever recorded, after the 1970s. The decade recorded the lowest volume of housing starts in 2013, with just under 188,000 units, while the highest starts of the decade were recorded in 2017 at 220,000 units. The 2010s were also the strongest decade ever for apartment starts, with around 92,000 apartment units being started and most of the focus being given to condominium apartments developments.
"In general, the 2010s were not a very volatile period for annual total housing starts at the Canada-wide level," the report stated. "In fact, it was the least volatile of any of the past six decades for annual total housing starts."