Find out how these start-ups are reshaping the lending industry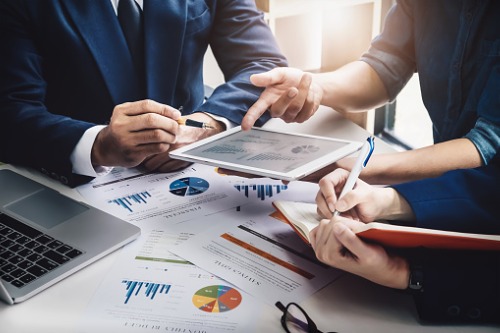 Alternative lenders have been gaining a larger presence in the financial services industry in recent years, thanks to their ability to use technology to offer efficient lending services to underserved customers. The emergence of these lenders, however, has also posed a huge threat to banks and other traditional lending providers, prompting many to digitize their services in order to keep up.
A recent survey by professional services network Ernst & Young on global fintech adoption found that close to two-thirds, or 64%, of the 27,000 respondents, which included Canadians, have used a fintech service. When seeking a service, a third also admitted that they turn to other financial institutions first before their main bank.
Alternative lenders adopt advanced technologies, including artificial intelligence (AI) and machine learning (ML), to provide clients easier access to loans. They also offer a range of loan options, including mortgages, and personal and small business loans. This is especially important for the portion of the customer base who would otherwise have difficulty in obtaining loans - such as those with bad credit ratings or unable to meet certain requirements.
Armed with these advantages, alternative lenders have the potential to reshape the entire banking industry and gain a greater market share in the future.
Mortgage Broker News has searched business information website Crunchbase's data to find the country's leading alternative lending providers based on total funding. Here are those that came on top.
1. Clearco
Total funding: US$469.4 million ($577.6 million)
Number of investors: 24
Number of investments: 3
Formerly known as Clearbanc, Clearco offers revenue-based financing for e-commerce and SaaS-based small businesses. The Toronto-based company also provides early-stage founders access to capital, data-driven advice, and an extensive network of apps, agencies, and investors. The firm's flexible and no-strings-attached offerings allow businesses to grow without giving up equity.
2. Fraction
Total funding: $289.2 million
Number of investors: 4
Vancouver-headquartered Fraction is a fractional investment platform that allows users to access equity built up in their homes. It also grants fractional ownership of residential properties to clients, letting them avail of interest and monthly payments as returns. The company's online tool helps customers develop financial plans for retirement and tackle debts as well.
3. FundThrough
Total funding: $122.2 million
Number of investors: 12
FundThrough offers online invoice financing to small and mid-size enterprises. It also provides business owners better access to working capital by allowing them to utilize their customers' credit strength. Through the Toronto-based company's platform, businesses can access between 80% and 90% of their approved invoice as a line of credit.
4. Progressa
Total funding: US$95.4 million ($117.4 million)
Number of investors: 6
Vancouver-based Progressa provides debt consolidation services. Through its platform, the company assesses an applicant's financial situation to make sure that the right loan is approved. Upon approval, the borrowers can set the exact payment and repayment period.
5. Borrowell
Total funding: US$92 million ($113.2 million)
Number of investors: 25
Number of acquisitions: 1
Toronto-headquartered Borrowell's credit monitoring and financial services comparison platform provides customers personalized product recommendations and credit improvement tips based on their credit history. Apart from accessing their credit report, users can compare mortgages, personal loans, bank accounts, credits cards, insurance, and investment products through the company's online tool.
6. Financeit
Total funding: US$61.4 million ($75.6 million)
Number of investors: 10
Number of acquisitions: 1
Financeit offers point-of-sale (POS) consumer lending products, including loan origination management, credit adjudication, regulatory reporting, loan servicing, and collections. The company is based in Toronto.
7. ZayZoon
Total funding: US$15 million ($18.4 million)
Number of investors: 3
ZayZoon's real-time payment disbursement platform provides employees access to their wages at any point in the pay cycle. This is done through the company's partnership with payroll providers. Calgary-based ZayZoon also offers financial health services, including financial education, banking insights, expenditure behaviour, and overdraft predictions.
8. Ratehub.ca
Total funding: US$12.5 million ($15.4 million)
Number of investors: 2
Number of acquisitions: 1
Comparison website Ratehub.ca allows users to aggregate and compare financial products, including home loans, credit cards, and insurance. It is one of Canada's leading mortgage and financial service comparison platforms, claiming to have a monthly user base exceeding 300,000. The company holds headquarters in Toronto.
9. Nesto
Total funding: US$8.5 million ($10.5 million)
Number of investors: 3
Customers can search and compare mortgage rates using Nesto's AI-powered loan comparison platform. The online tool automatically links the user's financial and property information to their private dashboard, allowing them to access loan options that suit them. The company is based in Montreal.
10. Ledn
Total funding: US$3.9 million ($4.8 million)
Number of investors: 10
Blockchain-based lending platform Ledn offers bitcoin-secured loans. It also provides users a segregated wallet address, allowing for real-time proof of reserves on-chain. Borrowers can use dollars and bitcoin for their monthly repayments. The company's headquarters is in Toronto.