Seven of the ten priciest neighbourhoods are found there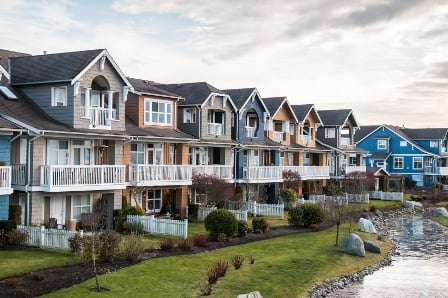 Seven of the ten priciest neighbourhoods in Canada are found in Metro Vancouver, according to a recent study by real estate firm Century 21.
Rankings were based on price-per-square-foot (PPS). Vancouver West Side ($1,201 PPSF and Vancouver Downtown ($962.75 PPSF) occupied by the top two spots, followed by Toronto Downtown ($818.86 PPSF).
Oakville ($627.33 PPSF) and Richmond Hill ($585.31 PPSF) in the Greater Toronto Area – positioned sixth and tenth respectively – were the other non-Vancouver neighbourhoods in the top 10.
Data also showed that PPSF growth in Oakville, Ontario has outpaced all other neighbourhoods in the country over the past two decades. Prices for a detached house there stood at $105.77. Twenty years later they have increased by 493% with the typical detached house now priced at $627.33 PPSF. Downtown Montreal places second, with prices increasing 468% over the same period.
Nova
Scotia
and New Brunswick are the only provinces to see falling prices in the last 10 years.
According to Brian Rushton, executive vice-president of the firm, Canada is generally seiing a stabe and growing real estate industry. "Regions are absolutely susceptible to the economic factors in their province, like oil prices in Alberta, but we've seen steady growth for two decades. Certainly Vancouver and Toronto have seen significant price spikes, but other areas like the Prairies and Atlantic Canada have had fairly steady and predictable markets."
A separate poll by Century 21 of over 1000 agents across the country found that finishings are important for home buyers. Some 67% of agents said that this is the most appealing factor when purchasing a property. In contrast, the biggest "turn offs" for Canadians include water damage (35%) and the need for renovations (32%).
Related stories:
These Canadian cities have some of the most affordable homes in North America
Stress test to impact 'move-up' home buyers the most