High-end housing in Canada bounces back, and while demand is highest in Toronto and Vancouver, there are some unexpected surprises in Sotheby's latest report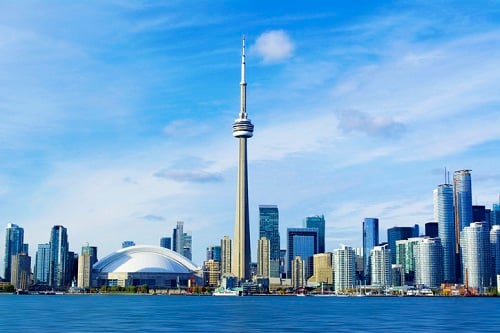 The usual suspects are at it again: Toronto and Vancouver led the country's high-end market in both home prices and sales activity, according to the latest report from Sotheby's International Realty Canada. The two largest top-tier real estate markets in Canada rallied at the end of 2019 after a slow start to the year, largely due to each region's strong population and economic growth, as well as their strong labour markets.
Montreal continues its bid to be included among the top luxury real estate markets in Canada, having set new records in top-tier market performance. Residential sales over $1 million saw a 13% increase from 2018 levels, while $4 million-plus luxury sales soared 64% year-over-year. In 2019, Montreal's luxury condominium market surpassed previous year's records as the construction and completion of high-end high-rises reshaped the skyline. For the first time in the city's history, top-tier condominiums comprised 22% of residential real estate sales volume over $1 million. As the city continued to raise its profile as a major Canadian luxury condominium market, sales of condominiums over $1 million set a new record with a 39% year-over-year gain.
Part of the rise of the luxury condominium market in Montreal has to do with a dearth of single-family homes available for sale. Don Kottick, president and CEO of Sotheby's International Realty Canada, said that if there were more single-family homes on the market, he thinks the detached numbers would be higher. But, he added, condo growth can also be attributed to a cultural shift that's taken place in Montreal over the past few years.
"We've seen some fantastic developments come into play and I think it's now acceptable; people want to live closer to where they work, they don't want the [long] commute times," Kottick said. He also added that the true buying power of millennials are starting to come into play.
"Some of these individuals are used to community living, particularly if they've come from cities such as Vancouver or Toronto, where it's been this way a lot longer. So the whole community living aspect of condominium living is more acceptable now in Montreal moreso than it ever has been."
Montreal is also experiencing low levels up unemployment and a burgeoning technology sector as well as being a higher education hub, all of which contribute to it becoming a global destination—along with the fact that there aren't any foreign buyer taxes. Rather than building out, Kottick said, it's more likely that developers will build up as well as create more luxury spaces as the Montreal buyer increases their purchasing power.
The return of confidence to the $1 million-plus real estate market in Vancouver was a welcome departure from the regulatory concerns and uncertainty that plagued the market over the past few years. Overall $1 million-plus residential real estate sales in Vancouver were down 6% in 2019 from 2018 levels, while sales over $4 million declined 25%. However, activity in the last half of 2019 reflected a strengthening top-tier market as sales over $1 million increased 37% year-over-year, led by gains in the city's single family and attached home segments.
As prices moderated somewhat, single family homes once again became preferable to condominium and attached home options for top-tier buyers, driving new activity. As a result, $1 million-plus single-family home sales, which had fallen 16%, 20% and 35% from 2015–2016, 2016–2017 and 2017–2018 respectively, increased 5% from 2018-2019. Market recovery was most evident in the latter half of 2019, when sales over $1 million rose 39% from the same period in 2018, while $4 million-plus luxury sales contracted a mild 12%.
Toronto and the rest of the GTA (Durham, Halton, Peel, and York), saw an incredibly robust top-tier market at the end of 2019, also having rebounded from the market contraction following the implementation of tighter mortgage lending policies shortly after the 2017 introduction of the Ontario Fair Housing plan. Residential real estate sales over $1 million increased 23% year over year across all housing types, and the City of Toronto saw sales over $1 million increasing 20%.
Record-setting population gains in Canada's largest urban areas were key drivers of all housing segments, absorbing inventory and expanding the long-term foundation for local housing demand. Furthermore, the decade-long financial bull market and its bouts of recent unpredictability are growing influences on the Canadian top-tier real estate market. Underlying consumer anxiety regarding future financial market performance has increased demand for top-tier real estate as an asset to diversify portfolios, hedge against inflation, and buffer against risk.
Even though affordability has dominated much of the Canadian mortgage and real estate conversation, Kottick says that housing is a continuum, and all areas of the housing market matter in different ways.
"If you're not satisfying the different housing units in each one of these groups, it doesn't allow people to naturally progress to where they are at that stage in their life," Kottick said. "It really doesn't matter where you are; the biggest problem in a lot of our major centers is the lack of diversified product at all levels of the spectrum. . . .you've got to have product in each category in the housing continuum to make sure that we have a really functioning market, and we don't have that right now. The lack of supply is the number one issue, and until that gets met, the government can put all kinds of restrictions and regulations on the demand side, but it's not going to fix the problem."
Despite improvements in the market for real estate under $500,000, Calgary's uneven economic performance and political turbulence dampened a top-tier market already burdened with supply. Unlike Toronto, Vancouver, and Montreal, which all experienced a slow start to the year followed by a strong second half, Calgary's top-tier market faltered with building economic and political anxiety leading up to and following the provincial and federal elections. Residential real estate sales over $1 million decreased 15% from 2018 levels overall; however, sales in the latter half of the year reflected a milder 7% decline from the same period in 2018.