A picturesque bathroom has become a 'show of force' of one's status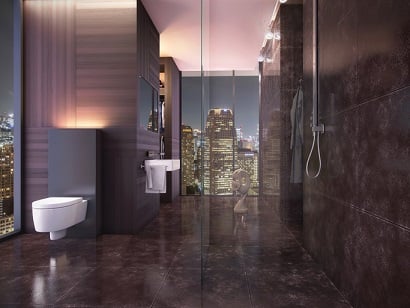 Often taken for granted in pre-purchase considerations, the location of the bathroom has become a powerful attraction among buyers of high-end real estate in North America.
New York-based Interiors expert Clodagh is one of the most active proponents of giving scenic views to bathrooms.
"[You] spend eight or 10 hours in there a week, and it's one of the places where you can refresh, renew and get natural light. The skin is the largest organ on your body, and taking in natural light is very propitious for health and wellness," Clodagh told
Bloomberg
.
Beyond the purported health benefits, however, such a bathroom is above all else a show of force of one's status, according to broker Julie Pham
"It's become iconic for the uber-wealthy," Pham said. "A bathroom with a view catapults you to the super-luxury caliber, not just the everyday luxury class."
And while creating an impactful design in this vein takes much more time than just shuffling in the bathroom's location as an afterthought, developer Kevin Maloney—who master-planned a new tower in Soho's 10 Sullivan—attested that the results are well worth it.
"In all the full-floor units of the building, it looks north, so that when you're soaking in the tub, there's the Empire State Building," Maloney said. "A buyer walks in, and every time they see that, they'll say, 'Wow.'"
Related Stories:
Decline in luxury sales pulls down Vancouver value—think tank
Value of Vancouver homes might decline by as much as 20% - report