The Fort McMurray wildfires and the Brexit vote will make the road rockier for the Canadian economy in the near future, however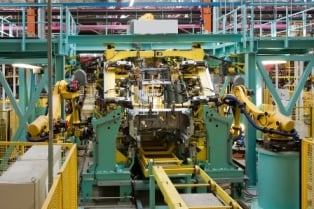 After a 0.2 per cent decline in March, the Canadian economy saw real GDP grow by 0.1 per cent in April following a surge in the manufacturing and services sectors.
Per the latest numbers released by Statistics Canada, April's performance went exactly as anticipated by economists despite continuing struggles in mining and oil/gas extraction that have put a damper on commodities. February saw the Canadian economy shrink by 0.1 per cent, while January numbers showed 0.5 per cent growth, as reported by
CBC News
.
Higher output of primary metals and transportation equipment strengthened manufacturing by 0.4 per cent in April and 1.4 per cent year-over-year, the StatsCan report revealed. A healthier U.S. economy as shown by Q1 numbers further improved the prospects of Canadian manufacturing.
In addition, strong finance/insurance and transportation/warehousing also contributed to the large gains in the services sector.
StatsCan warned that the unprecedented Fort McMurray blaze would definitely affect May's figures, however.
"Looming over this as-expected result is the fact that next month's reading will no doubt show an ugly decline (we suspect of roughly one per cent) due to the wildfire hit to oil output," BMO economist Doug Porter said.
Bank of Canada Governor Stephen Poloz recently predicted along similar lines, saying that Canadian economic output would recover in earnest only after the summer as the knock-down effects of the wildfires would linger for some time.
Furthermore, the long-term impact of Brexit on Canadian markets cannot be overstated, especially since exports and business investment would take a hit.
"The Canadian economy remains fragile with growth further restrained by reduced business confidence in light of the recent Brexit decision. All told, economic growth this year is unlikely to exceed a meagre 1.2 per cent," TD Bank economist Warren Kirkland wrote in a client note.
TD projected a per annum decline of 0.1 per cent in Canadian real GDP as a direct result of Brexit.
"We have moved into yet another period of elevated economic and market uncertainty within a vulnerable global environment encompassed by a low growth, low interest rate environment, and Canada is no exception," the bank cautioned in a recent report.
Related Stories:
DLC on the implications of Brexit on Canadian real estate
Recovery might begin in earnest only after the summer—Poloz