Nearly one-third of survey respondents claimed they were living debt-free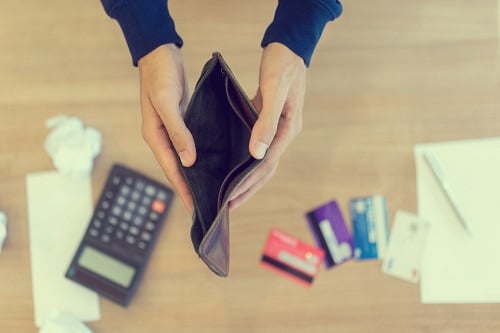 More than half Canadians admit that they were guilty of some level of financial behaviour that inevitably traps them in long-term debt that becomes difficult to repay.
In a new survey conducted by Ipsos on behalf of MNP Ltd, the insolvency-focused division of the national accounting firm MNP LLP, 21% of respondents acknowledged only making the minimum balance on their credit card, with 14% claiming they paid only the minimum balance on a line of credit last year. On a provincial basis, residents of Saskatchewan and Manitoba (28%) and Alberta (26%) were the most likely to follow that payment route. And 33% of households with children confessed to were also more likely to be only making minimum payments on their credit card.
The second most common financial mistake that helped pave the road to debt was deals and special offers. Respondents aged 18-34 years were the most vulnerable targets of these credit seductions (25%), along with households with children (20%). And 11% blamed envy for their dilemma, stating they spent money they shouldn't have just to "keep up with the Joneses."
Among those already burdened in debt, 12% of respondents admitted to borrowing money that they knew they could not afford to pay back. Patches of optimism exist among those struggling to pay back what they owe: 50% of survey respondents insisted they will make good on their debts, although it could approximately 6 years and 10 months to become debt free. However, 18% of respondents lamented they will never be debt-free, a feeling that is acute with both Gen X and Baby Boomers (20% each) as well as those living in the Atlantic provinces (25%) and Ontario (21%).
Still, not every Canadian is imprisoned by debt. The survey found 32% of respondents stating they were living without debt obligations. This status was more common among those aged 55 years and older (41%) and 18-34 years (33%), while only 21% of those aged 35-54 years said they had no debts – the latter demographic blamed financial obligations including mortgage payments and raising young children as creating challenges to avoid debt.
According to Grant Bazian, president of MNP Ltd, there are several easily identifiable causes for getting trapped in debt.
"A lack of financial literacy may explain why many are engaging in financially risky behaviours," Bazian said. "Some are in denial about their finances, and are living well beyond their means, while others are trying their best to get their debts under control but may not have the education or the support to do so effectively. Regardless of the reason behind the behaviours, one major contributing factor is the appetite for fast money without consideration of the longer-term ramifications."
Bazian also warned those struggling against debt not to suffer in silence.
"A lot of people experience hopelessness when it comes to their debt," he added. "They don't want to ask for help, they are embarrassed, they feel they are in it by themselves. And that exacerbates the problem."
The new survey was conducted between Dec. 4-9, 2019 and polled 2,000 Canadians aged 18 years and over.