Brokers often complain about slow deal turnaround times, but one industry partnership will look to speed up the underwriting process for monolines.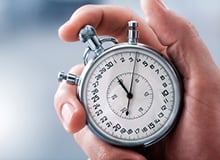 Teranet
and
FNF
Canada announced their ongoing partnership and the launch of their first tool: an "all-inclusive appraisal risk summary scorecard."
The product, set for launch in early Q3, will help lenders expedite deals by offerings information to assist with internal underwriting and deal scoring.
"As an industry leader, Teranet is committed to providing our clients with information-rich solutions that uncover the real value of properties," said Lawrence Franco, President, Value Added Commercial Solutions in an official release. "Working with valued partners like FNF allows us to seamlessly connect different data sources in a way that greatly enhances value for the industry."
This year's CMP Brokers on Lenders survey pointed to growing broker dissatisfaction with lender turnaround times as a whole.
As well, a MortgageBrokerNews.ca poll, released in late 2014, added weight to broker concerns.
Some 32 per cent of mortgage professionals responding to the online research question in September identified turnaround times as the "single-most important lender feature."
But FNF and Teranet's new product will hopefully alleviate some of the burden placed on lenders.
"FNF Canada has always been a pioneer in presenting our customers with fast, agile data and reporting solutions to better support their business with us," Dustin Allan, President of FNF Canada said. "FNF and Teranet have a very strategic and long term business partnership. These new initiatives are a testament to this great working relationship."