Weaknesses in the Prairies overshadow business sentiments that have improved in other parts of Canada, the latest Bank of Canada Business Outlook Survey shows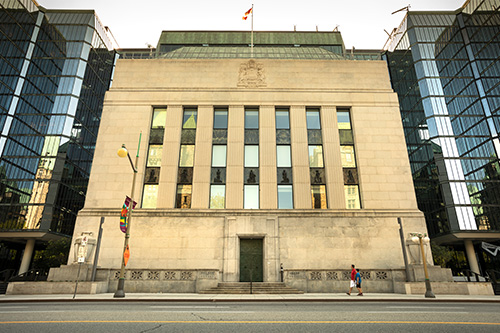 Bank of Canada released its Autumn 2019 Business Outlook Survey, revealing that business sentiments have improved slightly, although regional differences were more pronounced. In particular, positive views in Central Canada contrast with notable and widespread weakness in the Prairies.
Business activity
Indicators of future sales suggest moderate sales growth ahead. Sales expectations are positive in most regions, notably in Quebec, but are soft in the Prairies. The weakness is expected to continue there as struggles within the energy sector spread to other sectors in the area. Because of this, opinions on future sales are somewhat subdued, although the sales prospects in areas outside the Prairies are positive. Strong activity in non-residential construction and information technology, combined with immigration are expected to further support sales, and respondents expect sales to increase at a greater rate over the next 12 months.
Foreign demand continues to support export sales prospects, though they are being weighed down by trade tensions.
"Some respondents now expect a small US recession over the next 12 months. In this context, a number of firms anticipate their sales will be directly or indirectly negatively affected by slower US economic activity," the report reads.
Outside the energy-producing regions, investment and hiring plans are healthy, with respondents in Central Canada and British Columbia reporting "robust" intentions to expand workforces. Some respondents, however, mentioned several hurdles to their investment plans, and energy-producing regions have limited plans to hire.
"Firms frequently mentioned strategic investments in technology, automation and software systems as well as capital spending plans to support demand growth. However, several businesses, many of them in the Prairies, reported that regulation, uncertainty and their balance sheet position are holding back their investment plans. Investment intentions are modest among exporters."
Pressures on production capacity
Businesses expect their production capacity to increase over the next 12 months. The share of firms reporting pressures on production capacity and the share reporting labour shortages are at somewhat elevated levels. These firms are concentrated in Central Canada and British Columbia. These indicators suggest tighter labour markets in most regions except the Prairies, where slack remains. Shortages are most evident for skilled trades, but businesses are also having trouble finding IT workers because of the increased demand and competition for those workers. An aging workforce, changing worker preferences and difficulties attracting workers in rural areas were also reasons for shortages.
Prices and inflation
Input price growth is expected to soften modestly due to less pressure from various commodity-related inputs. Nevertheless, firms anticipate output prices will grow at a slightly greater rate than over the past 12 months. As in recent surveys, a majority of businesses expect inflation to be in the lower half of the Bank of Canada's inflation-control range.
Credit conditions
Most businesses reported no change in credit conditions over the past three months, although the indication is that terms and conditions for obtaining financing have eased slightly. Firms often attributed the easing to competition among banks. Reports of tighter credit conditions come predominantly from firms in the Prairies.
Although the Business Outlook Survey indicator is below the high levels reached in 2017 and 2018, it moved up, signalling a slight improvement in overall business sentiment.
Four times a year, the Bank of Canada's regional offices interview business leaders from about 100 firms to gather a broad range of economic perspectives.