Brokers who adapt and pivot can not just maintain, but strengthen relationships in the new normal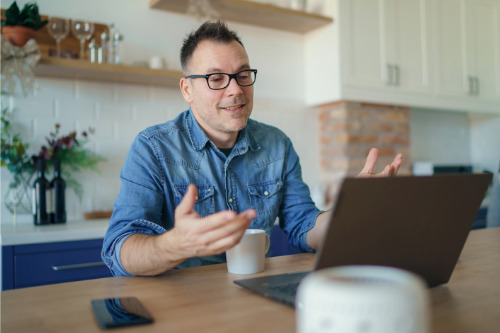 The COVID-19 pandemic has forced mortgage brokers to change the way they connect, rewarding the agile and innovative for finding new ways to prove their value, and attract and retain clients. Gregg Paul, VP industry relations at Lendesk, shares some of his top tips on how to leverage the new virtual normal and tactics to engage with clients.
Turn your home into a virtual boardroom
This is an obvious place to start, as meeting over Zoom or Microsoft Teams has become a normal part of the workday. Paul suggests using the space to connect with other finance professionals and bringing together a panel of experts, as well as each person's database, in order to expand and combine networks.
"Aligning with other professionals like financial advisors, lawyers, notaries and of course realtors can be extremely beneficial," said Paul. "Collaborate with online seminars around investments, buying a second home or updates on market conditions, where everyone can attend from the comfort of their homes. You can collectively leverage each other's active clients and integrate relationships for mutual benefit."
As the workforce gets more comfortable being on camera as well as digesting information through video, Paul says video messaging can also be a great medium versus written emails that may get overlooked, and can help with building a more personal relationship right from the get-go.

Give traditional mail another go
More of your clients are working from home than ever before. If you're struggling to get a response or following up with a lead, ask if you can send them a small gift in the post. Receiving a package while you're working from home will brighten your client's day, plus it engages them, encourages a response and gives you an opportunity to get their details. Even better if the item you're sending has some subtle branding or a call to action (make sure to include a business card). If you're still not getting a response, send them a virtual gift, like a digital gift card. It'd be hard for them not to follow up with a thank you.
Embrace social media
Social media is by no means new, but it has become king when it comes to engaging during a time of social distancing. Posting regularly is important but it's also a great way to have organic, spontaneous conversations with clients. Paul suggests using Instagram stories to engage with your followers.
Using the "poll" or "questions" feature on Instagram stories can help engage followers as well. Paul suggests asking questions like, "has your decision to purchase property changed because of COVID-19?" You can see responses, reply, and engage, potentially getting new leads.
Just ask
While it's one of the easiest strategies even before the pandemic turned the world upside down, simply calling up your database and reaching out to customers remains an effective way of maintaining a connection.
"Ask if any friends or family are looking at buying or refinancing and you'll be amazed what might come from that conversation," he added.
Let your light shine
This is an important time for brokers to showcase their value, according to Paul, who encourages brokers to explore tools and techniques that show how they can find clients the best products.
"With interest rates at historic lows, the focus is always on rate, but mortgage specialists need to explain the entire product," he said. "If a client needs to move midterm, what does a prepayment penalty look like? Can a mortgage be ported to another property with or without penalty?"
Robust lender relationships are a huge asset, he added, and the ability to work within unique pipelines. Lendesk Spotlight Search allows mortgage specialists to find information quickly, compiling lender information into a concise, easily digestible report that can be sent to borrowers to allow for a truly informed decision as to what product fits best. It makes it easy for brokers to look at an array of lenders and what can work best for their borrower and their business, while laying it out for borrowers to understand the importance of flexibility, portability and all the other dynamics that play into a mortgage aside from rates.
"Collecting the guidelines and requirements from each lender can take a long time for brokers, but leveraging this technology saves time and energy, while portraying the broker as a knowledgeable and prepared source," added Paul. "Being that expert will be your greatest strength when it comes to staying connected."