CWB Optimum Mortgage VP Rejean Roberge led her team through the COVID-19 pandemic, weeks after returning from maternity leave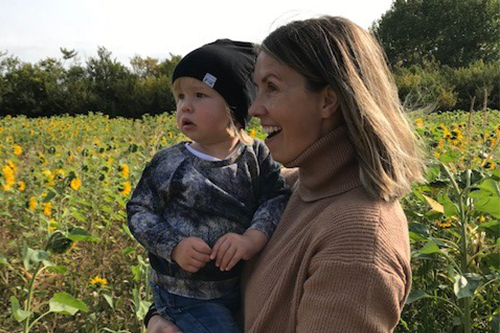 "Till death do us part." That was the subject line of Rejean Roberge's email application for vice president at CWB Optimum Mortgage (the position she now holds). It was an ode to her commitment to her career, but also a nod to the fact that she was writing her wedding vows that very same night.
It's not uncommon for women in mortgage to feel married to their career, yet still make time for their family commitments. The industry is known for it's demanding nature and an ongoing pressure to work around the clock. With a strong belief in family first, Roberge says it's difficult for women in the industry to find that balance.
"Our broker partners are earners, so answering that phone could lead to their next paycheck. For many women, they are being pulled in different directions," she said.
Shortly after Roberge returned to work from maternity leave, the COVID-19 pandemic turned the world upside down and quick decisions had to be made around the health and safety of employees first, followed by client relationships.
"The pandemic has taught me the importance of working for an organization that not only shares my values but also demonstrates integrity in 'walking the talk' and delivering on those promises during difficult circumstances."
One of the lender's core values is 'inclusion has power'; that as an organization CWB is aligned by an understanding that diverse teams unleash new ideas and perspectives, and aware of personal biases. The CWB board of directors is made up of 36% women, after setting a goal in 2014 to have at least 1 in 4 board members be women.
The proof is in the pudding; companies with diverse leadership are 21% more likely to surpass industry peers in terms of profitability, according to a study by McKinsey & Company. Researchers also found that more women exhibit leadership traits that are highly applicable to future global challenges, compared to men.
"Women leaders can provide a more blended view of what work and family need to be under the current environment," said Roberge. "There are benefits in recruiting top talent, providing teams with a more engaged experience, and all of it funnels down to an improved client experience as well."
She encourages leaders in the mortgage industry need to start making a concerted effort to focus on diversity initiatives and set goals around that. While barriers still exist, Roberge says we are cracking that glass ceiling, but some of the toughest walls are built by self-doubt.
"Women need to know it's okay to be our own champions," she said, almost as a reminder to herself.
Road to leadership
Roberge began her career in finance when she landed at CWB almost ten years ago. She didn't have a banking background, but she was armed with an inquisitive nature and the courage to ask questions about the way things were done. Lester Shore, who led CWB Optimum Mortgage from its inception, embraced the curiosity.
"Les was never threatened by my questions; it led to fabulous conversations, which ultimately put me on a five-year succession plan to end up as vice president at Optimum."
Roberge understood how great this opportunity was and welcomed the challenge. Mentorship played a huge role in helping Roberge stay in control of her self-doubt. One of her mentors was Shore, who really championed her career, and another was a woman she was paired with through a CWB program for aspiring female leaders.
"I started working with this incredible woman, who was in no way connect to my job or the organization I worked for. I could be transparent and not feel judged for not being confident all the time," she said. "She spent time listening to me and challenging me, and when I expressed doubt about starting a family and taking on a leadership role, she guided me through that."
Roberge said the community of women created through industry group, Women in the Mortgage Industry (WIMI), provides a similar support system and creates a sense of solidarity, which is a big part of giving women a voice at the table.
She pointed to a few amazing female role models in the industry including Hali Strand-Noble, co-founder of WIMI and Elaine Taylor, chair of Mortgage Professionals Canada, but male mentorship and support have had equal impact on her success.
"Male leaders have an opportunity to make a difference by championing someone's career the way Lester did for me and empower them to do more than they think they may be capable. Put challenges in front of them and give them stretch goals and targets."
She encourages company leaders to take risks on people that may not fit into the box perfectly, and be aware of biases when hiring, writing a job description, or creating a succession plan. Through the COVID-19 crisis, Roberge says we've seen a human element return to the virtual world; her team has worked tirelessly to continue providing a great experience to brokers and borrowers and achieve shared goals.
She pointed out that the virus is also disproportionately affecting talented women compared to men. One third of Canadian women have considered quitting their jobs to take care of home responsibilities during the pandemic, compared to less than 20% of men, according to a new study by the Prosperity Project, a new non-profit organization aimed at mitigating the impact the virus has on Canadian women.
"When we look at attrition rates, families are increasingly having to make decisions around educating their kids from home or childcare options. Women are putting their career aside in many cases, and as organizations, we must be supportive of that. Organizations can't look at this as a sign of weakness, but strength."