Bank of Canada governors view mortgage stress test enhancements as having limited the financial vulnerabilities, but require continuous monitoring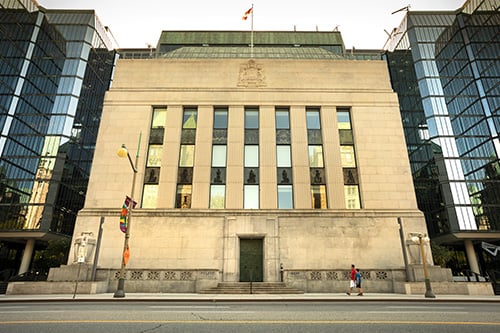 In a press conference following yesterday's interest rate announcement, Bank of Canada Governor Stephen S. Poloz and Senior Deputy Governor Carolyn A. Wilkins discussed the reasoning behind the rate decision as well as the updated monetary policy report, as well as the effect that a so-called "insurance cut" would have.
The worsening global situation was a primary issue behind the governing council's decision to hold the overnight interest rate steady at 1.75%. Canada's outlook is complex and varied across the country with certain areas of growth offsetting negative effects coming from business outlook and exports. The governing council also devoted some time to the "evolution of financial vulnerabilities in Canada", namely how susceptible the housing market is to any kind of shock.
Here, Poloz said, they were pleased with the effects of the mortgage stress test.
"We've been encouraged by developments since the enhancement of the mortgage stress test, as there has been a significant decline in new mortgages above 450% of disposable income. Further, we have not seen evidence of froth in major housing markets for some time now," Poloz said.
Furthermore, they think that the stress test and other macroprudential changes have gotten the housing situation into more "normal" behaviour. Despite the housing market having had a fairly weak year overall, its resurgence is another encouraging sign. Poloz noted, however, that these measures are a sort of protection against future "excessive enthusiasm," and that they are untested because it's the first time going into a housing recovery under these circumstances.
"No doubt that in today's macroprudential environment, the costs associated with a so-called insurance rate cut would be lower than it would've been without those macroprudential things. So that's the base you start from, but we don't think it's zero or anything," Poloz said. "It's still possible, of course, to reignite a bunch of bidding wars and so on in the housing market because as far as I know, not much has changed on the supply side, but by having lower rates, good income growth, and immigration, there's good demand for housing."
The recent strength in many housing markets across the country is a reminder that Canada will be carrying high levels of debt for a long time. Because of this, governing council considered whether there were sufficient downside risks to the Canadian economy to warrant a "more accommodative monetary policy" as a form of insurance against those risks, and they decided that there weren't.
There was an entire section of the monetary policy report dedicated to mortgage renewals in the current interest rate environment, noting that Canadian fixed mortgage rates have been falling over the course of 2019, which means that households that have recently renewed their mortgage probably haven't experienced much of an increase in their monthly payments. The BoC's analysis reveals that renewals have experienced an increase of about 35 bps from their rate at origination on average, although the high was in January at 80 bps and had fallen to an average of 10 bps in August. There was a noticeable shift away from variable-rate mortgages to fixed-rate mortgages.
If mortgage rates were to stay at or near current levels, households renewing mortgages over the next two years would not face materially higher rates, the report reads. The expectation is that overall, mortgage debt-service ratios at renewal are likely to continue to decline on average.
Canada's economy differs from many other countries around the world in that inflation is at the 2% target and projected to remain very close to that target. So in contrast to the adverse global developments that governing council considered, they felt that the Canadian economy is demonstrating resilience overall.
"We are not an island, we are not immune to these global developments, but we think we're in a good position to cope with whatever comes our way given that inflation is on target and unemployment is near an all-time low," Poloz said. "Healthy and fit people can still get sick, but they recover more quickly when they do, and that characterizes the Canadian economy."