The company spoke to MBN about what to expect from one of real estate's most unpredictable sectors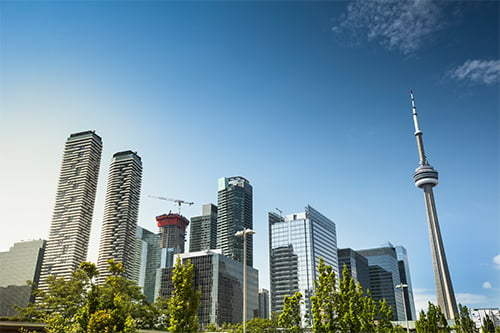 The commercial real estate market in Canada has seen varied effects from the COVID-19 pandemic, all depending on location, sector and how hard the region was hit by the coronavirus. Experts from Avison Young's Valuation and Advisory Services Group shared their insight on what's happening across the country:
Office
Some of Canada's biggest and most influential companies like Shopify came out with plans to keep their offices and move to a fully remote structure at least until 2021, leaving others wondering if they should follow suit, and forcing companies to evaluate how much office space they need.
"Every tenant is different and needs to find the strategy that is best suited to their business," said Matthew McWatters, principal, senior vice president at Avison Young. "While the initial reaction to work-from-home was very enthusiastic, many have expressed desire to return to the office in some capacity."
With office buildings only able to handle certain capacities, and logistical challenges with elevators and common areas, there's an expectation that new trends will begin to form.
"We anticipate an outflow to surrounding suburban markets as a result of the home office trend," said Paul Stewart, practice leader, principal at Avison Young. "In downtown high-density, there's a fear factor that is driving people out of the city, which will translate into increased vacancy rates."
One exception is Edmonton, as the city does not rely as heavily on public transit compared to other major Canadian cities. In Vancouver, Avison Young noted an uptick in office leasing activity with tenants, but negotiations are taking longer. McWatters says most Vancouver deals getting done do not yet have a COVID-19 discount.
Across Canada, demand for suburban office space remains low so far and there is a sense that tenants are willing to wait before committing to leases. Flexible leases will become more attractive because people don't want to be stuck in long term commitments, especially as there is lots of rent being paid for in the market for space that isn't being used.
Multi-residential
With the help of government financial aid, rental payment rates have remained high in multi-residential assets, but as those supports end, higher-end rental properties may suffer from increased vacancy. Despite overall strength in the rental market, tenants in urban areas were more likely to request information on abatements or rent relief, says Stewart.
"Owners are having to decide whether to provide rent abatement to sitting tenants or risk losing them and consequently having vacancy. Some requests could be genuine, but others may not be," said Stewart. "Landlords need to do the proper paperwork, or they might end up with a permanently abated tenant."
In Calgary and Edmonton, the Canadian Mortgage and Housing Corporation (CMHC) reported a year-over-year decrease in new home starts of 37% and 40% respectively. Condo tenants in downtown Montreal have expressed the need for more space moving forward, which could increase demand for larger units in the short-to mid-term.
Retail
From regional malls all the way down to the corner pub, the retail sector is the property category that is expected to suffer the most. With retail being locked down for the larger part of the past six months, McWatters expects rent collection will be challenged even as restrictions loosen.
"Gyms, restaurants and stores will not have the same capacity or revenue moving forward. Percentage rent may be a new trend temporarily, and landlords will have to work with tenants," he said.
In Toronto, retailers continue to struggle, except for grocery and pharmacy tenants. McWatters says there has been increased demand from daycare groups looking to lease space in the north Toronto market. In Montreal, loopholes in government relief programs are being criticized by some owners as eligibility criteria for commercial rent relief are deemed too severe for some small businesses.
Stewart added there's also a land play associated with retail: "A struggling plaza may be sitting on eight urban acres, and if there's demand for high-density residential space, we may see those lands intensified. With bigger regional malls, those are likely to struggle until a return to normal."
Industrial
Industrial activity has been the most resilient sector in the Canadian commercial real estate market. The property type remained strong across the board, as e-commerce continues to grow in popularity and more companies have pivoted to manufacturing personal protective equipment (PPE) or hand sanitizer, as well as cannabis groups, in order to keep up with the new demand.
For instance, Celestica's Newmarket operation recently won a contract with StarFish Medical Inc. to manufacture 7,500 ventilators for the Canadian market, according to McWatters. Amazon has also been active in the Quebec market, signing a seven-year lease for an industrial building in Laval and announcing plans to invest up to $1 billion in the next few years.
"The pandemic has strengthened the interdependency between retail and industrial commercial real estate as e-commerce has exploded while retailers and businesses improve their omnichannel strategies and online capabilities," said McWatters.
In Edmonton, many renewing tenants are looking for shorter-term deals that will allow them to get them through the current situation but remain flexible afterwards.
Pricing
Investors continue to take a wait-and-see approach, but once there's a better understanding of concessions, pricing and how new deals are being structured, confidence will return to the market.
"We are cautiously optimistic," said Stewart. "Every property we are appraising, we are having a conversation about demand. We look at historical transactions, but we must be cognizant of what the next three to six month holds."